Update: This bike has sold. Congratulations to buyer and seller! -dc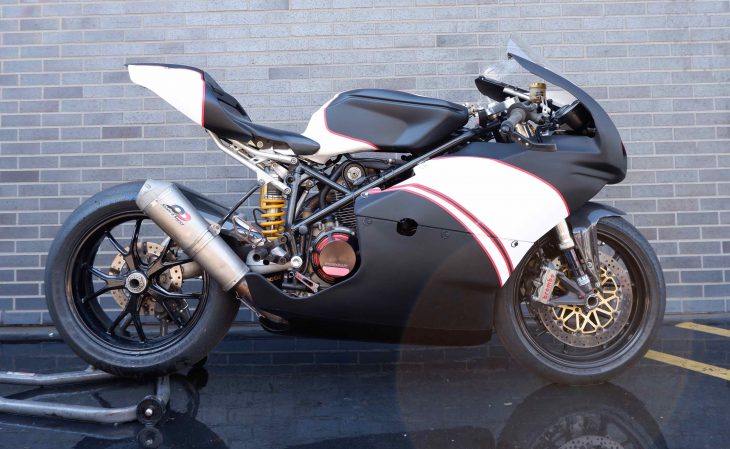 The phrase "Ducati superbike" is enough to strike panic into the hearts of most mortal bank accounts. Just breathing the name of the storied Italian marque conjures ghoulish visions of microscopic maintenance intervals, climbing cost of entry and woeful consequences should you play Devil-may-care with recommended services. Luckily, what we have before us is the exception to that rule. A Ducati superbike powered by an 1,100cc iteration of Bologna's venerated L-twin, expertly hung in a thoroughly modern steel lattice chassis.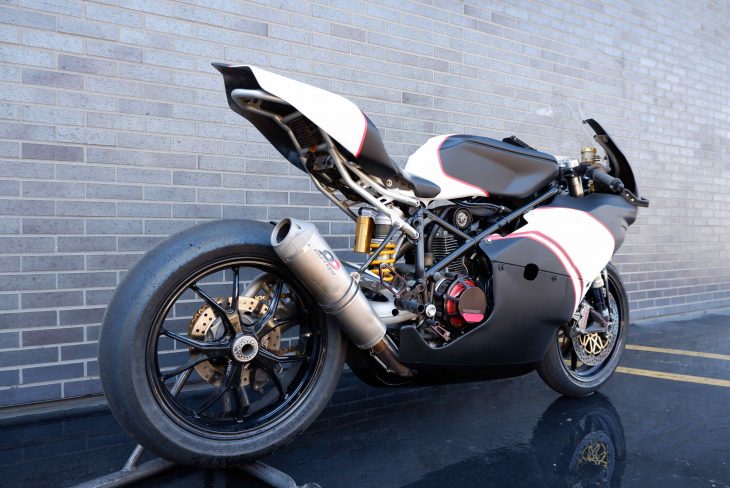 It's a chicken-and-egg exercise to try and piece together what this bike started life as, so here's what we know: Its mill is the stock engine from an 1,100cc Monster that has been treated to pod filters. The chassis is from a mid-aughts 749 Dark and the swingarm began life on a Monster S2R. The rest of the parts roster reads like a WSBK team's grocery list, so we'll let the seller describe it in a bit.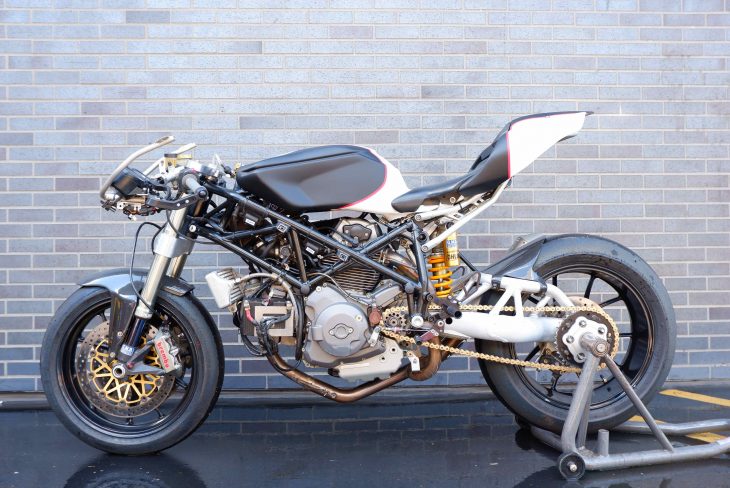 The result of all the trickery is a torquey, featherweight track weapon that looks and goes like nothing else. It eschews the usual superbike practice of stuffing five million peaky horses into an aluminum frame in favor of a sweet-handling, friendly torque monster. Fast and friendly is the name of the game. With 85 horsepower under your right wrist, you're not likely to scare an R6 on the straights, but hold your nerve and momentum will carry the day.
From the seller:
I bought this bike in '17 from the original owner who commissioned the build. Told Bruce Meyers put it together originally w/ 800 motor (hence the s2r swingarm). Chris Boy at Moto Corse then built and tuned it as it sits. Bike is 100% ready to ride.
749 Dark frame, modified for conversion / vin removed.
Stock 1100 monster engine, less than 2k mi, MWR Pod filters
749r subframe, custom front fairing stay.
S2r swingarm, 749 linkage.
Ohlins rear shock, stabilizer, & 25mm kit in 1098 forks.
Attack triples, 28deg offset.
M4 monoblocks, 320mm full floating rotors, progressive pads.
Yoyodyne slipper clutch and slave.
Woodcraft clip-ons, rearsets, lever guards, & clutch cover.
SC Racing oversized oil-cooler.
QD low-mount exhaust.
Microtec ecu, lightened harness.
Dynojet quickshifter, quick-turn throttle tube.
Shorai battery, Shorai charger included.
520 chain, Superlight sprocket & quick change carrier.
Carbon front fender, rear hugger.
Pirelli sc-1 slicks, ran 3 track-day sessions.
Sharkskin 749 bodywork, fresh paint, stickers over clear.
Plenty of Woodcraft spares and rear stand included.
Bike weighs 375lbs, 49.5%front 50.5%rear, 85hp & 71 ft/lbs at rear wheel.

Bad: Small blemish on fork slider but never blew seal or leaked. Extra 1098 forks (empty) included. Bodywork shows some damage through paint. Rear hugger tight clearance but still clears warmers. Stone chips and small nics, some rash (normal race bike condition).

All service work performed at Ducati Detroit. Belts 2 years old, valves adjusted w/ 1 track day. All fresh Motul fluids, MWR pods oiled, steering head bearings serviced, forks serviced. Fully safety wired.

Price is $7,500 firm. Buyer to arrange and pay for shipping. Located in Detroit Michigan. I kept up with built motors in AHRMA. I hope it goes to a good home, it was a dream bike.

Thank you, Eric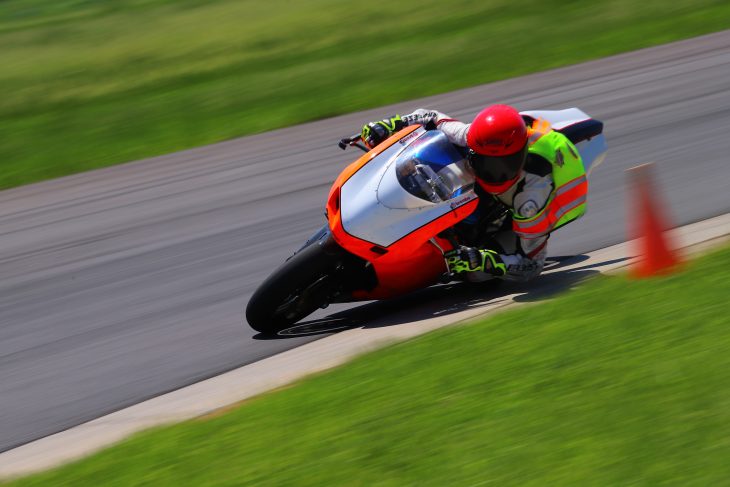 It's clear that this machine has been well-loved over its life, and it deserves a next owner who can heap a similar level of care and attention on it. As track weapons go, it's hard to think of something that will stand out the way this will.