Suzuki made a tsunami-sized splash with the 1986 GSX-R750, with 100 hp and a hair over 400 lbs. soaking wet.  This Florida example looks preserved rather than having just survived, and has been made ready to ride or show by just the 2nd owner.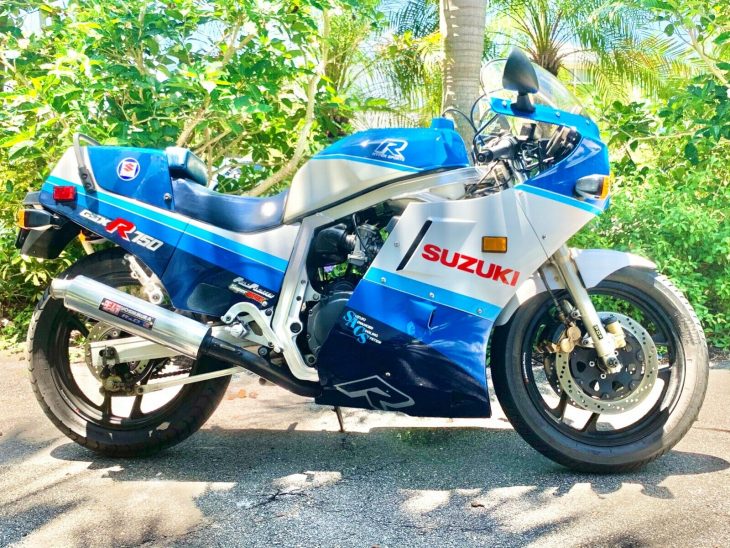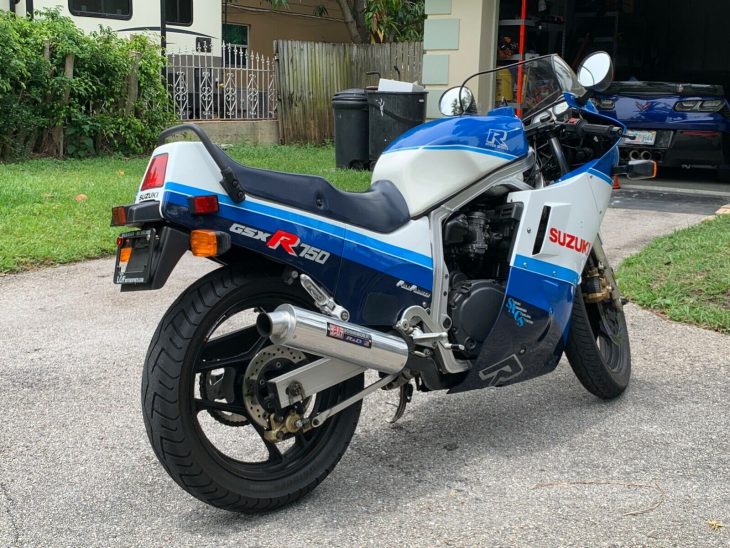 Introduced just the year before, the 1986 model's biggest change was a 1-inch extension of the swingarm to bring the handling more to the street.  The air/oil-cooled 749cc's pushed 10.6:1 compression and carried a performance car-like 6 quarts of oil but saved the weight of a water system.  The small-tube alloy chassis also saved several pounds, and held the 41mm conventional forks and Full Floater monoshock.  Wheels and brakes were closer to and endurance racer spec – matched 18-inch rims and 310mm dual front disks.  The full fiberglass fairing carried dual headlights and a cushy dual seat.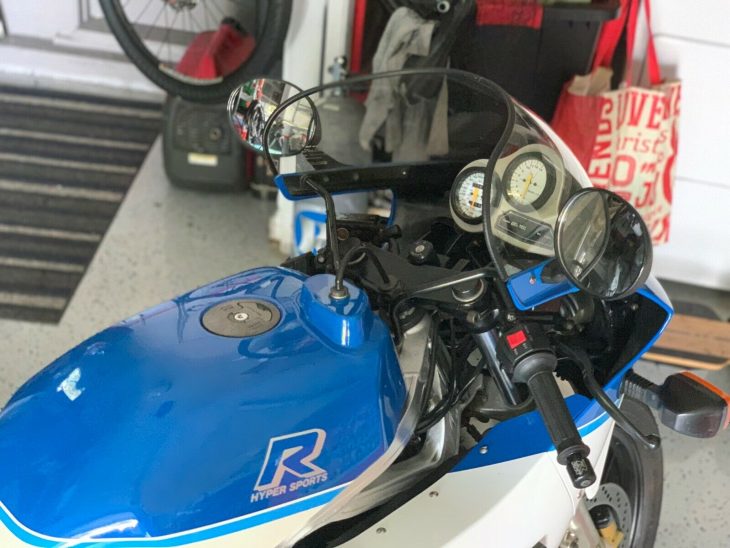 The seller picked an extraordinary example of this iconic bike and polished it like a gem, beside going through most of the systems and making things better than new.  Presents as very stock and the sprocket change is a great idea for a classic bike with a possibly vintage rider.  Comments from the eBay auction:
I bought from the original owner, the guy that walked in the showroom in 1987 and drove her home.  It needed carb cleaning, brake pads and calipers cleaned, new tires, new chain and installed 2 new sprockets (15T520P front and smaller rear to make the gears longer and it runs sooo much nicer with this ratio). The original solo seat cowl (which I have) has a crack on the side where it bolts to seat but I was able to find this blue replacement and simply bolted on the original pad however the sale comes with the original white cowl as well.  I bought her along with the original exhaust, which is included in sale($$).

She was garaged kept in a cool environment and the paint is original and looks like the day it came off the showroom floor since I buffed and polished fairings.  By the time I was done getting her tuned and dialed in and installing new chain and sprockets, new battery and fluids, and solid tune after carb removal and cleaning and rebuild, I honestly dropped about $1500 in parts and labor for the things I couldn't do myself and it was well worth it the way she runs now. I even have the original bar ends in a box which I think would make her 100% stock.  There are some minor imperfections I will be happy to share with you if you are interested, but most are not visible and normal for a 32 year old machine.

I have been riding her just about every other weekend for 20 or 30 miles and only run ethanol-free fuel and she continues to turn heads and put a smile on my face.  It is one of the finest 100% vintage and authentic GSX-R750 I have ever seen – and is turn key, sitting in my garage, looking for a new home.  I have an extra set of plugs as well, the Title is clean and in house, and it has never, repeat NEVER been dropped or scraped .
Suzuki did well with GSX-R on the World Endurance circuit and TT-F1 races, but with Yoshimura managing in 1989, won the Daytona and AMA Supersport titles with Jamie James aboard.  It was just the first few chapters of a multi-volume history that is still being written, at least in North America – the model has been retired elsewhere.  Arguably the first endurance racer set up for the road, the early GSX-R750's focus on light weight and handling made it special even without the Limited Edition's homologation parts.  This looks like a well and carefully loved example.
-donn