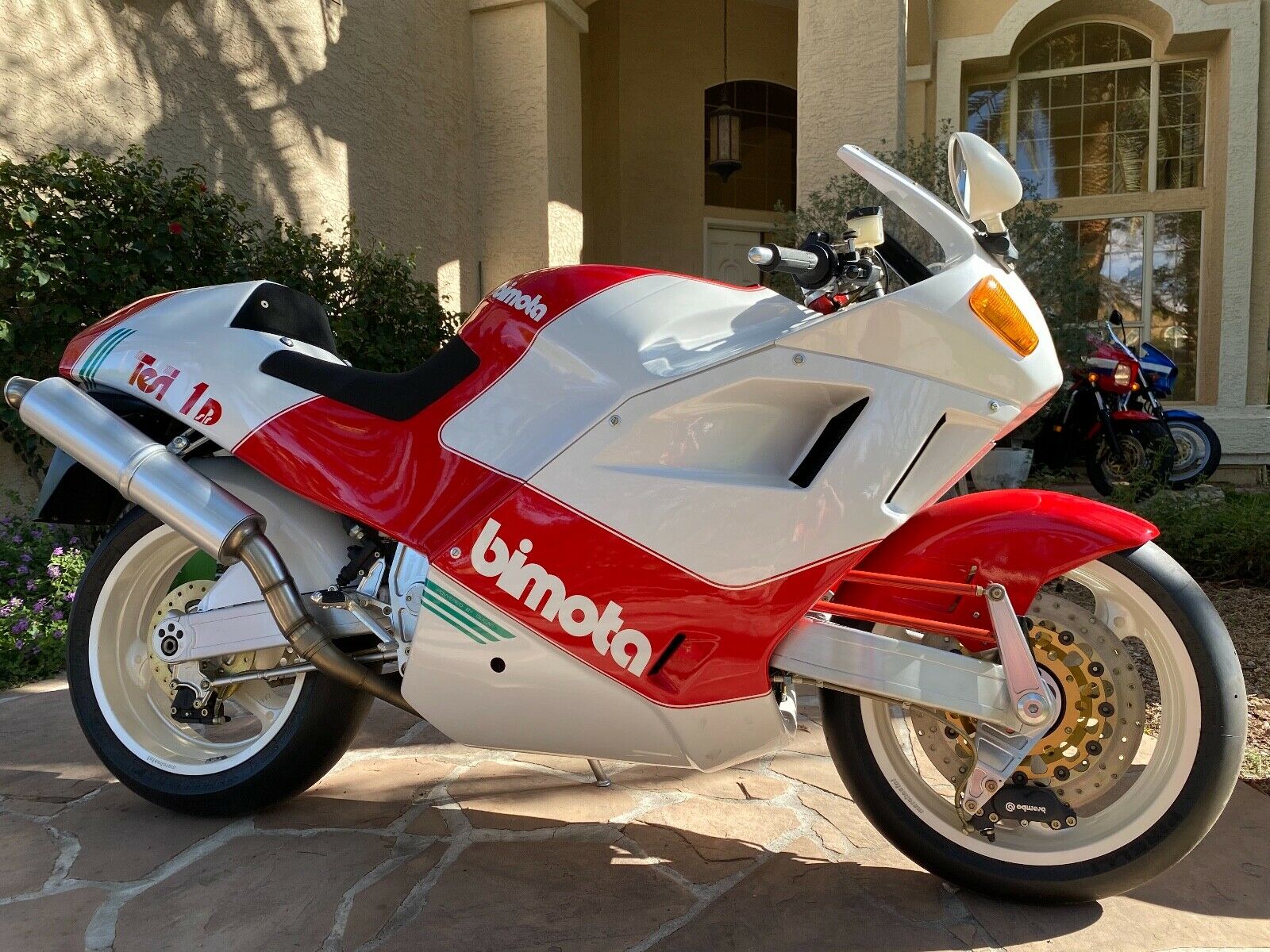 One of the most interesting and promising areas of modern motorcycle development has been with suspension systems. At the rear, bikes went from hard tail to twin shocks, and then stagnated for decades until the rising rate single shock came to vogue – as it continues today. The front of the motorcycle has explored a variety of suspension systems, with the telescoping fork emerging in the 1930s and remaining as the dominant suspension mechanism to this day. However the fork is not without issue, as it simultaneously must handle vertical loads, as well as thrust vectors under braking and lateral movements imparted by the road surface to the tire – all while remaining lightweight enough to offer manageable steering. That is a lot to ask from a piece of hardware, and designers developed the hub-center steering mechanism as the motorcycling future's new mousetrap. Offering the ability to isolate individual loads to specific components and pathways, the front swing arm is (on paper) a superior solution to the problem at hand. Unfortunately, it has utterly failed to capture the marketplace, making examples such as this unfired, zero mile 1992 Bimota Tesi 1D a rare find.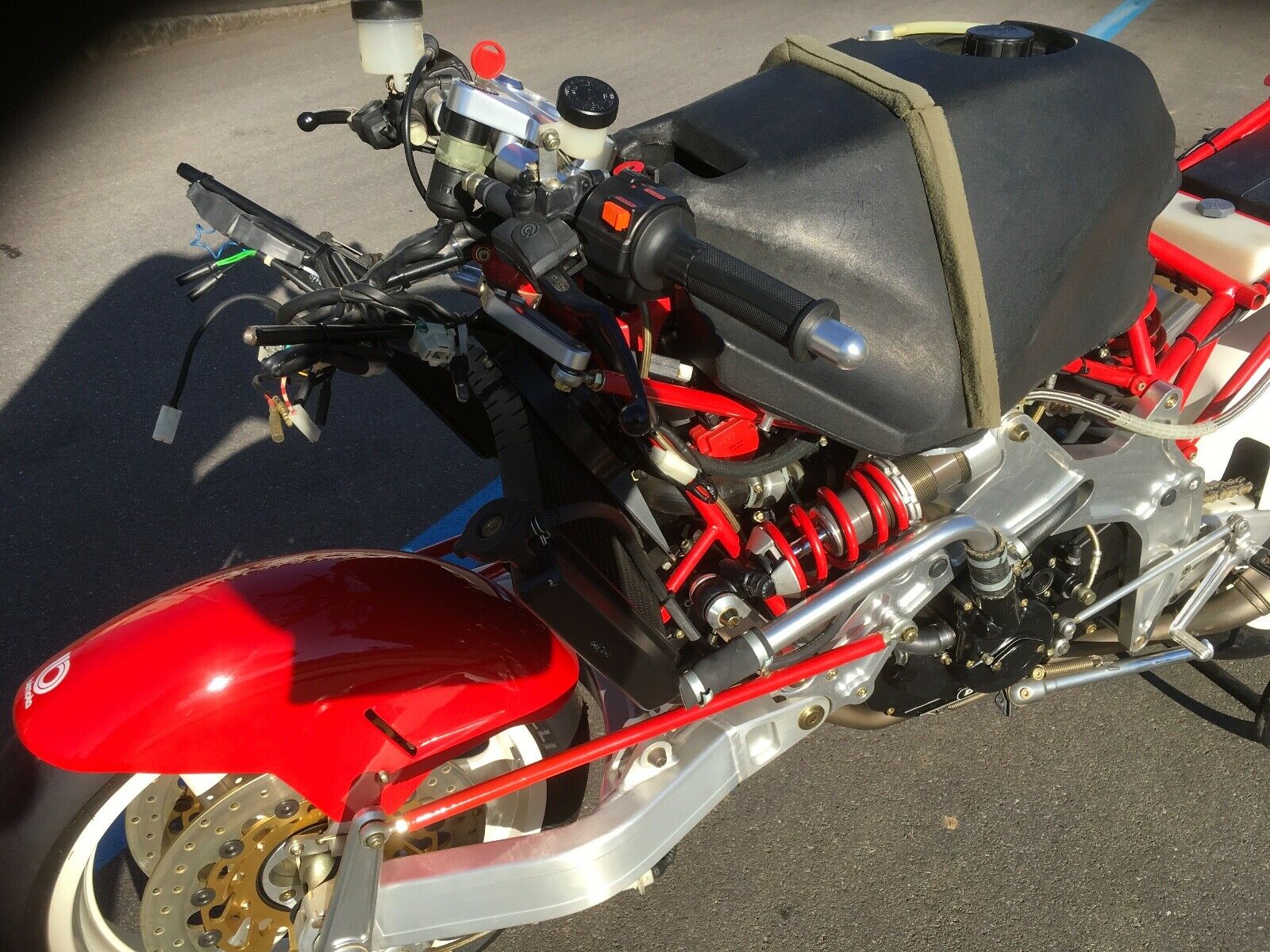 There have been several attempts to commercialize the alternate front end. BMW tried the hardest with their telelever and duolever equipped bikes, but have moved back to conventional forks for many models. Yamaha adapted the Radd-Parker design to the weighty GTS (which remains a hidden gem), but it failed to sell and was quickly discontinued. Part of the problem is that the complexity and weight introduced by the alternate front suspension components did not offer any real life performance gains over the humble front fork. They also required innovative chassis changes, which are very evident in the "C" section frame on this bike. Bimota toyed with a variety of designs over the years in the Tesi series, but all were low production and very expensive bikes best suited to the collector. Today's example is just that – a collector.
From the seller:
Anyone who is seriously looking at buying a Bimota Tesi 1D-904 for their bike collection will know what is on offer here and how rare it is. Add to that the NOS condition and you have a very unique opportunity.

This is Bimota's earliest limited-to-20-bikes high performance edition of the Tesi. It is new, it has never been started and it has never had its hydraulic systems filled. The protective yellow-zinc plating is still as new on all 3 Brembo cast iron rotors. The bike has always been stored in a UV-free, climate controlled environment, resulting the excellent condition of all its individual parts to this day, including the paintwork, exposed metal surfaces and of course all the rubber and plastic components.

Clear Arizona title, based on the original Bimota MCO (also called MSO) and of course stating zero miles. Complete history since it was delivered new by the factory and a copy of the Arizona title are available on request to seriously interested parties.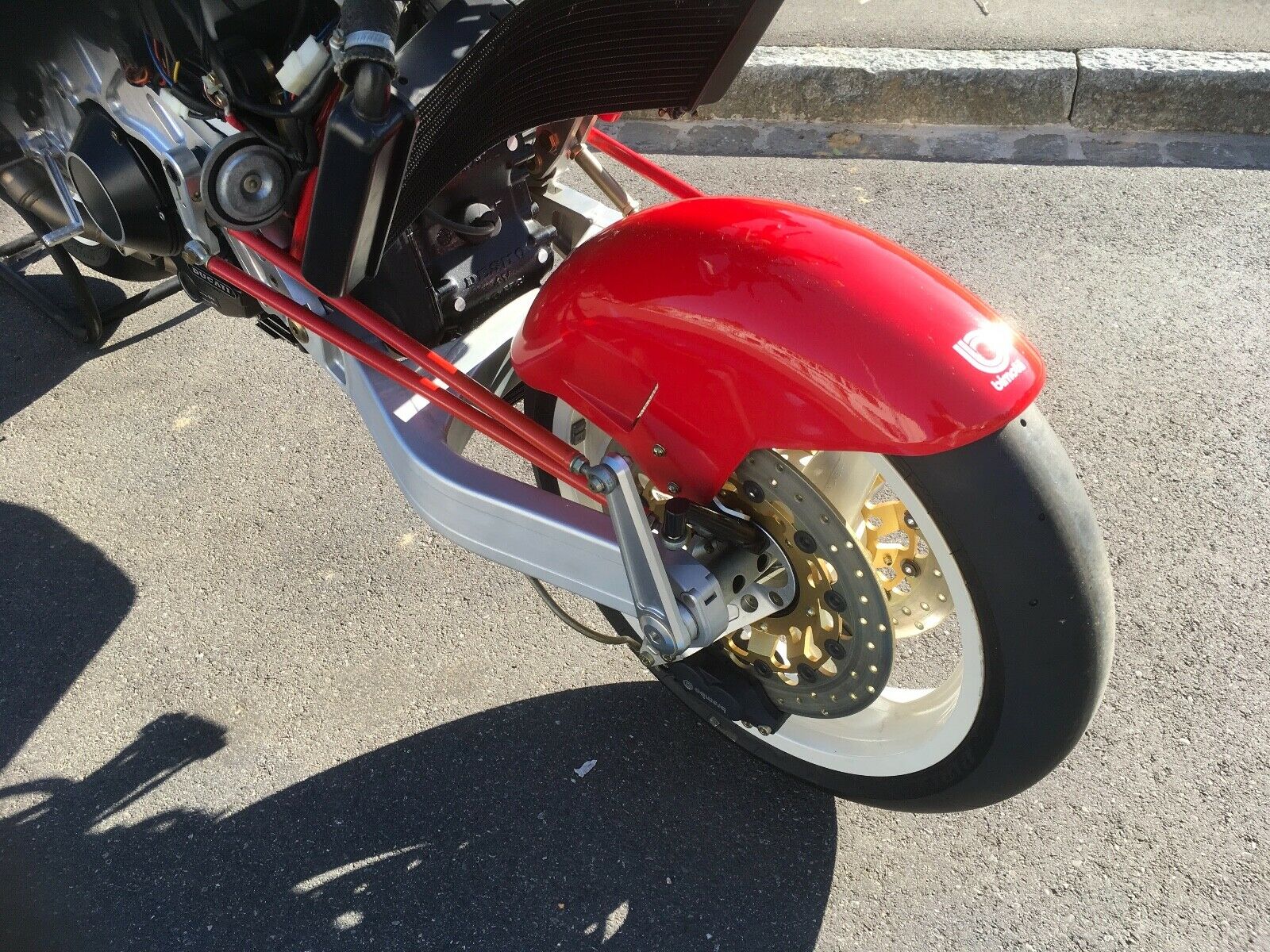 From the seller:
According to the Vin this is the very first of the 20 Bimota Tesi 1D-904's built, the rarest of all Tesi 1D bikes. Its drivetrain is based on Ducati's 888 SP engine with the volume upped to 904cc via a longer stroke crankshaft. These 904cc engines were specifically build and tuned by Ducati and provided to Bimota with their own Engine number sequence including the Bimota logo. In street trim this model produced around 115 h.p. and with the race components approximately 137 h.p. was possible. A couple of these 1D-904s were raced in Italian privateers racing series in the early 1990-ies.

This Tesi has 0 Miles and was specifically set up when new for long term storage and display. It has never been started and has always been used as a show piece in a comprehensive classic bike collection. Original Pirelli Dragon Slick racing tyres, comprehensive original Tesi specific toolkit, owners manual, keys with fobs, workshop manual, parts manual plus the super rare extra NOS Weber-Marelli racing electronics and a Km/h as well as an mph dash board come with the bike. The correct early Bimota rear stand are also included.
While the Tesi 1D is rare and the hub steering is a big story, let's not overlook the fact that this is essentially a brand new Bimota Tesi 1D 904. For although technically this bike is 28 years old, it was pickled when new, wears NO miles and has never been titled, started, ridden or dropped. It is likely that this is a bike that will never run in anger which is a shame, but on the other hand there are so few perfect examples of rare models today it is nice to know that some will survive for future viewers. If you are in a place to offer this amazing piece of rolling artwork a suitable throne room equal to its status, check out the auction here. Get ready to raid your rainy night fund, the kids' college saving plans, borrow against your 401k, cash in your bitcoin or go rob a bank – because at nearly $50k iconic perfection does not come cheaply. What is your favorite funny front end motorycle? Is it a Tesi? Let us know in the comments. Good Luck!!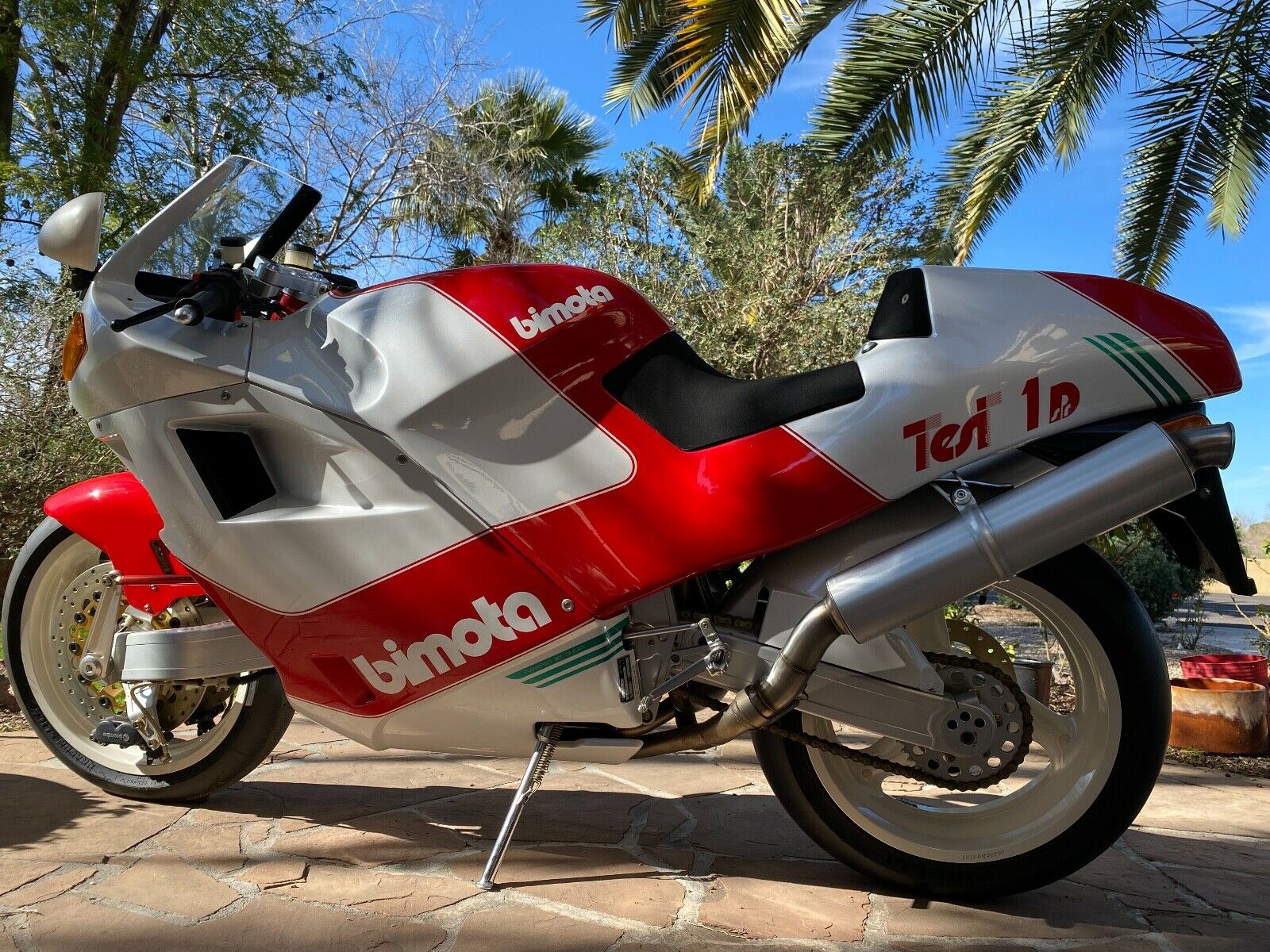 MI