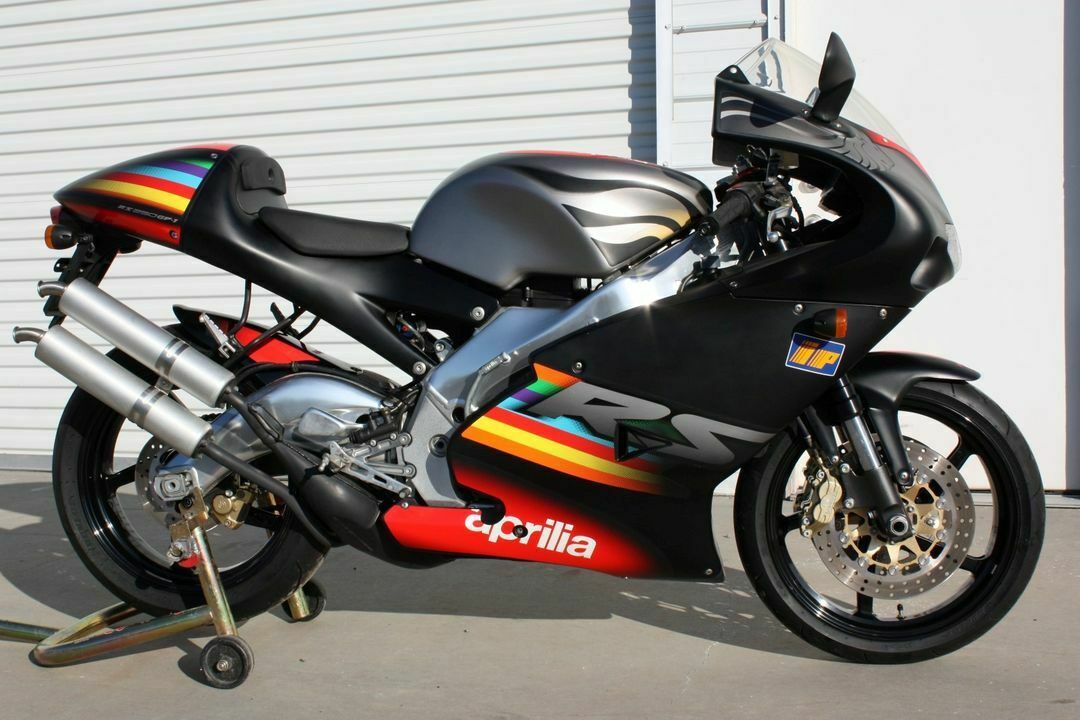 Moving on from booming V-twin, limited edition bikes from Italy comes this beautiful, well, uh, V-twin, limited edition screamer from, er, Italy. Sheesh. The big difference is that this one is a two stroke from Noale, and not the desmo- aspirated variety from Bologna. Specifically, this is the GP-1 branded Aprilia RS250, a final example of this legendary quarter-liter import for the street and track alike. A trio of well known racers were successful on the GP racer example of this model: Rossi, Biaggi and Capriossi. That is impressive company to be sure.
The Aprilia RS250 owes much of its inception to Suzuki. The 90 degree V-twin is a direct pick-a-part from the Hamamatsu manufacturer. As is the six speed transmission. Sure, Aprilia made some changes to the unit to make it more theirs (i.e. airbox, programmable ignition, exhaust and logos on some of the cast pieces), but the roots of this family tree are Suzuki – right up to the leaves. Suzuki even assembled and shipped the Aprilia-spec motors to the Italian bike builter. But as we all know, it is not just the motor that makes these machines track-day fast. The RS250 (and the race bike that inspired it – the RSW250) is not popular by riders through accident. With a stout aluminum-magnesium allow frame, large adjustable front forks, an artfully shaped rear aluminum swing arm and the wind tunnel aerodynamics, the 70 HP twin is good for 130 MPH with handling and brakes to match.
From the seller:
This is a very near new 2003 Japan Market Aprilia RS250 GP-1, the very last of the road going 250cc two stroke models produced anywhere. 1100 original Km or just 683 miles. This bike is turn key and ready to ride or just park it in your collection and appreciate its history and great looks. There are few of these left, fewer still in this condition/miles and they won't be making anymore!!

This is a 17 digit VIN bike and it has a clean and clear Montana street title and plate.

Recent full service to include, carbs cleaned and inspected, new air filter, fresh oil in trans, fresh coolant fresh brake fluid front and rear and the front forks were just serviced with new seals and fresh oil to rectify a leaky seal ( Motul fluids in everything ).

Bike is turn key and starts on 1 to 2 kicks when cold, the tires were replaced on it a few years back so they are not original, but they have few miles on them.

All electric works, lights, switches, good battery etc.

The bike is 100% stock. It shows some minor wear from the last 17 years but is as shown in the photos incredibly nice and original. I am missing the pillion pad, but that can be easily sourced if you want it.

It still wears all of the original warning decals and Japanese label stickers. I have included photos with the lowers off so you can have a good idea of what the bike looks like underneath the bodywork. There is some surface rust on the original chain, some light corrosion on the forks and various other really small marks or imperfections, but nothing that stands out.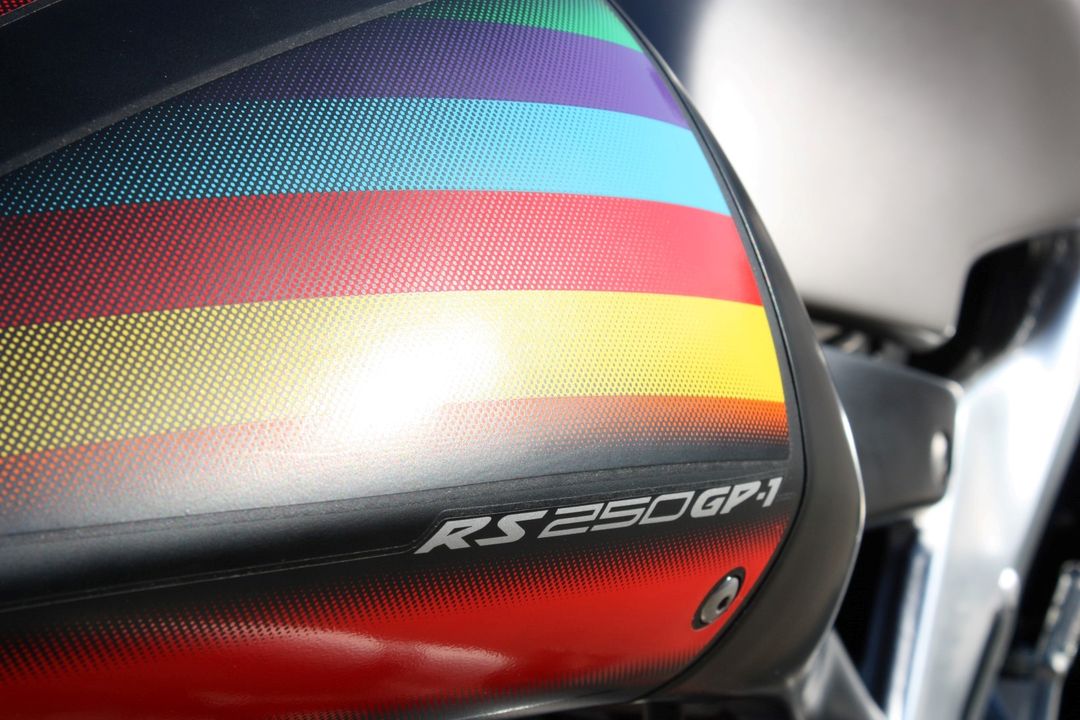 Today's particular example is not a run of the mill RS250 street bike, or even a converted RS250 Cup bike. Instead, this is the final model of the RS250 line created by Aprilia. Known as the GP-1, this edition was patterned after the livery of yet another famous Italian racer, Marco Melandri. Other than restyled bodywork and livery, mechanical changes are few. The engine and transmission remain unchanged from previous versions, as does the frame and rear suspension. Forks were updated to Showa units as opposed to the original model's made-to-spec Marzocchi suspension. Along with this change the front hoop was widened by 1/2″, allowing for a slightly wider tire.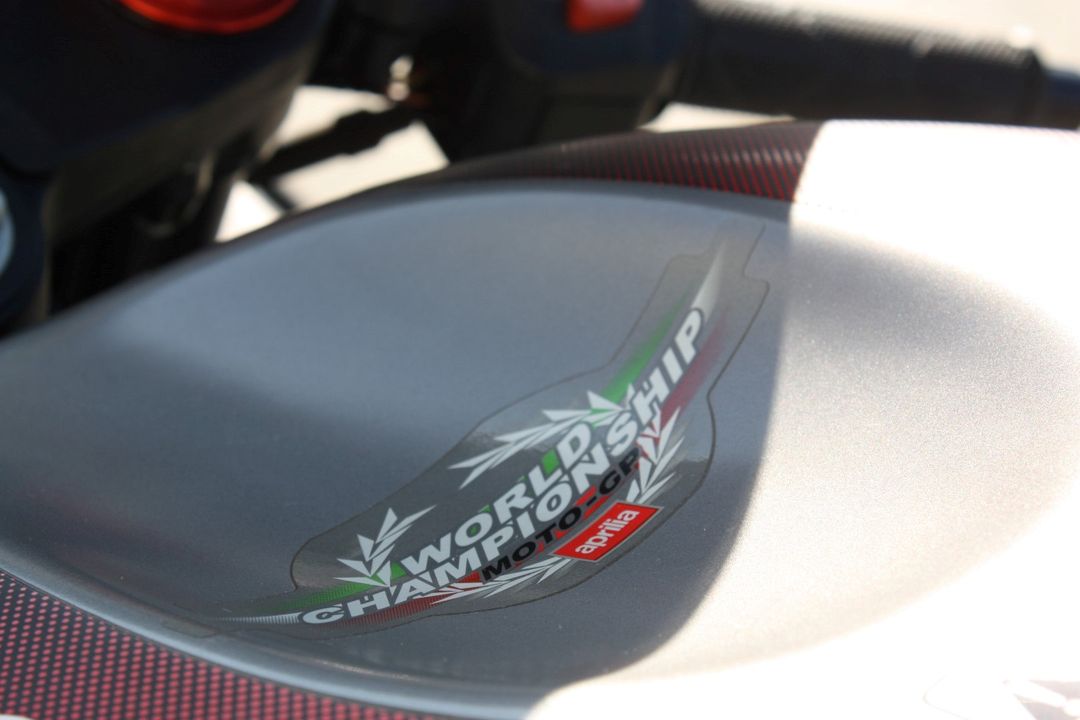 It is hard to tell if the GP1 is truly a more collectible version of the RS250, or if the market is simply responding to the newest of hte offerings (least older usually – but not always – equates to fewer miles, use, etc). If you are a rider that fits on the smaller bikes, any of the RS250 models will do you well – especially as the tach swings up past 9 grand. But only one model can be the last on of the breed, and the GP-1 it. This particular RS250 looks to be in fantastic shape, and has fewer than 700 miles. You read that right. Being a Japanese import the seller notes some minor corrosion – but this is nothing that we have seen from some grey bikes that have spent their lives on the Asian island. This bike definitely looks to have survived the curse of the sea air. Hard to tell how harsh the riding was to accumulate what is currently on the all kilometer clocks, but photos don't show anything too abused that I can tell (and the photos are marvelous). Check it out here, but brace yourself: the cost of entry is a strong $14,500 USD. The bike has a Montana title and is located in sunny California – not a bad mix for an Italian bike with a Japanese heart. Maybe you can add another location to the history of this magnificent machine. Good Luck!!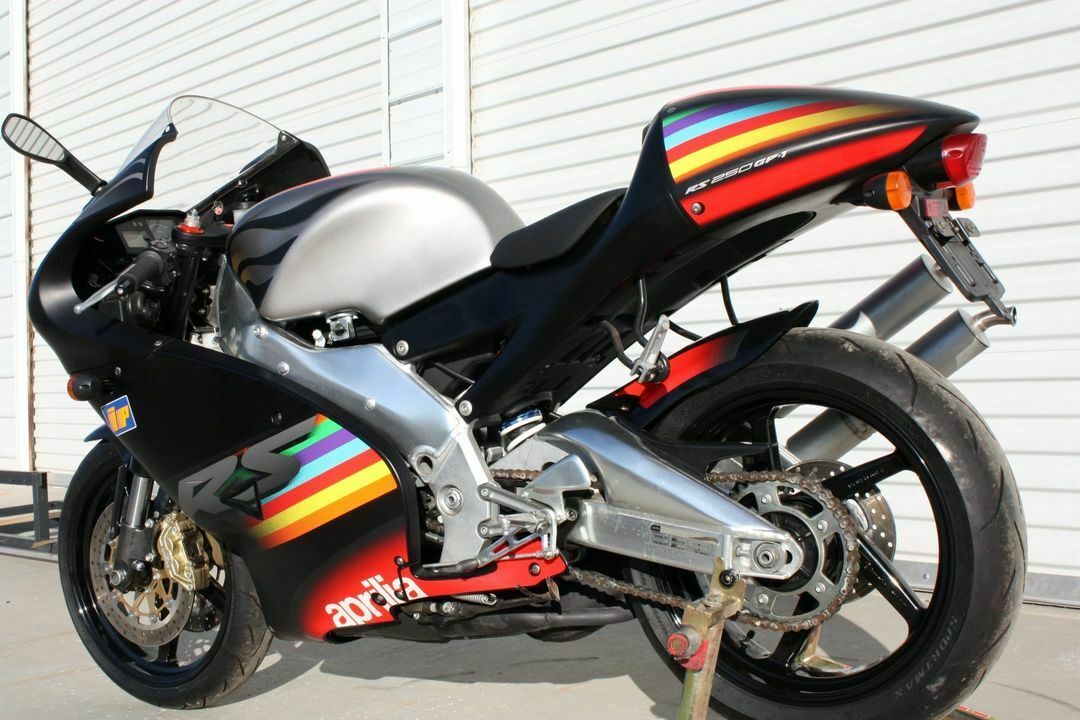 MI