With most riders expecting the best part of 200 hp per liter, later two-strokes of middling displacement are often treated like caged animals. This Honda V-3 doesn't appear to have been babied, but does boast current California registration.
Honda acknowledged that the 500cc GP formula was not going to be won with the four stroke NR500, and returned to the podium with the NS500.  Wishing to capitalize on their success within Japanese regulations, they presented a 387cc race lookalike, which was brought stateside in a plain gray wrapper.  The surprisingly symmetrical triple had two forward cylinders and the third more vertical.  The bank of three 26mm Keihin carburetors are plumbed directly in from the top, with the outside exhausts riding underneath and the center taking a scenic underseat route to the license plate.  Even with Honda's ATAC power valve, acceleration below 7,000 rpm is gradual, then a controlled explosion to the 9,500 rpm peak of 72 hp.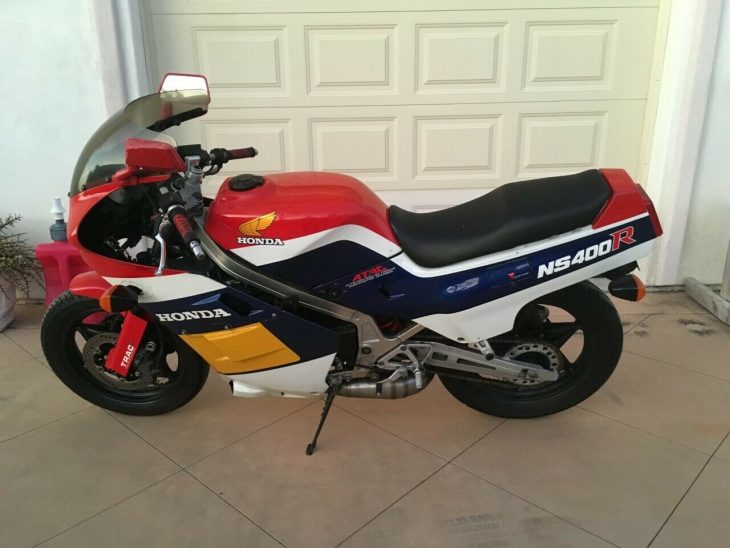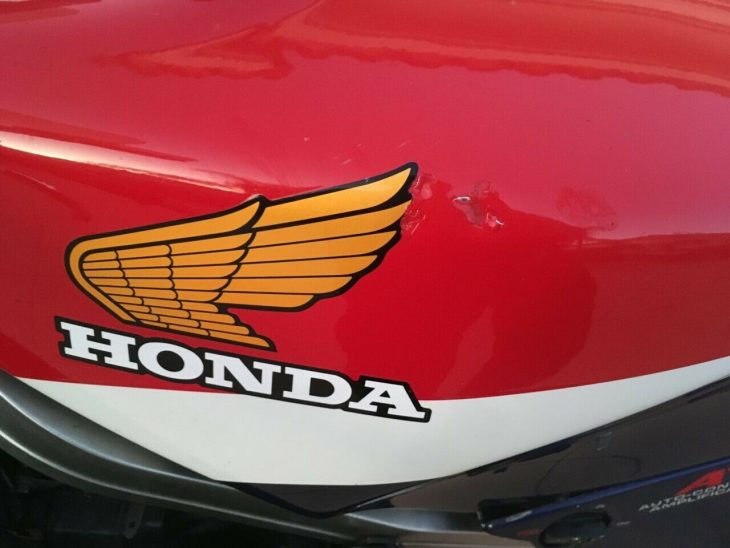 Thirty-plus years on, almost every bike will have some unknowable history.  This example has evidently received more attention on the mechanical side than to the out-front details that grab eyeballs.  Seems like doing about 10% of the required beautification would make a 90% improvement.  From the eBay auction:
Just serviced and ready to ride.  Has some cosmetic issues as can be seen in the pictures, but the previous owner installed a brand new engine which has less than 1,000 km or less than 600 miles on it, even though the odometer reads 26,296 km which is about 16,400 miles.  Odometer may change slightly as it is ridden occasionally to keep it in great running condition.  Starts easily and runs great, but needs new kill switch assembly.

Previous owner had installed a new engine, and we rode this bike a few times over the years, but with 60 bikes in the collection it did not get ridden very often. I had it completely serviced in August 2019 and new CDI units were installed (this bike uses two).  Just had the carbs cleaned last week so it is running fine.  The bike has a CA title and registration and I have it in hand.
The livery on this NS400R is similar to Honda's GP works livery in the early 1980's, when Freddie Spencer was quickly drafted from Honda's AMA Superbike effort.  Spencer hit pay dirt in 1985, winning at Daytona as well as the 500cc and 250cc GP championships.  This NS400R has a lot of question marks – high mileage, engine change, and pictures that serve only to start a conversation.  But if some of those could be resolved, it might justify the owner's reference to a high-dollar Mecum auction winner.
-donn