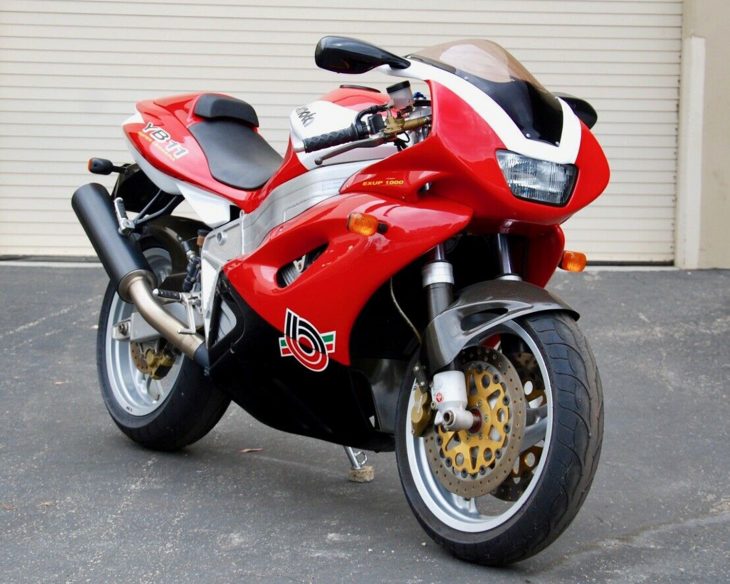 This Bimota YB11 Superleggera isn't just a sportbike, or even an exotic sportbike. It's a high-performance boutique motorcycle, one of just 650 ever built. Of course, that's pretty much mass production by Bimota standards. It doesn't have quite the cachet of Honda's limited-production homologation superbikes, but consider that Honda made almost 5,000 Honda RC30s, compared to just 650 YB11s. It's still incredibly rare and plenty fast and, as a bonus, you can take your significant other with you on your high-performance boutique motorcycle: this was one of very few Bimotas ever built with passenger accommodations, although they're about as comfortable as you'd expect. Still, it's great to have that spare seat, in case of emergencies…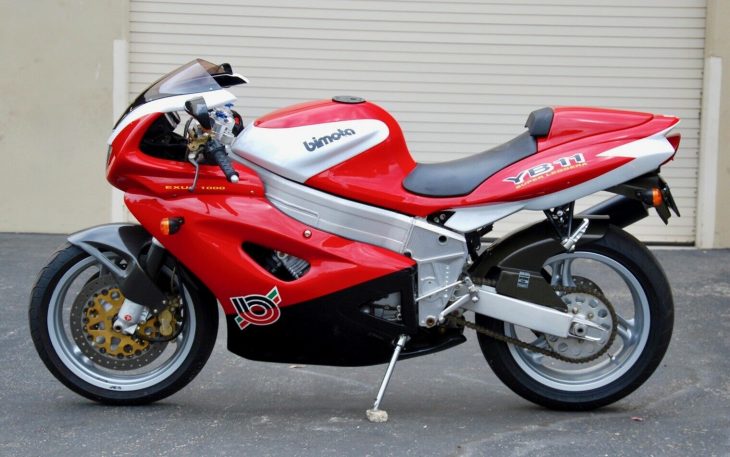 The "Superleggera" part of Bimota YB11 Superleggera refers to the focus on lightweight construction that allowed huge performance from an existing engine, along with the agile handling you'd expect. At the time, the bike weighed 403lbs dry, a full 80lbs less than the Yamaha YZF1000R that donated its 1002cc five-valve Genesis engine and five-speed transmission. Power was rated at 145hp, with an impressive 80lb-ft of torque that allowed the five-speed box to be fitted to the open-class superbike in the first place, a characteristic it shared with Suzuki's rival GSX-R1100. The light weight and power were enough to push the bike to nearly 170mph. All the way back in 1997.
Somehow, because of their hand-built nature and flaws, it doesn't seem all that criminal to modify or improve Bimota's 1990s motorcycles if it helps sort some of their more annoying quirks: a YZF750R six-speed can replace the original five-speed found in the YB11, and I'm sure somebody can figure out how to fit a stand-alone fuel-injection system to replace the carburetors. This example luckily has the earlier gauges that should hopefully prove more reliable than the later style, while looking better to boot.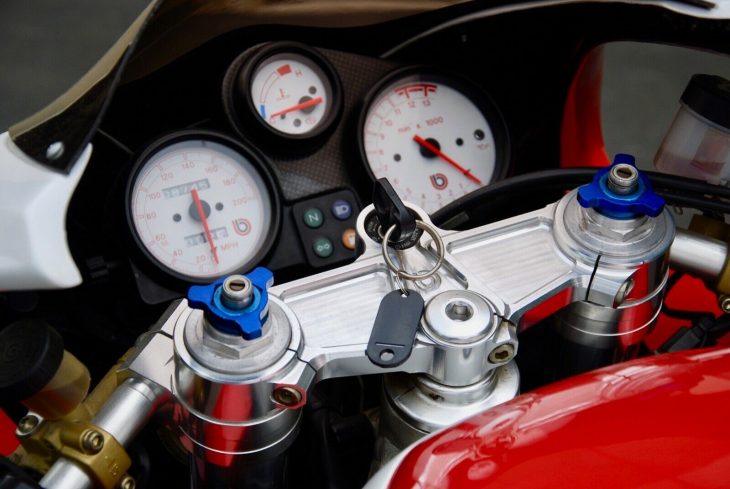 It can be tricky to tell if we've posted a particular YB11 on the site previously: they all came in the same colors, have low miles, and are generally well cared-for. It's even trickier when the seller refers to the bike as both a 1997 and a 1998 and appears to have "borrowed" some content from RSBFS in their description… Other than the occasional Termignoni system, aftermarket exhausts and accessories are virtually unheard of, and bolt-on farkles are generally considered undesirable. There appear to have been a few different exhaust hangers used, with and without passenger pegs, although it's also possible those were fabbed up by the owners when new.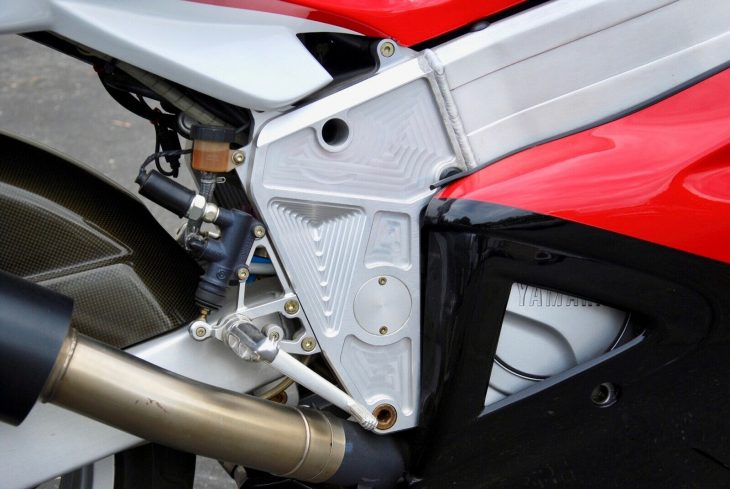 From the original eBay listing: 1998 Bimota YB11 Superleggera for Sale
One of only 650 produced

1998 Bimota 1,002cc YB11 Superleggera 

Frame no. ZESYB1100TR00047

A Rimini-based manufacturer of ducting for heating and ventilation, Bimota soon turned to their first love of motorcycles. Founders Guiseppe Morri and Massimo Tamburrini began manufacturing in the early 1970s and have since built a reputation of exclusive and limited with inimitable Italian styling machines of performance. Using the best cycle parts and an array of the best outside manufacturers' powerplants, the Bimota was always an uncompromised and expensive foray in to exclusive motorcycling. 

Powered by Yamaha's superb Thunderace engine, the Superleggera YB11 was Bimota's last word in Italian exotica of the 1990s. The 131bhp 'four' in stock form breathed through a Bimota-designed exhaust system, which could squeeze out a little more power. It was shrouded by the firm's trademark aluminum beam frame and complemented by some of the finest cycle parts available, including fully adjustable Paioli 51mm forks, fully adjustable Paioli shock, Brembo brakes, 17" Antera wheels and carbon fiber-abound. At 403lbs, the YB11 Superleggera weighed some 80lbs less than the donor bike and its handling and performance were in a different league altogether; as was the price, which at about $20,000, was a staggering 50% more than the Yamaha.

In the late 1990s Bimota went through one of its periodic financial convulsions and production of the YB11 ended in 1999, although a second batch of bikes was completed later using stocks of existing parts. 

The bike offered, an early 1997 example, the 46th built, is presented in excellent condition throughout. With an indicated 8,700 miles, racked up in the first decade of use, the bike has been on static display since 2007, though regularly maintained. A fresh service was performed to ready the bike for sale and no back-fees are due to a California buyer, as the last registration was due over ten years ago.

With only 650 machines produced, this represents a perfect combination of Italian exotica, Japanese reliability, ease of maintenance and power and with such qualifications, is bound to be a future classic.

For additional information, photos, etc. please visit ClassicAvenue.com
Look, the Bimota YB11 is a flawed motorcycle. And maybe the flaws would be unacceptable in a bike that originally sold for the equivalent of $47,000 in today's money, but they don't cost that much currently: this one is being offered at $9,900. That seems to be a little bit on the high-side for a 90s Bimota currently, although I doubt that will still be the case in the future. For that kind of money, you're getting a hell of a lot of exclusivity and performance that will still peel your face back, even today.
-tad