Early Oughties, Ducati's new Supersport was struggling in the showrooms, and the company introduced a budget-conscious 900 to generate interest.  Not often seen, this Sport model shows just over 5,000 miles and looks great.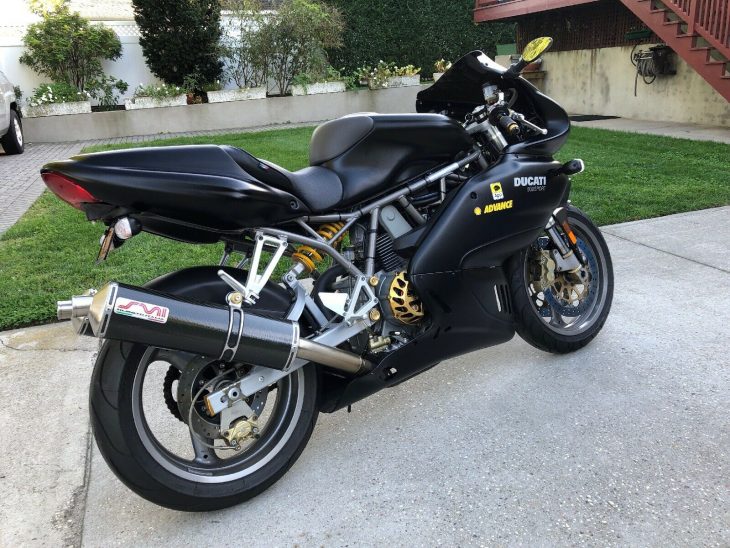 Reading the specs, the down-rated Sport has just a few differences with the Supersport.  The 904cc air cooler puts out a reliable 80 hp, with Marelli fuel injection for the new century.  Trellis and forks were from the SS, though the monoshock was Showa rather than Sachs.  A bit finicky to find brake specs but likely the same 320mm Brembos are aboard.  Saving on finishing costs, most Sports arrived in semi-gloss black with an integral tank protector and dual seat, though this one's tail has been changed to a monoposto with bespoke seat.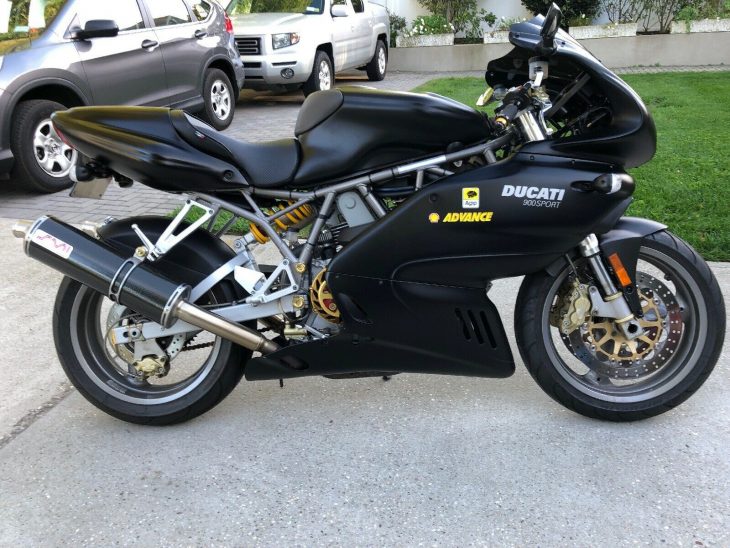 Despite three custodians, this Sport has low miles and niceties like a Silmoto exhaust, clear signal lenses, double bubble Zero Gravity screen, plus gold anodized frame caps and clutch cover.  From the eBay auction:
1992 Ducati 900 Sport…NOT Super Sport. Condition is Used.  Third owner, purchased in 2012.  Open clutch cover.  Lots of nice $$ bits.  Small ding on the tank where the bars must have hit it.  You really can't see it…The timing belts have been done.  Completely gone through.  Almost new tires.  I've ridden only 65 miles.  Currently shaving down the fleet.  Starts easy…thunderous.  I have the owners manual.
While not nothing, the $1,400 MSRP difference between the 2002 Sport and Supersport beg the question of which model was intended to subsidize the other.  Of course, list price is just an ask and a lot of the Terblanche Sport ( and SS ) facelifts left the showroom on sale.  At this point though, a lot of water has passed under the bridge, the rounded turn-of-the-century design has aged well, and even the Sport can be appreciated as an air-cooled classic whose sole compromise to modernity is fuel injection.  Even with its sensible starting amount, this no-reserve auction hasn't yet garnered a bid, but this could be a bunch of SS for mere Sport money.
-donn