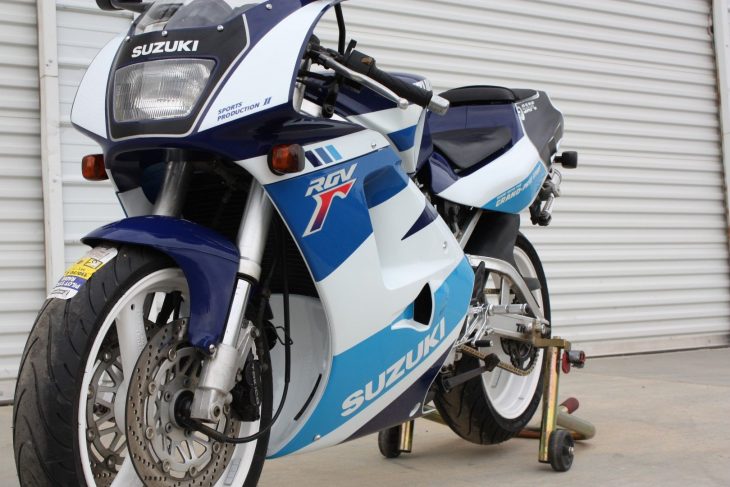 The 1991 Suzuki RGV250 SP2 was the baddest two stroke sportbike Hamamatsu was kicking out in the early '90s, with a dry clutch, wide-ratio box and fully adjustable suspension adding even more agility and precision to the little bike's already lithe and precise nature. With 60-ish horsepower when uncorked and a shade over 300 pounds to push around, the updates meant the reedy little RGV could seriously hustle. As in, give supersports problems in the twisties hustle.
Thanks to those crude, dirty little powerplants that make horsepower like the Middle East makes the oil to run them, the bikes didn't need to be massively complicated to produce prodigious speed. With conveniences like oil injection, the bikes weren't even that cumbersome to refuel, as long as you checked the oil level at gas stops, you were good to go.
This 1991 Suzuki RGV250 SP2 has been legally imported to the US and treated to a cosmetic restoration and some tasty Tyga go-fast pieces. The bike shows its age on many of the aluminum pieces and the dash, but the wheels and bodywork have been repainted and look excellent.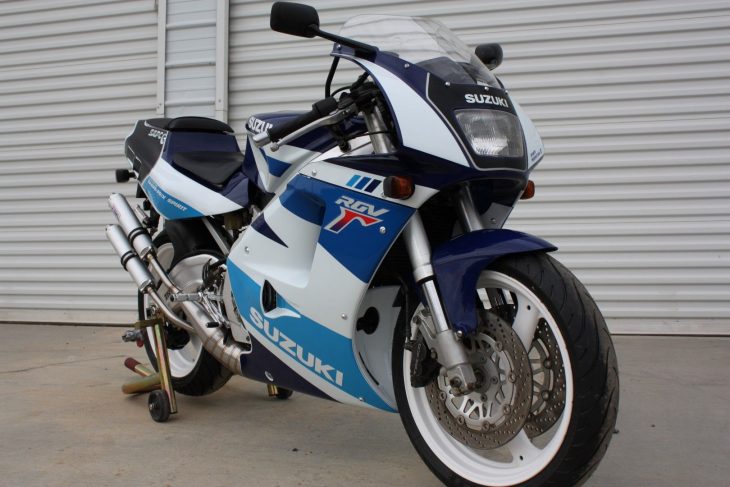 From the eBay listing:
This may be one of the best looking bikes Suzuki ever made, and this is one of the very rare SP2 versions!!

I bought this bike in Japan about 3 years ago. It was legally imported into the U.S. and it has a clean and clear Arizona street title and plate. In most cases with 11 digit VIN bikes you will not be able to register this in California.

This is a very rare Sport Production II version of the VJ22, the SP2 came with a dry clutch, the wide ratio transmission, fully adjustable suspension front and rear and aluminum lower triple clamp and rotor carriers.

This is a lower mile original bike. I STILL HAVE THE ORIGINAL EXHAUST AND REARSETS if you want to put the bike all the way back to stock!

Very low original miles at around 10k, not raced or abused. This bike had some light scratches and sun fading on the bodywork so I went about the painstaking task of getting all the OEM bodywork repainted in original colors! I have also just powder coated the wheels back to an original gloss white.

The bodywork is all original and the paint is perfect with zero miles since it was restored. The bike has brand new Michelin Street Radials, new valve stems, full service front to back including all new fluids, plugs, coolant, new air filter,brand new Tyga Full Exhaust system, new Tyga rearsets and brand new chain and sprockets!!

Bike starts on 1 to 2 kicks when cold and 1 kick when warm. All electrics work and it has a good battery installed. All wiring is intact and original. Oil injection in place. The bike comes with a complete new carb rebuild and full jetting kit, carbs are currently stock and fine, but this kit will allow you to jet the bike for your location/conditions.

There is some light corrosion that I have not attempted to clean up on various parts of the bike as seen, so it will clean up even better than it looks now. ! Some fading on the passenger seat, and to a lesser degree the rider seat as well, bit no tears.

Have not seen an early RGV VJ22 SP with the banana swingarm this clean in a very long time, and few of these survive in Japan…those that do are not cheap…or not for sale. Don't sleep on this one….really one of the nicer 250 two strokes from my collection.

PLEASE CHECK OUT MY OTHER LISTINGS FOR MORE BIKES!!!
The auction is live for almost another two weeks, but with a Buy-It-Now option, we doubt an RGV this nice will hang around too long.