Update 10.26.2019: This bike has SOLD! Congratulations to buyer and seller! -dc
If you're a fan of four-stroke motorcycles, two-strokes like this Featured Listing Honda NSR250R MC28 can be a little… underwhelming, the first time you see, and especially hear one. I mean, even with aftermarket pipes, they make an oddly weedy sort of zing as they rev, and generally sound like you've strapped a couple of leaf-blowers with fueling issues to your bike. But fans know that's the sound of a pure, simple, and utterly focused bike that emphasizes handling over brute power. And the MC28 was probably the most sophisticated of the breed and, until recently, very hard to get a hold of here in the USA.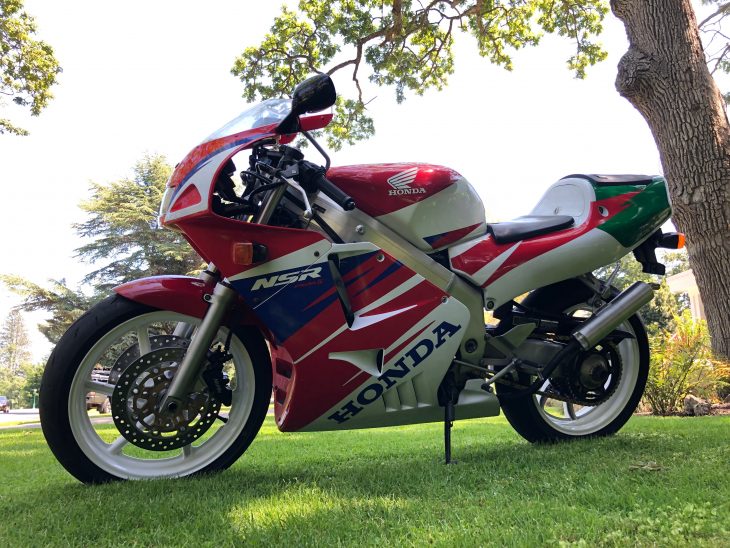 The mechanics of a two-stroke are inherently primitive, and not very eco-friendly, since lubricant is mixed with the air and fuel in a constant-loss system that will spew heavy, oil-rich smoke from the tiny exhaust cans. But that simplicity means a two-stroke engine is incredibly light weight, and makes pretty spectacular power for a given displacement. If you come from a four-stroke mentality, a 250cc sportbike sounds very unimpressive, but bikes in the class weighed in at around 300lbs and could make as much as 55hp at the wheel when properly tuned, or even a bit more if you didn't mind the occasional engine seizure…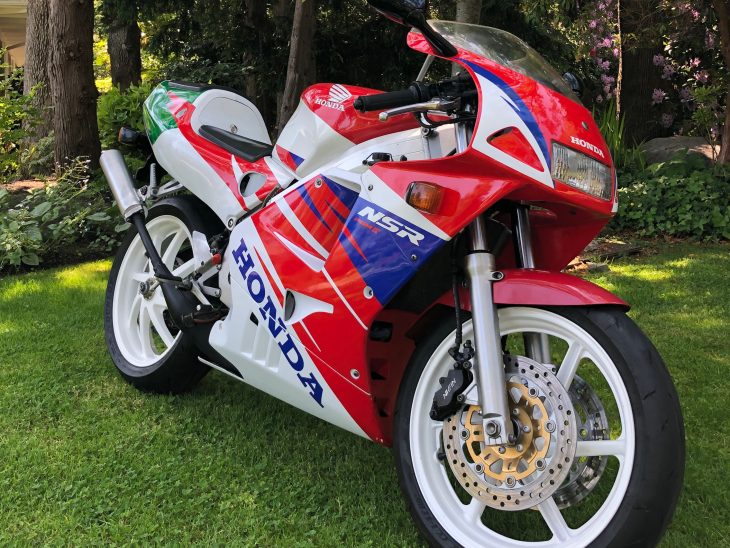 The original NSR250R MC16 was introduced in 1987 and laid down the pattern the others would follow, with a 249cc 90° v-twin that featured an RC powervalve, and PGM electronic ignition, and a six-speed gearbox, wrapped by an aluminum beam frame. The final MC28 version of the bike seen here debuted in 1993 and added a slick ELF-designed Pro-Arm single-sided swingarm and trick PGM-IV electronic ignition system to the mix, making it one of the most advanced sportbikes of any displacement available at the time.
Today's example has incredibly low miles and has had the wheels painted white to match the bodywork for an extra dash of 90s style. It's currently located in British Columbia, but shouldn't be too hard to register here in the US, depending on where you live. California residents, as always, should visit their local DMV with a sack of unmarked, non-sequential bills and a bottle of good scotch…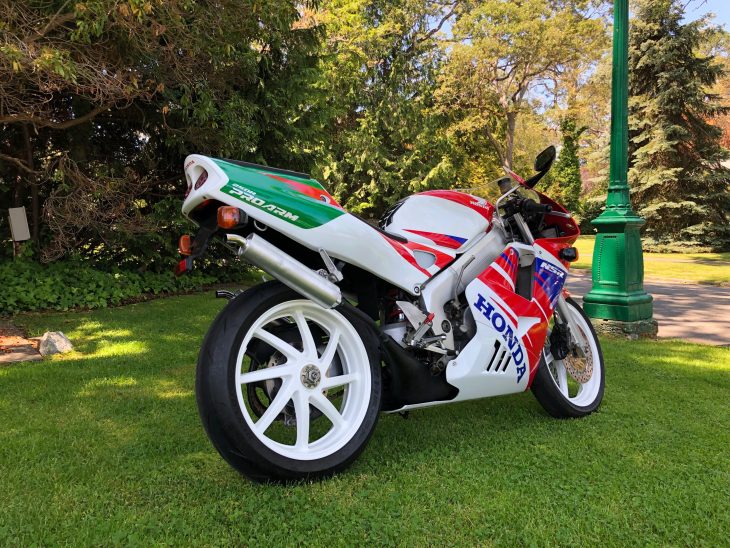 From the Seller: 1994 Honda NSR250R MC28 for Sale
Up for sale is a beautiful 1994 Honda NSR250R MC28 with only 1,000km  (622 miles). Bike is almost in mint condition. It had a stress crack on the right upper cowling around the blinker that has been professionally repaired. You can see the repair from the inside of the fairing but the outside looks perfect. All fairings are genuine Honda 100%. Bike is completely stock, like it was on the Japanese dealership floor in 1994. No dents on the tank (the tank itself was professionally cleaned and rust-proofed in 2018), one tiny chip in the paint. Wheels were professionally refurbished in 2018 and converted from red to white, which as a personal preference, was a game changer for how the bike looks. A brand new OEM rubber chain guide is included in the sale. Only a few handling marks not worth mentioning. Bike looks awesome. Just serviced with new fork seals (2017), new battery (2018), new engine fluids (2019), and Dunlop Sportmax Q-14's installed front and rear in 2017. Runs like the day it was new.

This NSR was purchased from a dealer in USA in 2017 and can easily be returned to the USA market. I'm happy to deliver this bike to Blaine, WA 98230 to provide an easy loading point for any USA-based buyer. Bike is currently titled as a streetbike for road use in BC, and had similar title in USA. Thank You For Looking. Call 250-588-8775 for more photos or questions.

Price: $12,500

Well, the completely stock condition might mean you're stuck with Japan's government-mandated 45hp, but the MC28 version is much harder to de-restrict than earlier versions and originally required a hard-to-obtain HRC ignition card to unleash the full power. For collectors, it means that the stock electronics and wiring harness haven't been monkeyed with, and 45hp is still plenty of fun in a 300lb package, if the new owner plans to ride it. Aside from the minor fairing damage the seller describes and the non-original paint on the wheels, this thing should be immaculate, given the mileage.
-tad