There are so many iterations of the Suzuki RGV 250 Gamma running around that you either need to be a savant to keep them all straight, or refresh yourself every time one comes up. There are VJ21s, VJ22s, VJ23s and a bunch of SP variants in between. Some are corked, some are uncorked, which means, depending on the variant, you get anywhere from 40-odd to nearly 70 horsepower.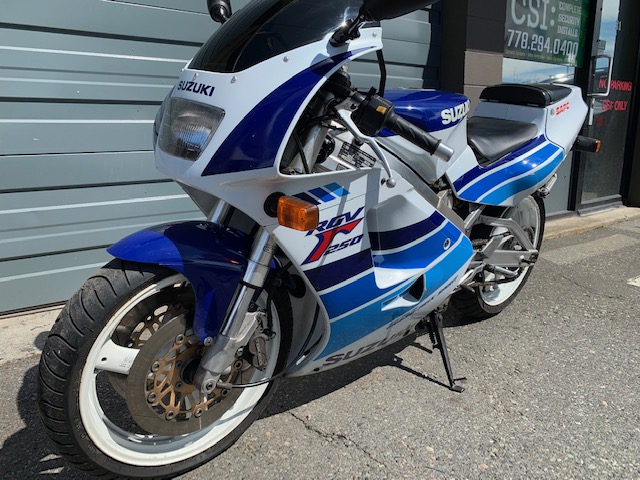 What you have here is a 1991 Suzuki RGV250 M, a UK-market screamer that was delivered without any restrictive bits and a full stable of about 65 horsepower in a bike that weighed the best part of nothing. We're talking Suzuki DRZ400 territory for a focused street/track bike with more than 30 horsepower on the 400 and a set of sticky tires and cutting edge suspension.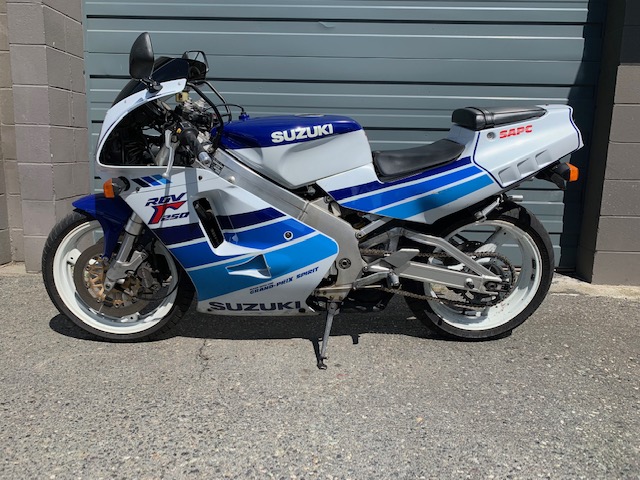 Unfortunately for the United States, there was no need for mass-market, fast 250s, as tiered licensing has never been a thing here, and insurance on a 600 is pretty cheap. So, newly licensed riders could hop on a CBR600 and never have to worry about fouled plugs or fuel mixture. The shame, of course, is that advanced riders who didn't want the thrust of a supersport or literbike never got their hands on 250 two strokes, which have a habit of showing up higher-horsepower mounts.
This RGV250 has been ridden extremely sparingly since being moved to Canada 15 years ago, and shows little wear and tear. It looks like it could use tires, but comes with a raft of spares, including complete bodywork and a replacement fuel tank. 
From the seller: 

Original 1991 RGV 250 M 

Not a grey import 

Original UK spec model with 65hp, sourced in the UK and imported by myself

Road Legal in Canada, with proper registration

Comes with the following spares, Complete of extra bodywork, extra fuel tank, factory service manual, factory owners manual, top end gasket kit

Full decal kit to make extra body work into Lucky strike replica.

Originally had 5300 miles on it and changed the clocks for kilometer ones to make legal in Canada.

I have owned this bike for the last 15 years or so and only done about 300km on it.

New battery

Runs great 

Truly a collector's item.

This bike is in ORIGINAL condition and has been in storage since it was last ridden in 2012

Price: $10,000 USD
Contact seller Stuart at csi347007@gmail.com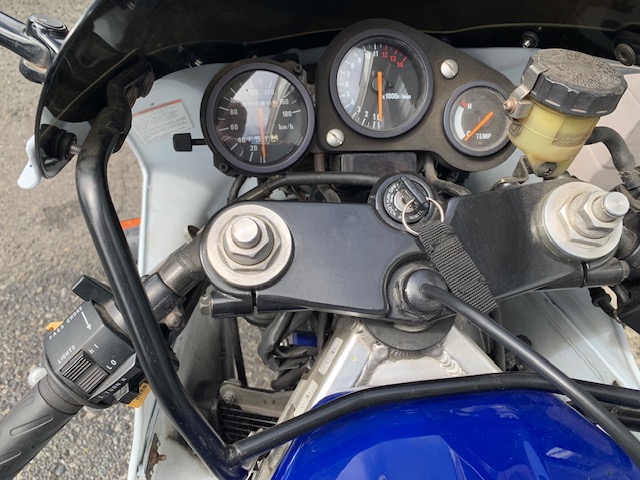 As you can see from the video, there are no flies on this little beast. For more information, contact seller Stuart at csi347007@gmail.com.