A couple of years after Wes Cooley's AMA Superbike Championships, Suzuki still had a potent weapon in their 1075cc straight four, and the twin downtube steel frame was a nice handler.  This Illinois survivor was lightly customized by a previous owner and looks like just the thing for cruise night.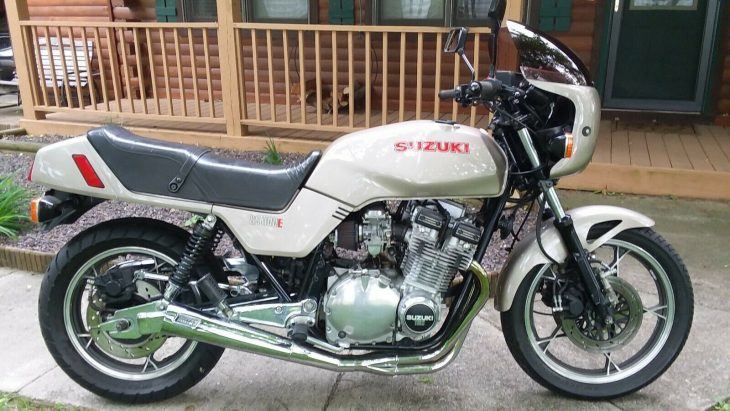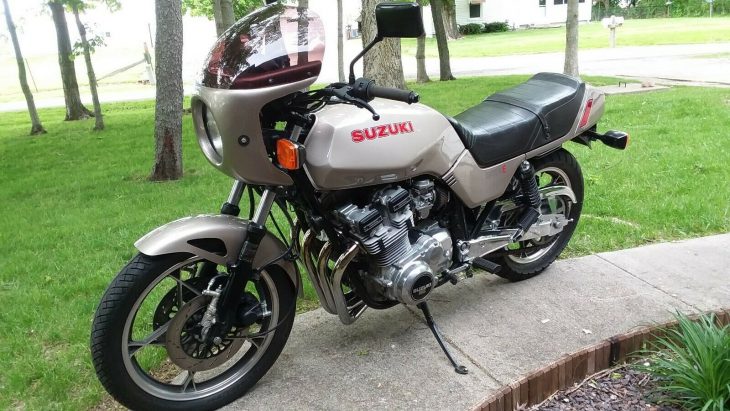 Suzuki's air and oil cooled engine was tuned for mid-range torque, and the GS1100E reports max torque of 68 ft.-lbs. at a reasonable 6,500 rpm, with 100 hp up at 8,700 rpm.  The four 34mm Mikuni carburetors make for great throttle response, though an active wrist will hasten your way through the 5.0 gallon tank.  Suspension is premium, with anti-dive and four settings for preload and rebound on the air-adjustable forks, and the shocks have five preload and four rebound selections.  Triple 275mm disks are more street-sized for the 535 lbs. dry weight.
Just over 15,000 miles divided by 37 years works out to a lot of time in the back of the garage, but just a couple of touch-ups stand between this GS and pretty nice paintwork.  An earlier rebuild prompted an extended swingarm and Vance & Hines 4-into-1 exhaust, giving a nice drag strip vibe along with the bikini fairing.  The owner offers a short walk-around – here – and has these comments in the eBay auction:
This is a incredibly nice 1982 Suzuki GS1100E with 15,000 original miles
Well maintained over the years by the previous owner this bike has had some tasteful mods over the years
Engine was re-ringed in 2004 at about 12K miles, documentation provided

Carbs are setup perfect with pods and a Vance & Hines 4 into 1 header

The rear swing arm is a chromed Vance & Hines 4″ stretch with a wider 150 rear tire

Bike has a few scratches and nicks here and there

Left side cover has 1 broken tab along with the right one but they stay in place

Aftermarket bullet fairing painted to match

Front tire is starting to show some age

Currently the headlight and tail light warning lights are on the dash even though the lamps are working fine, might have resolved before end of auction

Lots of receipts for thousands of dollars worth of work over the years and most of it was done 10+ years ago and then kept in great running order only putting on about 3K miles in the last 15 years

This bike is not for the meek, it rides very nice but goes wicked fast at the crack of the throttle

Comes with all the stock parts, exhaust, air filter housing and rear swing arm

Also has the owners manual
The GS1100E three-peated as Cycle World's Superbike of the Year 1981-1983, and for the day was lighter and handled better than most.  The strip was a haven for the 1100, which routinely ran 11.5 second quarters.  The flow from tank to side cover to seat echoed the flagship Katana.  The sand metallic doesn't shout for attention, but calmly states its presence – more forcefully once started, then undeniably as it accelerates away.
-donn