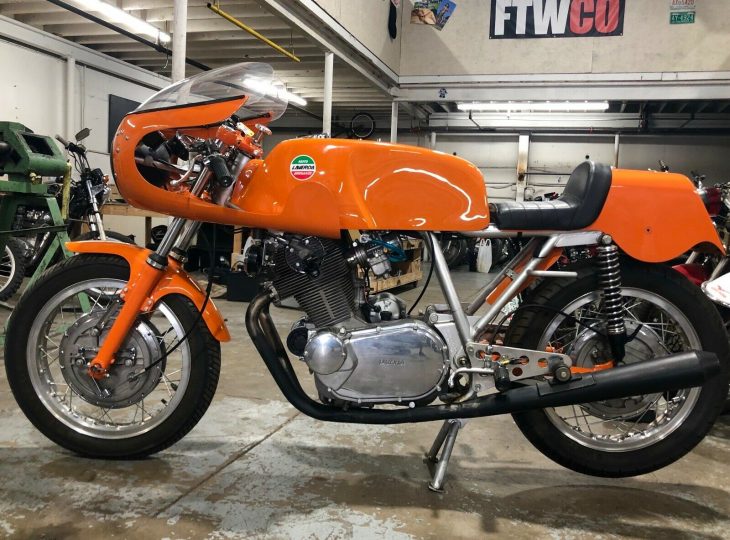 Largely forgotten now, especially by modern sportbike enthusiasts, Laverda was once a serious player in the Italian sportbike scene of the 1970s. In terms of reputation, anyway, if not in actual production numbers. Their big-bore parallel-twin was supposedly heavily "inspired" by Honda's parallel twin design of the period, and Laverda's grown-up engine was heavily overbuilt and basically all-around heavy. It wasn't nimble, but it was durable and stable, the perfect bike to use as the basis for a production-based endurance racer, and the SFC or "Super Freni Competizione" was the result.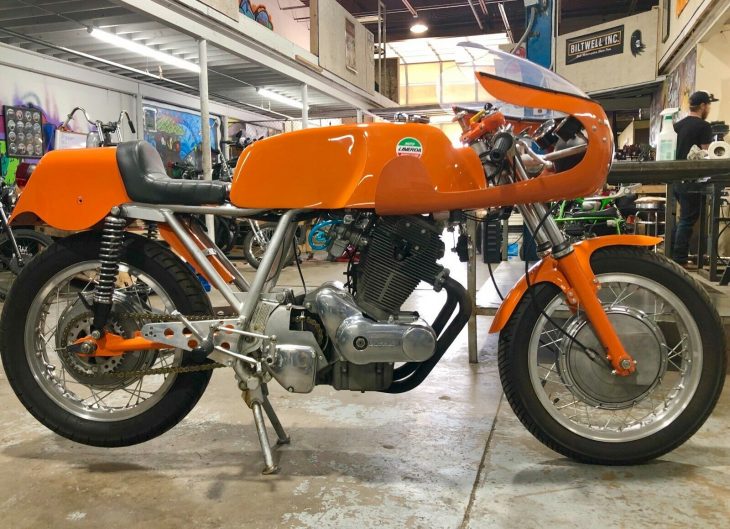 Laverda's aim was to use the very best parts available on their road and race bikes, and included Italian suspension components, Japanese electricals, and German ignition components. The early bikes used a huge, magnesium Ceriani four leading-shoe front brake, with later machines switching to an improved twin-disc setup. In both cases, stopping power was superlative for the era. Engines were heavily massaged, and made between 71 and 81hp, depending on the year. A significant overhaul for the 1974 model year made changes to the frame to make it lower and lighter, and the suspension was improved.
With the very rare SFC out of reach for most collectors, a replica obviously makes practical sense, since it was basically a hot-rod 750 SF. It'd probably be relatively easy to take an otherwise stock SF1 and just slap on a fairing and tail-section, but the builder of this bike appears to have gone the extra mile. I'm a Laverda fan, but not enough of an anorak to be able to point out the minor differences that would mark this out as a fake. It probably doesn't help that the fewer than 600 or so SFCs that were built varied a bit in terms of specification, and sometimes incorporated different components in what seems to have been the "whatever we've got on the shelf" kind of way typical of Italian manufacturers of the period.
From the original eBay listing: 1972 Laverda SFC Replica for Sale
This Laverda 750 SFC Replica was converted from a SF1 over a period of two years, essentially everything except the interior of the motor is new or reconditioned or modified. Estimated milage of the 1972 donor bike was 6,600 miles +/-. The conversion has been ridden approximately 150 miles and has been on static display in a climate controlled facility for the last five years. The following is an accounting of some of the components that make this such a special conversion:

Correct Ceriani 35mm forks w new internals
Correct Ceriani rear shocks
New Tommaselli clutch and brake lever assemblies w new cables and switch assemblies
Rebuilt Smiths "Laverda" Tachometer, new (NOS) Smiths "Laverda" speedometer
New SFC fairing, brackets and headlight assembly
SFC replica tank (lined against ethanol affect) and petcocks
SFC rear seat and pad
SFC inner fender
SFC front fender
All new paint on all painted parts
All new wiring tucked up under bodywork, all electronics moved up under seat pan
Carbs are correct Dellorto PHF36AS/AD and are in perfect order w Malosi bellmouths
SFC left and right side rearsets and mounting plates
Motor cases are polished and cut out as per SFC specifications
2-into-1 custom tuned exhaust, sounds incredible, not for the introvert
All misc. hardware was replaced and zinc plated, all chrome was new, aluminum parts polished

This is a beautiful example of a Laverda Type SFC, one of the ultimate vintage sport bikes that will get attention everywhere it goes. Display it, ride it, you won't be disappointed. Of course there is no warranty, implied or guaranteed, it is a vintage bike even though it certainly doesn't look its age… Please look at the pictures closely, the bike is located in the Denver area and we will assist with shipping as buyer arranges. Clear title, $1000 deposit within 24 hours of winning bid, balance within seven (7) calendar days via wire transfer.
It may not be the real thing, but looks very clean in the pictures, with the desirable drum front brake that gave the bike its name. Individual SFCs varied from bike to bike in terms of the details, and I doubt anyone but a Laverda expert would realize it was a replica at a glance, although it's almost too nice to be the genuine article. There are just hours left on the auction, and there's been little interest in the bike so far. Bidding is up to just $10,300, which is cheaper than a nice, stock SF1 these days Obviously, this isn't going to command the nearly six-figure prices of the best SFCs, but would be a great way to live out your Walter Mitty-style racing fantasies if you can't cough up that kind of coin, but want an authentic SFC experience.
-tad