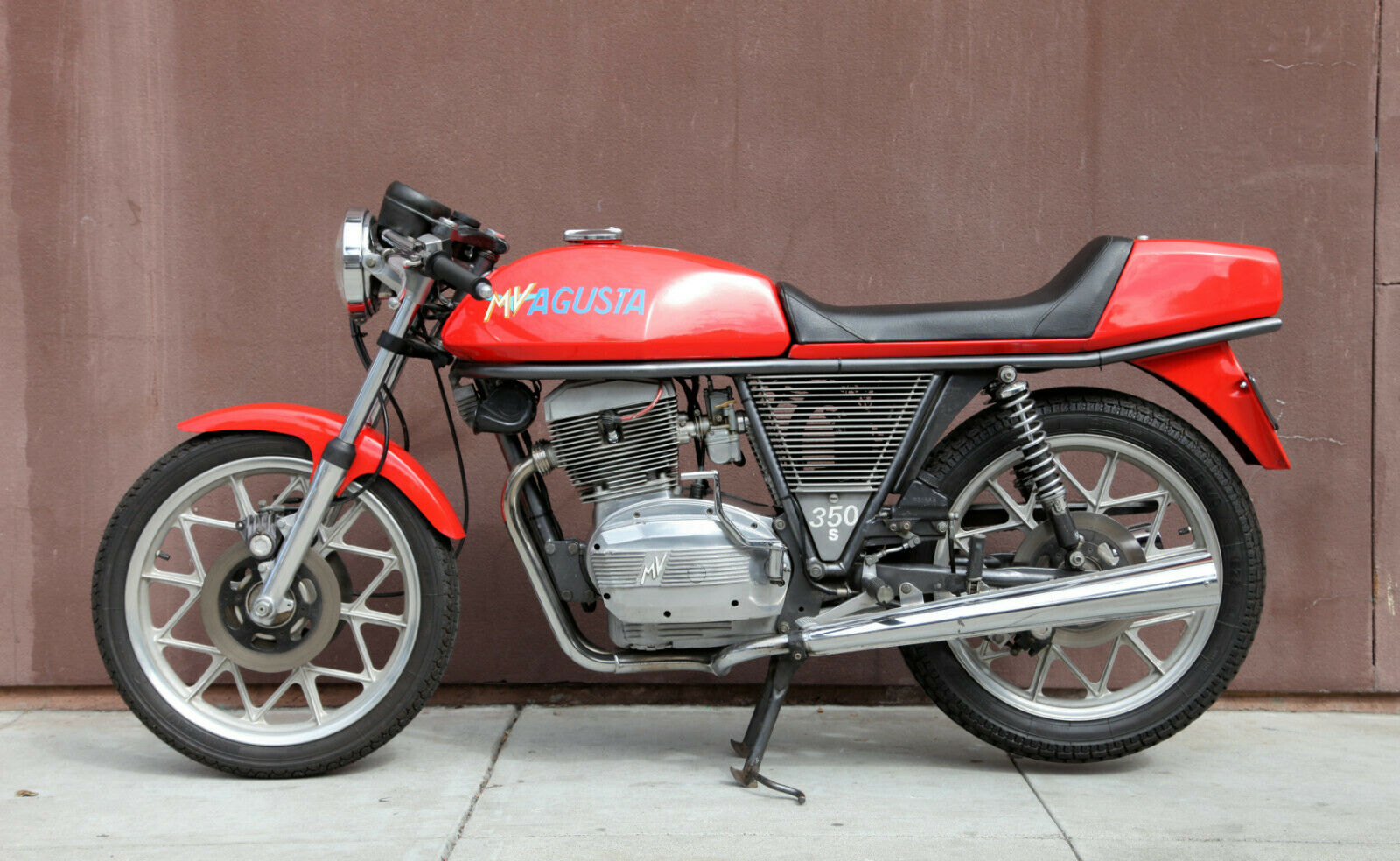 In the way cool archives of rare bikes there are undoubtedly some weird and wonderful ones. There are always surprises and bikes not many people have heard of, and there are always some real gems hiding behind the uber popular homologation crowd. Today's find, a 1976 MV Agusta 350 is the perfect of example of the weird and wonderful. Looking a bit like a single (it's a twin), a bit like a two stroke (it's a 4-cycle) and a bit like a much larger bike, it is clear that this MV Agusta is all Italian by the "nothing extra is needed here" style.
The Ipotesi is a small scale parallel twin. It has an overhead cam (only one) to operate the two valves per cylinder. A pair of small Dellortos handle the intake side of things, while a pair of chrome pipes take care of the exhaust. At 350cc this is hardly a powerhouse. but with air cooling and appropriately sized components, it is hardly a heavyweight. With 30-ish HP on tap (comparing reasonably to the current crop of small-bore bikes), the little 350cc engine is pushing only 350 pounds of bike. Brakes look tiny (those are 220mm rotors all around), but with less weight and speed comes less need for larger, heavier hardware. Clip ons are low and tight; perfect to practice that aerodynamic tuck!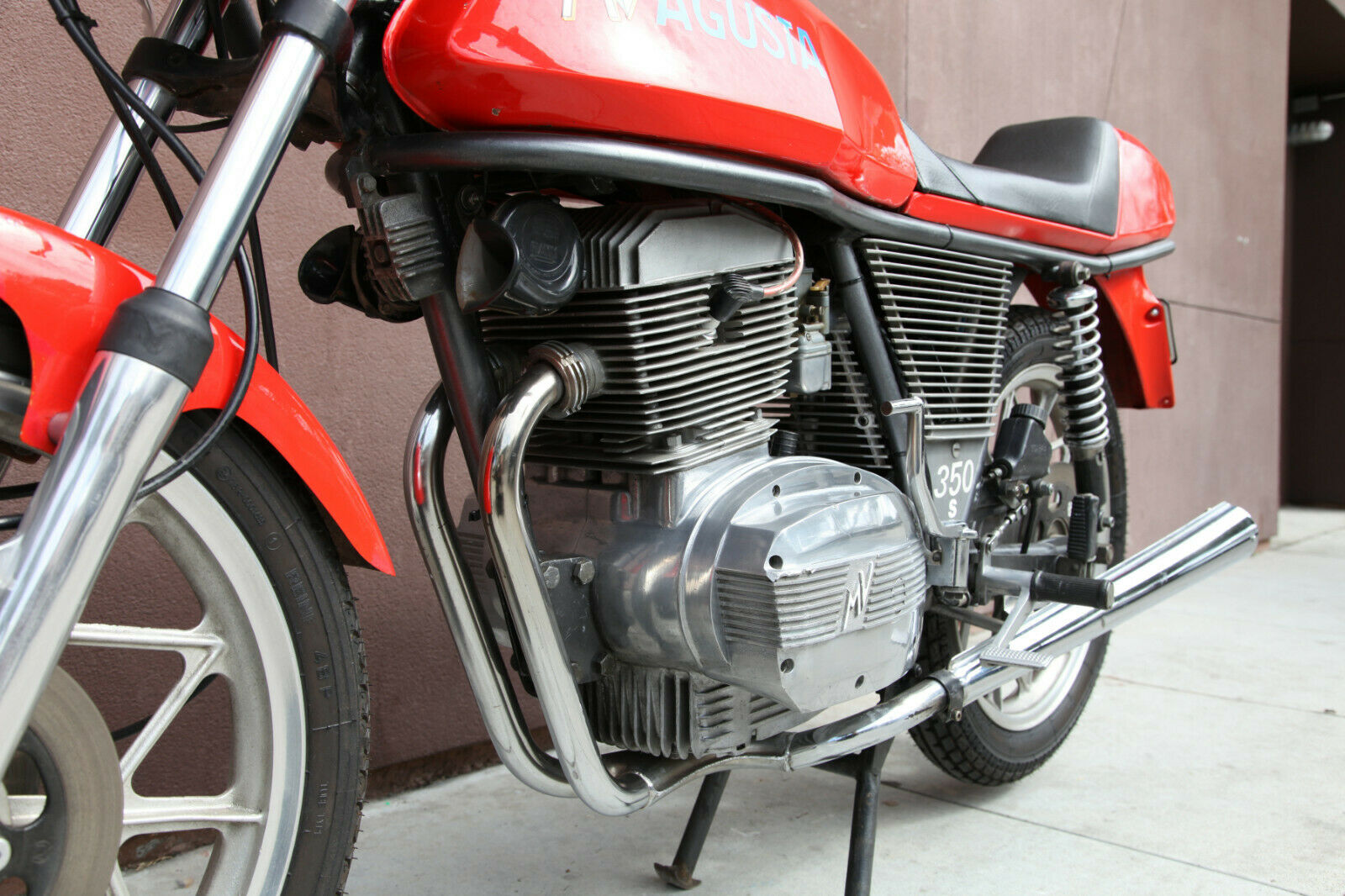 From the seller:
This 1976 MV Agusta 350 Ipotesi was purchased by me from the original owner in the U.K. in the late 1990's. It has about 6,500 km on it but not long ago I had the speedometer repaired and it was reset to zero km. The current speedometer reading of 394 km is from my riding of the bike after the repaired speedometer was returned to me. This motorcycle has a California title and current California registration. The bike is an easy kick starter and I ride it frequently around San Francisco and the Bay Area. The bike is fully sorted and needs nothing: you can get on it and ride it and enjoy it! The motorcycle is entirely correct and original and unrestored. There are some minor paint touch up areas on the tail section behind the seat. The most noticeable paint flaw is the touched-up area on the rear edge of the front fender, shown in one of the photos. I wanted to keep all of the paint on this motorcycle original, so I did not repaint the entire front fender. Some of the paint on the instrument panel is worn, but I wanted to keep that paint original and have not touched it up. There is a photo attached of the instruments and the surrounding panel. Other than these paint issues, the bike is in extremely good original condition. The Heidenau tires are nearly new, but they are the correct size per original. You won't find a better Ipotesi for sale in the US or another Ipotesi for sale in the US: MV Agusta 350 Ipotesi motorcycles were never officially imported to the U.S. so any here now would have been privately imported. Therefore, there are very few here. Of the few MV Agusta 350 Ipotesi motorcycles in the US, I doubt too many are fully sorted and have current registration and are being ridden such as this one is.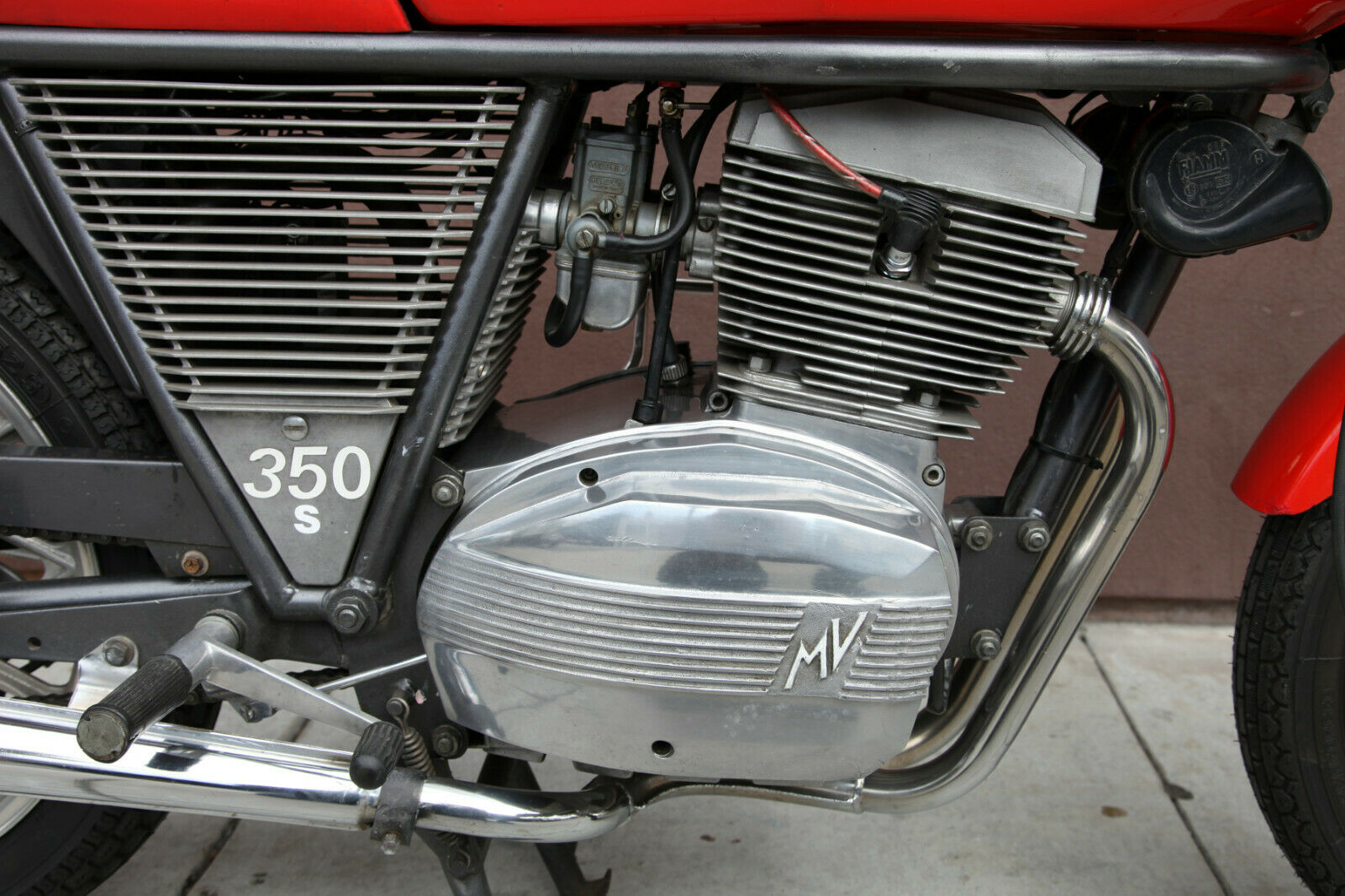 We don't see many pre-F4 MV Agustas in the States, much less anything that displaces less than 500cc. This Ipotesi is a fantastic looking motorcycle. It seems impossibly narrow, yet retains the classic proportions of a much larger bike. The paintwork shines in the sun, and the odd elements of what make up this little 350 blend together to make something special. It's far from museum perfect, but it still looks great anyway. Value? Too rare in the US to really put a number on it; we simply have no historical data on which to base an assumption. The seller is asking for $11k OBO – that might seem high for a 350 scoot, but not a lot of dosh for a very unique MV Agusta. Check it out here, and then jump to the Comments section and share your thoughts on this cool little bike. Good Luck!!
MI