Post modified to reflect updated description by seller. -MI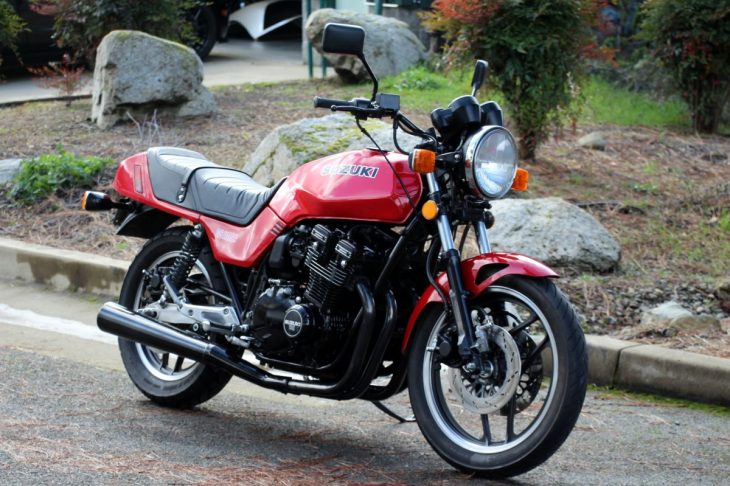 Today's featured listing is something of a departure from our usual fare, but if you can't figure out why we jumped at the chance to feature this beautiful beast, you're in the wrong place. As the seller will detail later, it's from the dawn of the Golden Age of sportbikes, before fairings, but after AMA Superbike had sparked rabid passion for roadracing. In the wake of bikes like the Kawasaki Z1-R, the GS1100E helped build the bridge between the big four-cylinder bikes of the 1970s and the fully-faired featherweights that popped up in the late '80s. The factories had started to figure out adequate frames, suspension and brakes, but smaller, fatter tires and perimeter alloy frames were still a ways off.
I should at this juncture give something of a disclaimer. Bikes of this ilk were my introduction to motorcycling; my first-ever motorcycle was a 1982 Kawasaki GPz 750. I miss it. This beautiful Suzuki is a hell of a lot more bike than my GPz was, but it's aimed at the same target. With stump-pulling, air-cooled power, a comfortable upright seating position and decent brakes and suspension, it was equal parts friendly street bike and fire-breathing animal.
This 1983 Suzuki GS1100E has done 28,000 miles, but has been incredibly well cared for, and as a result is in great cosmetic condition, especially for its age and mileage. The classic red-and-black paint scheme is a hallmark of the period, and it looks the absolute ticket here. Even the carbs got a thick coat of gloss black. Inspired. The engine, brakes, tires and driveline have either been updated or confirmed to be in good condition. The list of downsides is short, but includes a non-functioning anti-dive valve and no fuel gauge.
From the seller:
Mileage: 28,893 U.S. miles
VIN#: JS1GU73AGD2101189

The 1983 Suzuki GS1100E has often been referred to as the original Superbike, the start of era of massive power, good brakes, light weight and defining sport bike handling. It was the dawn of an era of what we take for granted today, Sport Bikes that have evolved from these humble, but significant beginnings.

Our 1983 model is in the rare black and red color scheme with 28,000 miles showing. It is cosmetically extremely stock and in very good order right down to the stock exhaust system, a rarity today. The engine is the 108hp, 1074cc "TSCC" (Twin Swirl Combustion Chamber) DOHC. It ran a four Valve per Cylinder Head with a Roller Crank that proved its self bullet proof while setting numerous huge high horse power drag racing records. The stock engine was known for its strong, wide bottom end horse power and torque, making it an easy bike to live with on the street.

Our bike has just had a major service done to it by a long time, local GS expert. The valves have been checked and adjusted as needed, new plugs installed and the carbs cleaned, adjusted and sync'd. The brakes have been flushed, pads inspected, chain and sprockets inspected and adjusted and the tires are in good order. Over all, the bike is a great vintage Japanese sport bike that can be ridden, rather than hauled in a trailer for shows and display.

The upside and downsides to this bike. The inside of the gas tank looks brand new. It is the 108hp 4 valve engine. The bikes are getting scarce these days and to find one in this stock, good condition is a rare moment. The plastic side covers do not have any of the mounting tabs broken off (where you can see them until you take them off). All of the lights and gauges work and it comes with the owner's manual. The bike runs well and needs nothing today except good weather and fuel. The downsides. The forks are soft because the Anti-Dive Valve is not working. There is no center stand. There is no factory tool kit. The right Fork Cap has some cosmetic damage to it. There is no fuel gauge and last but not least, it was ridden and because of that, it now has 28,000 miles on it.

The VIN# JS1GU73A6D2101189. The miles are 28,883. The selling price is $4,495. For other interesting bikes and collectable vehicles, visit our web site http://www.automaniagp.com 541 479 8888 or come by and see us at 895 SE Gladiola Drive, Grants Pass, Oregon, 97526. Oregon Dealer DA1287.

Automania LLC is a Consignment Oregon Dealer selling quality, privately owned vehicles including Aprilia, Buell, BMW, Citroen, Ducati, Harley Davidson, Honda, Hummer, Kawasaki, Moto Guzzi, MV Agusta, Nissan, Ossa, Piaggio, Suzuki, Triumph, Vespa, Classic Hot Rods, Buick, Dodge, Ford, Chevrolet, Lamborghini, MG, Packard, Porsche, Rover, Shelby, Toyota, Triumph, Volkswagen and any other vehicle of interest.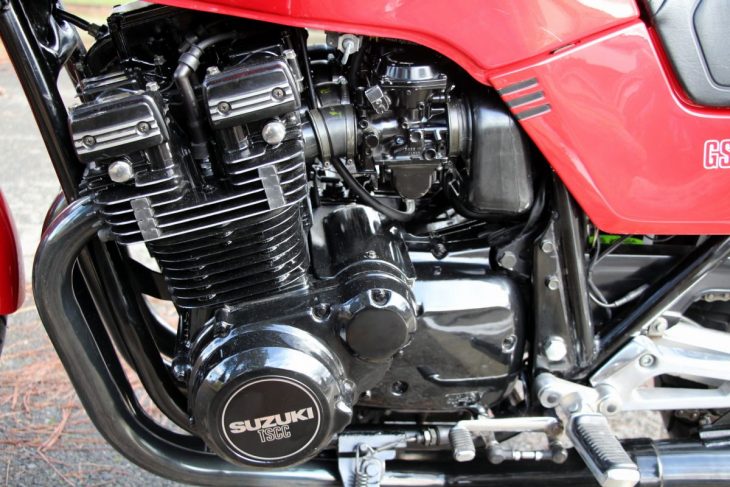 For less than $4,500, you could do a whole lot worse than this beautiful Suzuki. If you're in or near Oregon, Automania has your next riding season sorted for you.