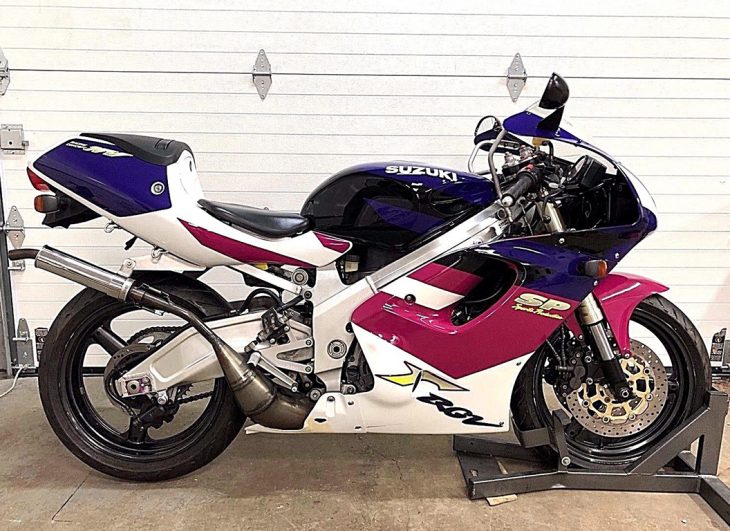 For the most part, the RGV250 was a gradual evolution of the original beam-framed, two-stroke 90° v-twin machine introduced in 1987. But the VJ23 version introduced in 1995 was a significant leap forward, with an entirely new frame and engine to go with the swoopy bodywork. Unfortunately, with interest in the class waning, this final, and some feel best version of the RGV250 was never officially available outside Japan, making this little bit of forbidden fruit especially rare here in the USA.
That new engine featured a switch to a 70° v-twin that replaced the earlier 90° unit. Traditionally, sports v-twins have 90° v-angle because they've got perfect primary balance, but the advent of balance shafts and more precise engineering seems to have shifted things, and sport v-twins like the Aprilia RSV Mille used a very compact 60° engine.
Obviously, given the tiny pistons involved in a 250cc two-stroke and the relatively modest revs involved, I'd expect the additional vibrations of a 70° v-twin could easily be chalked up to "character," and the more compact configuration should offer improved packaging and additional flexibility in placing the engine in the frame for better weight distribution.
In addition, the bore and stroke of the new engine measured 54 x 54.5mm, compared to the racier and more oversquare 56 x 50.6mm of the earlier bike so, although power was still limited to 40hp per Japanese laws and made similar power in de-restricted form, the package was much more flexible at lower revs and easier to ride. A functional ram-air duct added power at speed, and for the first time, an electric start made the bike easier to fire up, while the SP added a trick dry clutch to the mix.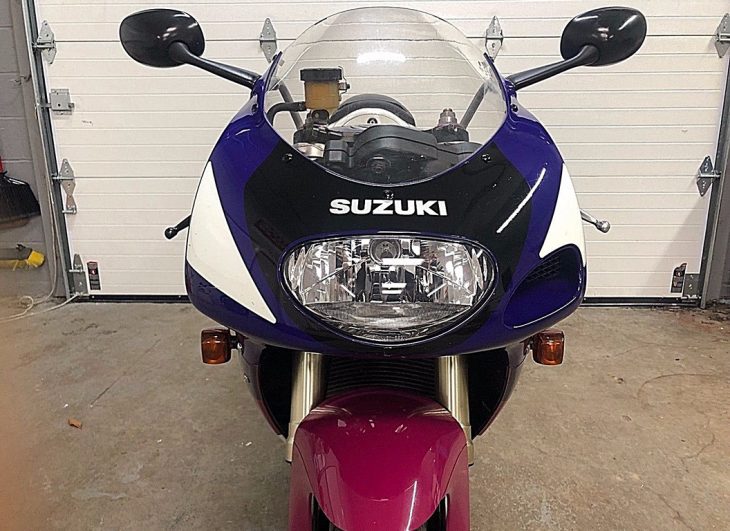 The brakes on these little rippers would have been enough to stop a much bigger machine, weight was under 300lbs with fuel and oil, and there was real performance on tap, with 125mph top speed. But you still had to work for that speed, and that was pretty much the whole point of the quarter-liter class anyway.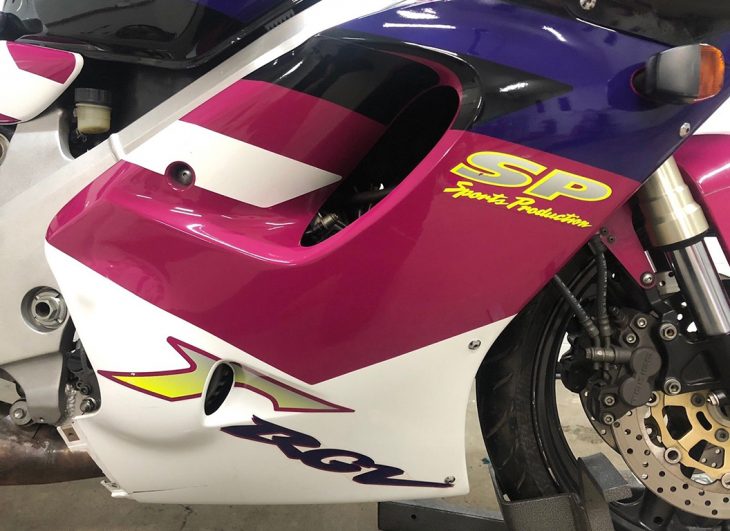 From the original eBay listing: 1996 Suzuki RGV250 SP VJ23 for Sale
1996 Suzuki RGV250 SP VJ23. 9900 miles (15,934 kilometers), very original and unrestored. Mechanically sorted. All fluids are fresh. Shifts and revs to redline perfectly. Starts effortlessly every time. Very honest bike. Small paint chip on fuel tank, left silencer has a dent, some touchup paint on lower nose fairing. Please see images. Fuel tank is rust free. Aftermarket lower controls (COECRE) and exhaust (SUGAYA). Has VIN matching State of Ohio title.  All bidders make NOTE: Vehicle is titled as a 1993. If this is of concern please don't bid. "Buyer is responsible for their own State Requirements." California and Hawaii sold with Bill of Sale only. Please email all questions. Thank you for looking.
Some of the images are relatively low-resolution here and leave a bit of detail to the imagination, but the seller does indicate some cosmetic imperfections that are visible in the detail shots. It's rough around the edges, but it claimed to be mechanically solid, so maybe the perfect bike for someone who wants a rider or a bit of a project. For the right price, this could be a really cool bike, if lurid neon graphics, stinky smoke, and knee-down corner-carving are your thing.
-tad