Mid-seventies the two-stroke era was winding down, most manufacturers were looking for ways to tie their new mid-size four strokes to their smoking forebears.  Yamaha stretched it out, keeping the RD-400 in the line-up until 1980.  For 1977 they offered cast wheels, all disk brakes and 14-second 1/4 miles.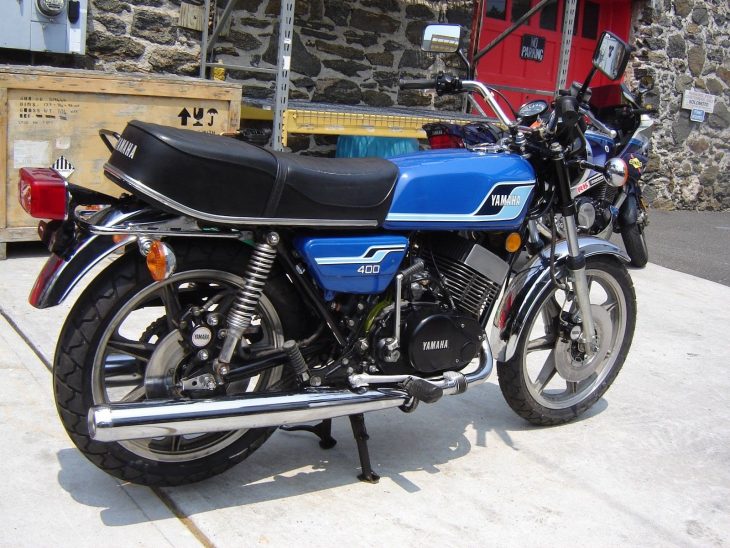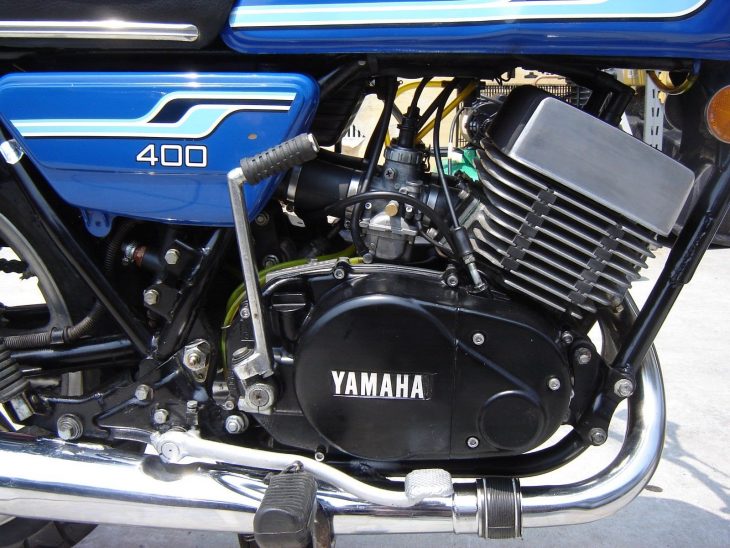 In today's era of jamming a lot of complication into a small engine, Yamaha's air-cooled twin is a statement of simplicity – 44hp from 398cc without fuel injection, overhead valves, counterbalance shafts, etc.  It still requires a poke with the right leg to start, though at least oil injection is standard.  Light construction helped the RD make a quick getaway, the twin downtube frame, suspension and brakes are all right-sized for the mission and keep the fully-fueled weight well under 400 lbs.  Historically noisy, Yamaha did what they could with the generous mufflers and airbox to quiet things down.
Looking a few years old rather than its decades, this RD has been carefully stored, and recently returned to rideability.  This required rebuilds of the carburetors, oil injection pump, and brakes – refreshingly OEM parts are still available.  What wasn't required were cosmetics, which are excellent and original.  From the eBay auction:
This is a 1977 Yamaha RD400 VIN # 1A1304892    Verified by Libby's in New Haven, Conn.
In dry storage for 18 years.
Full disclosure right front fender is scratched. The front brake lever has been replaced.
The right muffler does not have any damage. 
The gas tank has a minor dent in the pin stripe. There is no rust or paint chipping.  
tank inside is perfect, no rusting no tank treatments . also new petcock valve OEM.
New chain and sprockets.
New front and rear brake calipers.
Rebuilt front brake master cylinder.
New rear brake master cylinder.
New tires.
New clutch cable.
Rebuilt carburetors
New TDR reed valves.
All new vent and fuel hoses.
New battery.
Rebuilt auto injection pump.
Too much to list. Original bodywork, pipes etc…
Starts 1st kick every time.
The RD400 was skinny all over – seat, tires, and powerband.  But a blast if you stayed in the envelope, as reviewers claimed if it wasn't lifting the front wheel in second gear, there was something wrong.  As the other big three were in transition to lumbering four strokes, it out-performed the competition and undercut them on price.  An unrestored bike of this age is unusual, as is this RD's alternate color, interesting as Yamaha later adopted blue for their race teams…
-donn