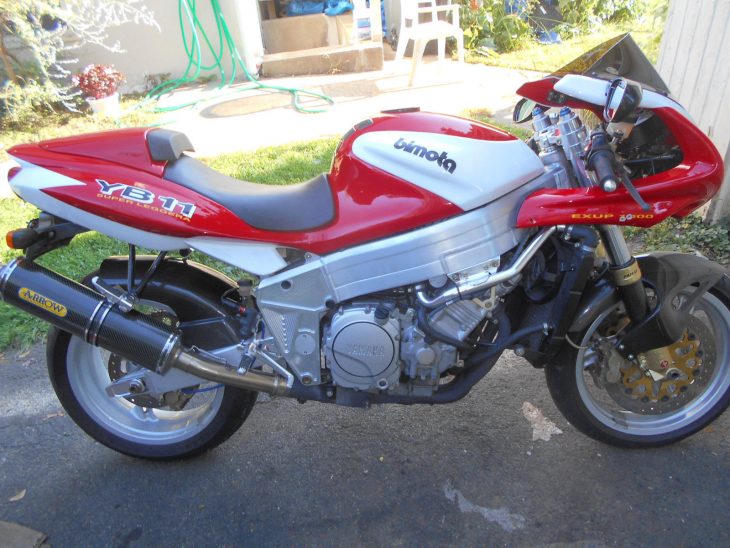 Look, I'll get this out the way up front: the Bimota YB11 does not "look way cooler with the bodywork off." Since the missing bits appear to be included, I'm going to assume, for the purposes of this post, that a lack of taste is the actual reason the bodywork isn't currently in place. Don't get me wrong, I love Bimotas shorn of bodywork: the minimalist frame, the simplified construction, the elegance. But with that headlight and tail sections in place and the rest missing? It just looks unfinished. It might run cooler though… Anyway, differing aesthetic opinions aside, the YB11 is certainly an affordable way to get into quirky Italian exotica: we're obviously comparing apples and oranges here, but you can generally pick up 90s Bimotas for the price of a new Ducati Scrambler.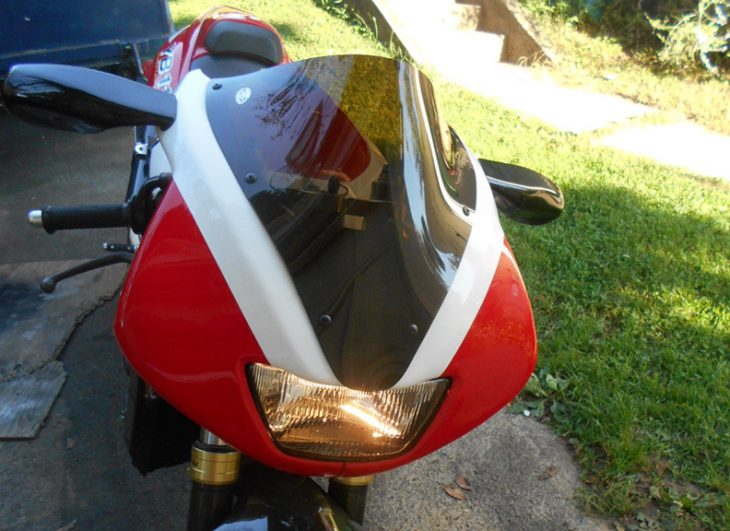 Stripped of much of its bodywork, this YB11 looks like it might have more in common with an Aprilia Tuono or a KTM Super Duke than a modern liter-class superbike. The 145 horsepower claimed by Bimota for their mildly-tuned version of Yamaha's five-valve Genesis inline four means the YB11 is closer to "supernaked" than "superbike" in terms of power, as well. Certainly, the 1002cc displacement means it isn't eligible for superbike racing classes.
But just as bikes in the supernaked class are less powerful, but sometimes more fun than full-blown superbikes, top-end horsepower might impress when you're comparing stat sheets over a beer, or railing at 10/10ths on a race track, but it doesn't necessarily translate that well to the real world. Take a look at the YB11's 80 lb-ft of torque and 400lb dry weight: the Genesis engine has a famously fierce midrange and the bike is claimed to start pulling savagely from below 4,000rpm. Modern superbikes do make much more top-end horsepower, but also weigh a bit more and produce very similar amounts of torque, so you can imagine that a YB11 will still make for a very exciting ride.
Obviously, this old-school superbike comes from a much simpler time, something that's easy to see once the bodywork is removed. One look under the skin of a YB11 alongside something like Ducati's new V4 Panigale and you can see just how complicated modern superbikes have become, since modules and wires and hoses pack every available nook and cranny. It's a good thing the new Panigale has a heavily truncated frame, since I'm not sure where you'd fit a regular one. So no, an old beast like this Bimota isn't as good as something truly modern. But you also shouldn't worry too much about more modern bikes running away from you out on the road.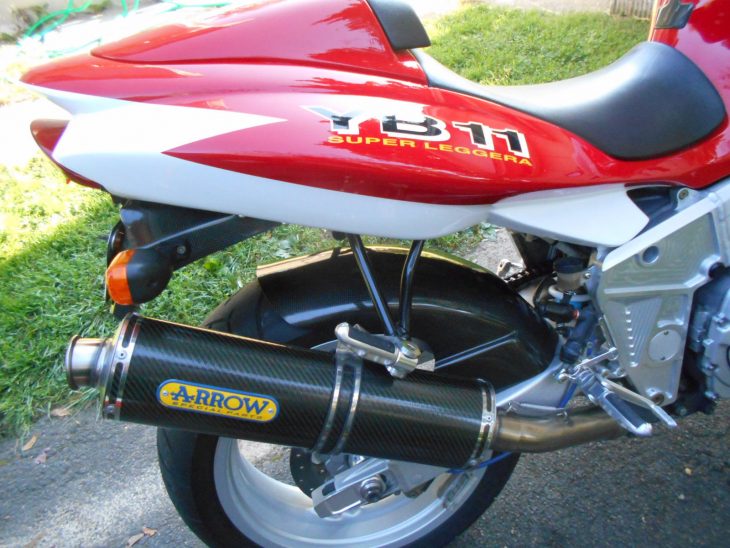 From the original eBay listing: 1998 Bimota YB11 for Sale
A beautiful work of art that looks like it was designed by Michelangelo, this bike is super-light (Superleggera) + excellent handling with 51mm front fork tubes (largest ever put on a production cycle!) + Brembo brakes front +rear, carbon fiber everywhere/ high perf. ARROW exhaust system/ 145H.P. with 12:1 lightweight forged pistons in a 1002cc Thunderace Yamaha engine with lightened quick-rev. crankshaft. Bodywork is off presently cause it looks way cooler with it off, but I do have all the parts that go with the bike.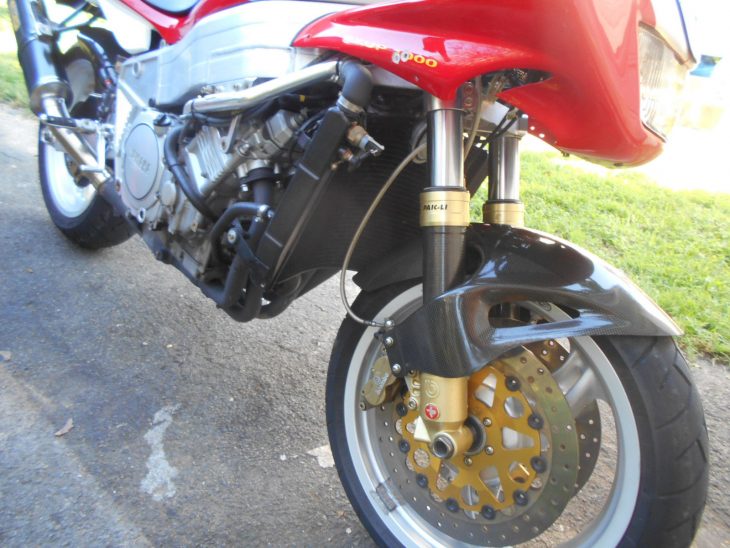 I'm not clear from the seller's description whether the "12:1 lightweight forged pistons… with lightened quick-rev. crankshaft" are components from some sort of engine rebuild or if he's suggesting they were included in the original YB11. I'm pretty sure that Bimota made no internal changes to the stock powerplant and if the engine was rebuilt or otherwise modified, I'd love some more detail regarding what was included and why it was done. Bidding is active with a few days left on the auction, but only up to a bit more than $4,000 at this point. Aside from the missing bodywork [it is included in the sale as you can see below], this bike does look like it's in very nice shape, but Bimotas of this vintage are still a tough sell, so someone still might get a good bargain.
-tad