Not a very collectible model, but Donn spotted this one coming out of a collection in Portland. We've covered it previously and currently it's under $3k, reserve met.
dc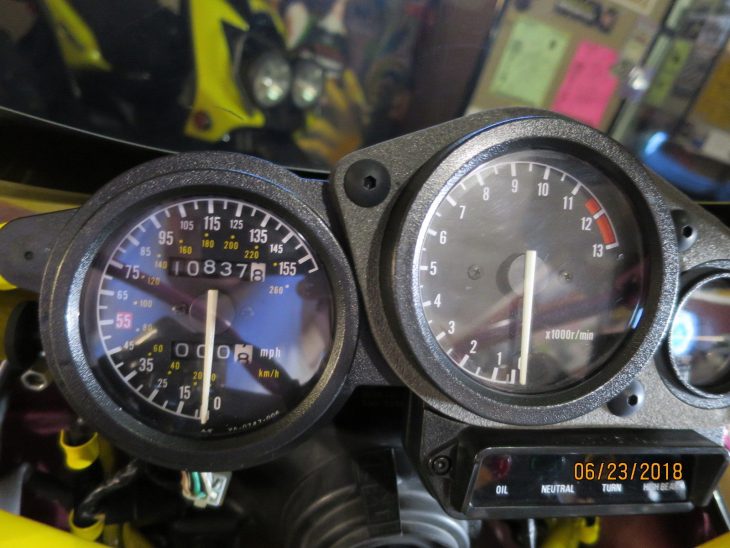 from the seller:
1992 Yamaha Vance & Hines Limited Edition
Number 505 of 600.

From The Factory with "This" Edition . . . .

– V & H Steering Damper

– Full Stainless Steel Exhaust System – Dyno Tuned for proper jetting

– Forced Air – Pressurized Air Box

– Customized Factory Paint Job Matching the then – Vance & Hines Race team

– Painted & Polished Wheels Front & Rear

– Polished Engine Cases

– Air Spoiler On Rear Tail Section Fairing

Added –

Color matched Second Look operator seat & passenger seat

Rear Cowing covering the passenger seat for operator only look

This bike has been in my Museum Collection for quite some time now . . . It does have a "State of Oregon – Special Interest Plate" for M/Cs over 25 years old that qualify – and is good forever – never has to be renewed. If the buyer lives in Oregon the plate will go with the bike – If the buyer is out of the state of Oregon I will keep the plate and transfer it to one of my other museum bikes.

RECENTLY – Tuning re-verified – It started right up – idles correctly – Drives correctly etc. Has new coolant. Has new engine oil & filter. Front & Rear brake fluids Flushed and replaced.

While in the Museum the below was done for Function and display Purposes – As It was driven occasionally to M/C Shows/events – Items not in any order . . .

New Battery

New Tires

New front & Rear Brake Pads installed

New Spark Plugs
Carbs and fuel rails Rebuilt & SYNC UP

Valve Clearances set

New coolant installed

New OEM Air filter installed

New fuel filter & new Petcock installed

New Gold chain & sprockets installed

New Clutch Cable installed

The bike is in EXCELLENT mechanical and Cosmetic condition and needs nothing.

Here Is the Link to the You-Tube Video showing a walk around and start up –

PLEASE – review the video as I've included a lot of info in it that's not in the text here.