Update 5.21.2018: SOLD to an RSBFS reader. Congratulations to buyer and seller! -dc
Ducati doubled down on the World SuperSport series in 2003, hotting up their 999-styled 749 for the private team market. The modification rules were more restrictive in WSS than in SuperBike, compelling Ducati to make a very advanced -R available in the showroom. This example has turned only 774 miles with all the homolagation components plus a couple of nice upgrades.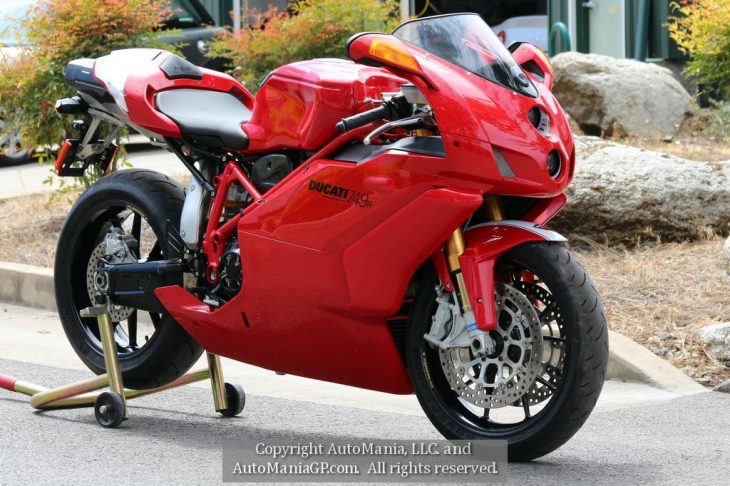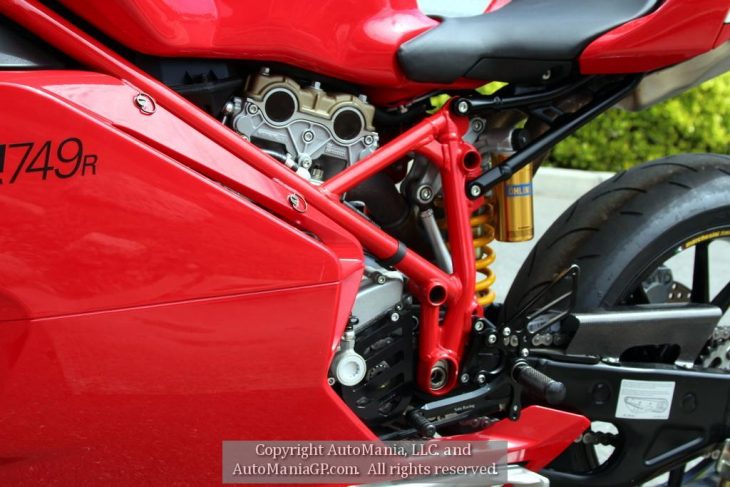 Starting in the engine room, a more oversquare ( 94mm stroke x 54mm bore ) was used, combining with exotic materials in the rotating parts to make an easier-revving engine good for 121 hp.  High-strength aluminum pistons, titanium valve gear, lightweight crank, and magnesium valve covers were all on board, as well as a factory slipper clutch.  Continuing to the suspension, Öhlins are found all around ( including steering damper) and the box-section swingarm is shared with the 999R.  Though many of the small guards and covers are carbon, it plays less of a part than on the 2004 edition, the bodywork being presented in a high strength polymer.  The 2005 nose is a little less busy with only two openings for intake air, and the 749R came with a nice enduro length 18 liter fuel tank.  Adjustability is the key word, with seating position, foot pegs, steering head, and of course suspension set up for the rider.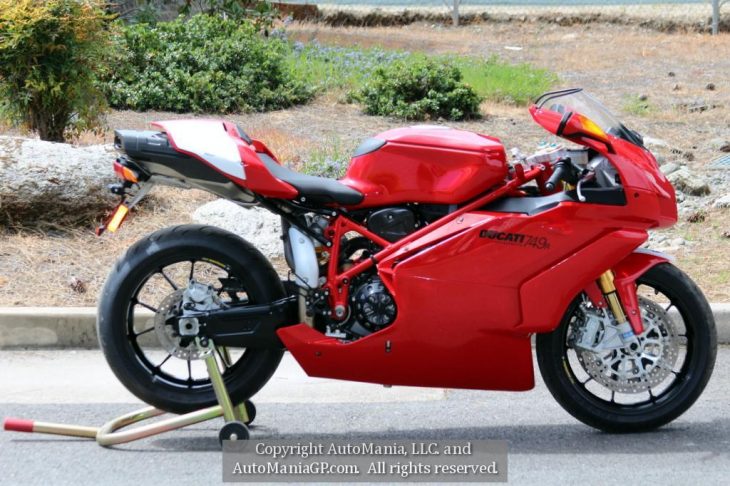 The present owner added Sato rearsets and a Paulimoto clutch cover before putting just 774 miles on number 0074.  It has the gloss of a brand-new bike and appears undamaged by road or garage mishaps.  Regular RSBFS advertiser Automania says this about the 749R:
This bike, number 74 of at least 500 produced to meet FIM homologation regulations. Along with the retail cost of $21,995, the owner then opened up his wallet for a set of Sato Rear Set and a Paulimoto Vented Clutch Cover. The exhaust is stock Ducati, most likely the only stock muffler on a Ducati in the world.

What we have here on the showroom floor is one of the best handling Ducatis ever produced, renowned for it's super precise, nimble handling. Adjustable Steering Head rake angle, great top end power with Race Exhaust, quiet and smooth with Stock Exhaust. It has an amazing transmission, gorgeous body work with original paint. It is arguably the greatest middleweight twin ever made, fantastic fun as a street bike or track day bike. The best part is that coming from a private collection, showing 774 miles from new.
Of the several hundred 749R's made, many were sold to team owners, riders, and collectors, with relatively few ridden much.  The buyers got a nice package because of the competition rules, and likely to be a unicorn on the road.  As a track day machine, it's an immersive experience without advanced electronics.  The Terblanche design has gained popularity over the years and this 749S would continue to be a great show machine.  Automania's asking price is $10,595, and their own page on the bike is – here – .  They would be happy to discuss the possibilities on (541) 479-8888, or by email – here –.