A world away from the usual design-by-committee UJM, Suzuki's original Katana set the stage and riding position for a new generation of road-going sportbikes. This largely original survivor is just across the northern border.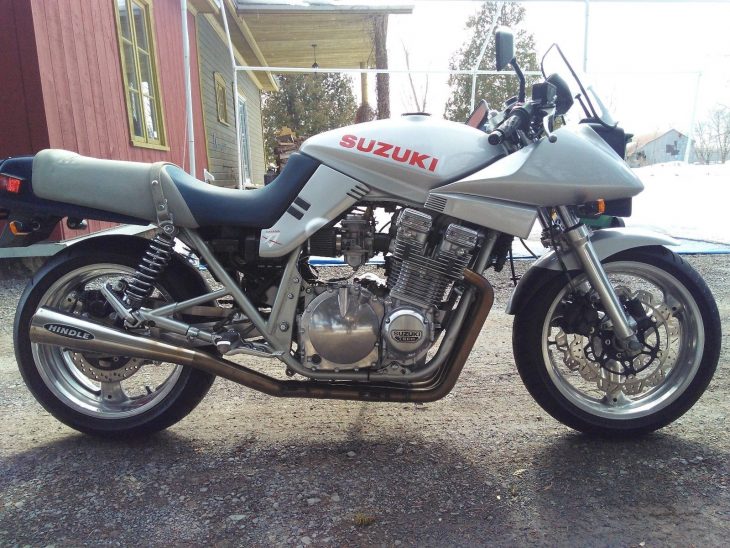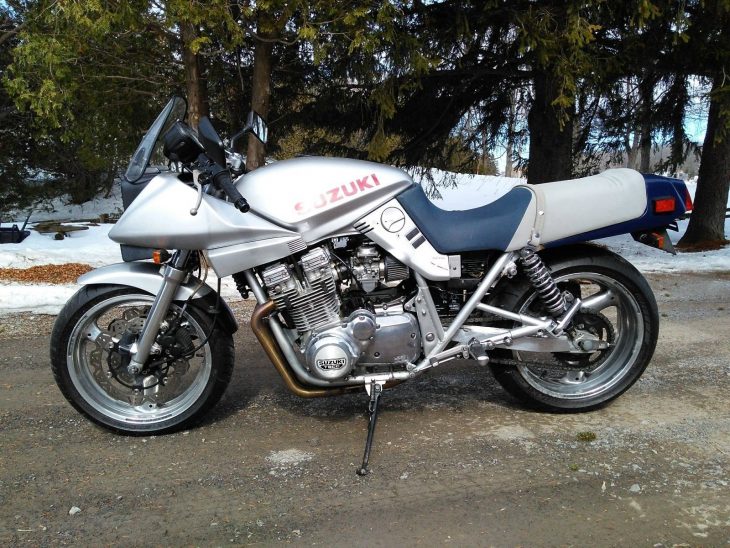 Designer Hans Muth spent the 1970's bringing aerodynamics and attitude to BMW's R90S and R100RS, and left to form Target Design with partners Hans-Georg Kasten and Jan Fellstrom.  The designers' first commissions were for Suzuki, the GS550M and GSX1100S.  The 1100 brought 4 valves per cylinder and 111 hp to the party, and the Katana's wedge fairing made 137 mph possible.  Changes for 1983 included forged connecting rods and progressive rear springs to accompany the anti-dive forks.  Competition formulas of the day didn't have a place for 1100's, but the Katanas sold well on Suzuki's other successes, and the model name was used until the mid-2000's in the U.S.
Waiting for spring in Montreal, this Katana shows 20,000 miles, super clean and factory bodywork in great condition.  Wheels and exhaust have been updated.  From the eBay auction:
Beautiful Katana 1100 with lots of care given to it.  Paint is perfect.  Engine runs super smooth.  New tires.  Original seat in perfect condition.  New exhaust system.  And wider aluminum rims.  (I do not have the stock wheels and exhaust).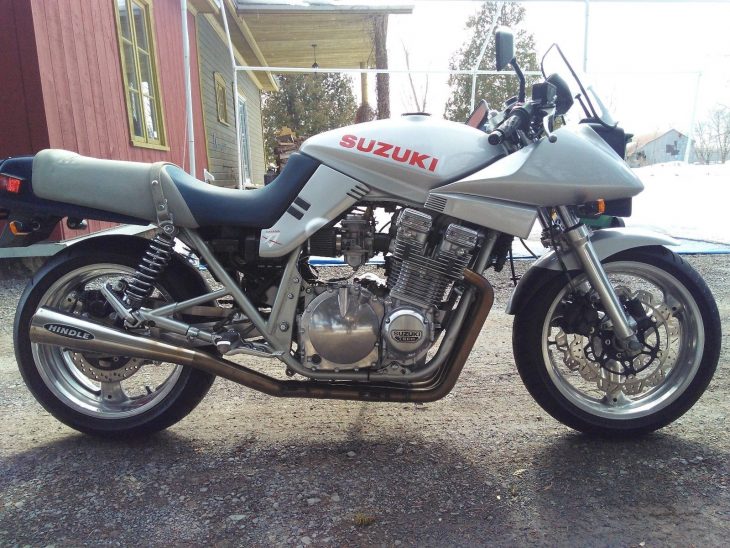 Largely eclipsed by the GSX-R line-up, the Katanas soldiered on in the showroom providing options for those less track-oriented.  Kind of the Hayabusa of its day, the 1100 Katana was Cycle World's fast machine for 1983, using a half-mile yardstick.  The design got high marks for stability once the stiff suspension was backed out to minimums.  The riding position calling for speed, this Katana could certainly be on the road, but with a little attention could be shown as well…
-donn