For six out of the eight years Carl Fogarty rode Superbikes for Ducati, he either claimed the championship or came in second.  That sustained championship riding ( 1992-2000 with 1996 spent on Honda ) has led to countless sticker kits and many factory tributes.  This 996 has updated -S components and a race-look decal set, but more importantly has never been registered and spent most of its life on display.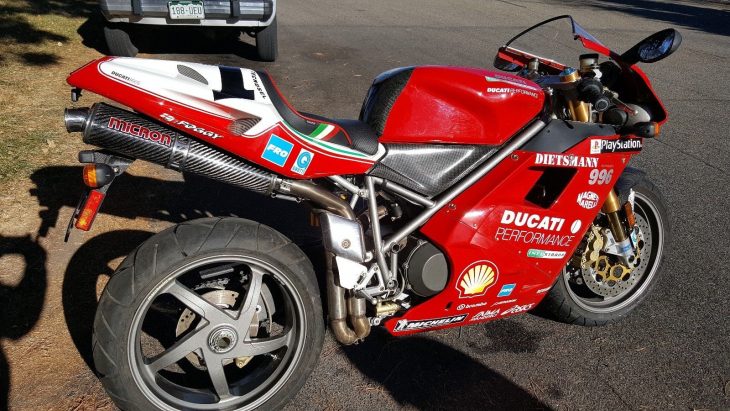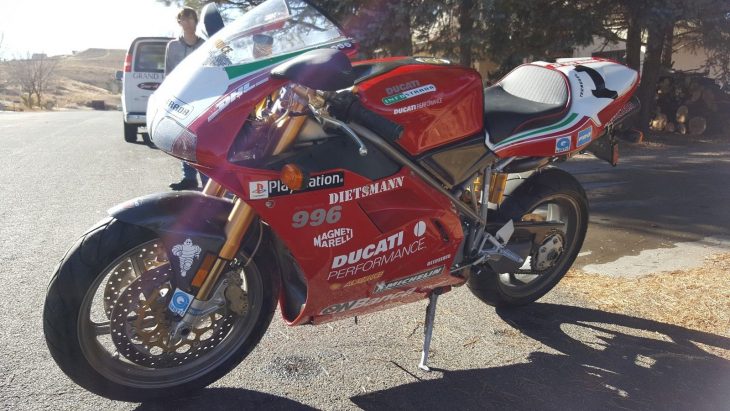 Ducati updated the successful 916 in response to twins from Suzuki and Aprilia, keeping most of the package except for improvements in the power area – the 80 additional cc's helping deliver 122 hp and 69 ft.-lbs. torque.  Two fuel injectors per intake ensure outstanding response at WOT, but some mere mortals had the system modified to improved part-throttle running.  Brembo produced new and improved Gold Lines for the 996, and the -S had Öhlins adjustable dampers and Marchesini alloys.
Evidently a showroom display, this 996 barely has break-in miles and looks great except for needing a nice detail.  Beside the correct Öhlins and wheels, pair of Micron mufflers and Corbin seat are the main enhancements, and the race livery is a good likeness.  From the eBay auction:
This motorcycle is a former Ducati dealership owners personal motorcycle that has never been registered. Bike has only 2057 miles on it and is in excellent condition.  The motorcycle has carbon fiber Micron exhaust. Along with many other carbon fiber items. This bike has the dealer installed Fogarty decal kit. This can be removed for a non race bike look. All Ohlins suspension, including steering stabilizer.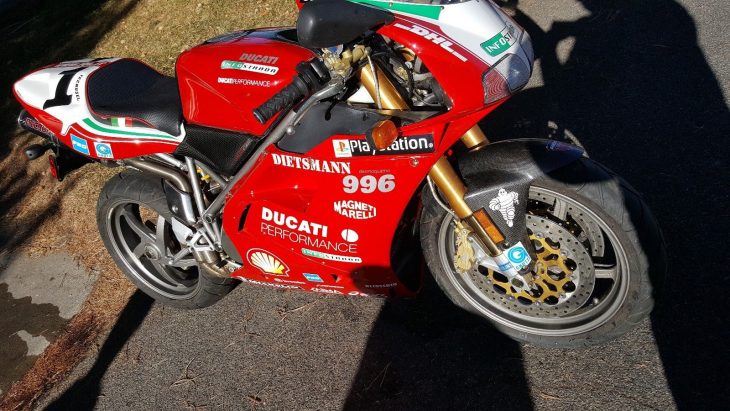 No matter how low the mileage, cam belts, tires and fluids will have to be done, though deferring the valve clearances could be debated.  That's presuming that the next owner is a rider, which seems appropriate for the not super-rare 996.  If care is taken not to get stuck in traffic and over-tax the cooling system, the 996 with S updates can do more than look fast.  Though the starting bid is set high, it's certainly showable, and riding to the show would be the way to go…
-donn