Update 3.2.2018: My apologies, the links to the first RK we wrote up below led to bike now linked in this post, which is a second RK available from "whiteknuckle". Sorry for the confusion, I'll watch the VINs closer in the future. Good catch, James! -dc
Update 2.28.2018 This GSX-R750RK was first listed last month for $27,500 and is relisted for $24,900 buy-it-now or offer. Links updated. -dc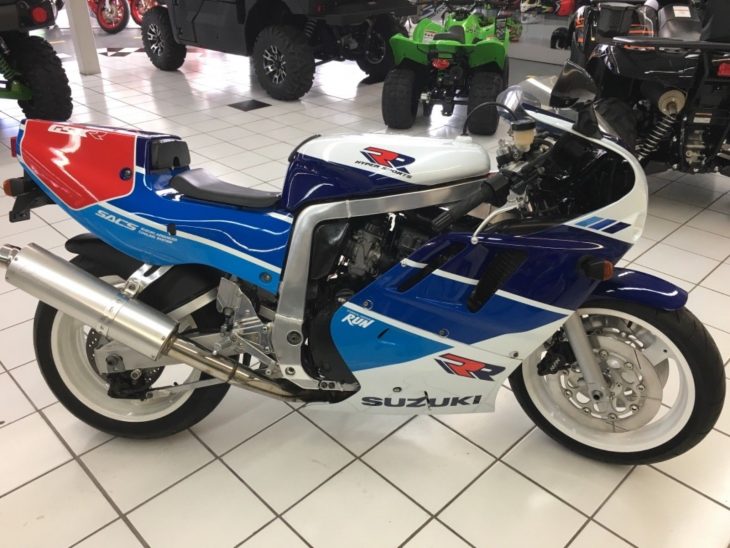 From the same era as last weekend's OW01 and a direct competitor on the race track, this Suzuki GSX-R750RR is maybe the least well known of the period's homologation specials, and it's my personal opinion that this is the best-looking GSX-R of all time. But it's also hugely rare, another case where they were supposed to build 500 for homologation purposes, but it's unclear if that many were actually made. Certainly, they're extremely hard to find here in the USA, although some did make it to Canada.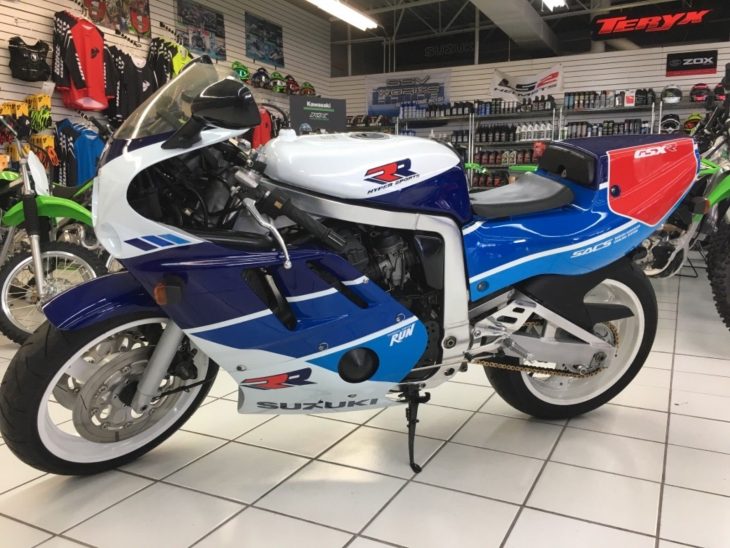 Why is the bike so rare? Well the general idea with homologation specials is for the basic platform to win races, so the manufacturers really didn't care all that much about marketing them, and they were priced accordingly: the GSX-R750RR or "RK" as it was also known was actually a good bit more expensive than Honda's RC30 and looked far less exotic to anyone not in-the-know. The rules only specified that you had to build 500 examples, not that you actually needed to sell the things.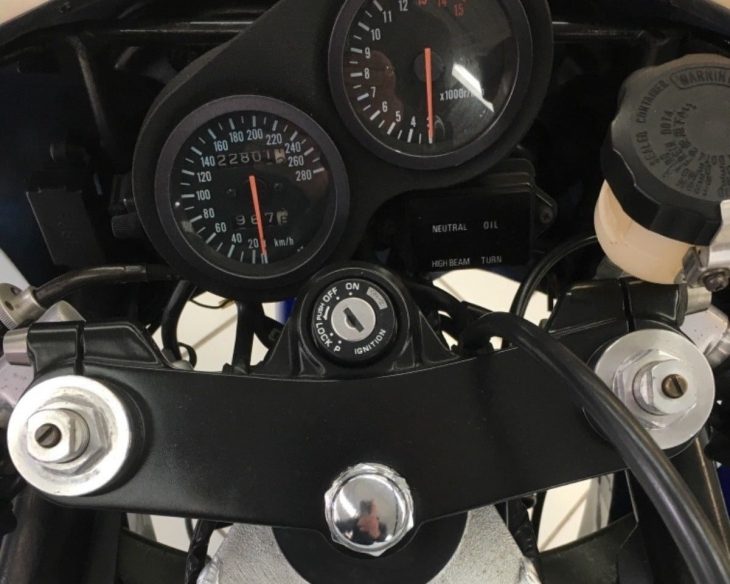 Why is the bike so special? Well the RK was chock-full of trick, track-ready goodness. First of all, Suzuki used race-spec internals, along with different bore and stroke for the RK. But, counter to usual racing thought, they went from the standard Slingshot's 73 x 44.7mm back to the earlier bike's 70 x 48.7mm and used sand-cast engine cases, along with a brace of 40mm Mikuni CV carbs. Why go to a longer stroke engine? To regain some of the older bike's missing midrange torque, something the new bike was sorely lacking. The oil-cooler was updated [remember that these were oil-cooled], and a second unit was added to keep cylinder head temps under control. A close-ratio six-speed gearbox with an uprated clutch helped handle the abuse racers were likely to inflict. The swingarm was braced, the aluminum tank has a lower profile, the fairing has a revised shape and is made of lighter fiberglass compared to the stock plastic. The frame was revised as well, made thicker around the steering head, and there were updated suspension components at the front and back.
From the original eBay listing: 1989 Suzuki GSX-R750RK for Sale
Up for sale is a beautiful 1989 Suzuki GSX-R750RK GR79C with only 22,801 kilometers (14,168 miles). This rare RK is a homogilation bike from the racing division at Suzuki. JDM model. Very limited build. Bike is 100% stock except for the RUN stickers. All fairings and components are 100% genuine OEM Suzuki factory. Bike only has a few tiny scratches and handling marks from shipping. Rear butt pad is worn, however not bad but needs to be re-upholstered to be perfect. Engine is very clean, no corrosion present. No blistering in the paint. Bike appears to have never been down or crashed. This bike has a ton of curb appeal and presents itself as a bike with 1,400 miles, not 14,000. Runs like the day it was new. New battery and new fluids. Bike comes with Utah state title and is titled as a street bike for road use.
The Buy It Now price is set at $27,500 and there are still a few days left on the listing. Unlike many valuable homologation bikes, this one actually has a few miles on it. Certainly nothing to worry about and, if you plan to ride it on occasion, you at least know that it won't need a complete overhaul before you take it out for a brisk weekend ride. It's always tricky to judge from photos, but this looks to be as described and is in excellent shape for a nearly thirty year old bike… Resplendent in classic Suzuki blue-and-white with the signature red tail section, it's a great-looking machine, although the afterthought-level brake light could have been better integrated…
-tad