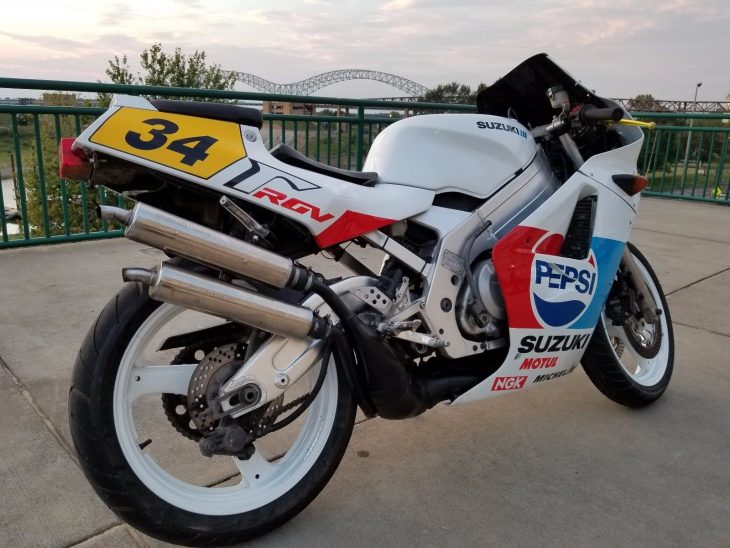 Many of the most iconic race replicas are rolling billboards for tobacco products: Marlboro, John Player, Gauloises, Lucky Strike. Of course, that's no longer the case, with tobacco manufacturers largely banned from advertising on race bikes and cars, but it's hard to deny that those designs are memorable. But what if you're a racing fan, and want to own a bike from the glory days of two-stroke Grand Prix competition, but are morally opposed to the addictive, cancer-causing weed? Well, you can always look for a race replica a bike that advertises something less-lethal. Maybe something like this Suzuki RGV250Γ in Pepsi-Cola colors that just promotes… slightly less-lethal diabetes and obesity-causing sugar?
The pace of development for the 250cc two-stroke class was relentless, with multiple, distinctly different versions of each company's bike introduced during the short period between the mid 1980s and the early 1990s. This example of Suzuki's smoky two-stroke v-twin is actually a bit of a hybrid, combining the frame and bodywork of the earlier VJ21 with the swingarm and exhaust of the later VJ22. The VJ21 used a simple unit made of rectangular, box-section aluminum, while the later VJ22 used a curved, "banana" style swinger that was also made from aluminum, but distinctively curved on the right-hand side to allow the bulging expansion chambers to tuck in close to the bike's centerline and allow maximum lean angles.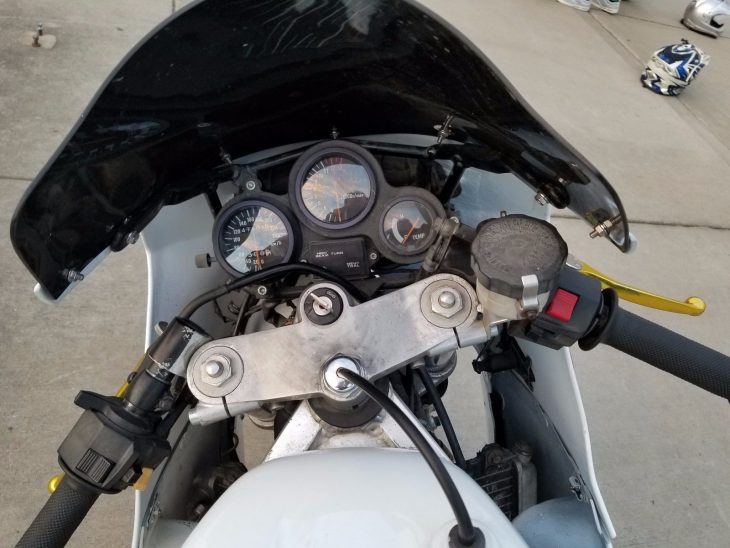 The engine was Suzuki's liquid cooled, 90° two stroke v-twin with power valves and backed by a six-speed gearbox, a package that eventually found its way into Aprilia's entry into the class, the RS250. Power for de-restricted examples was in the neighborhood of 60hp, plenty to motivate the claimed dry weight of just 282lbs. The front wheel was 17″ but the rear was 18″ as was fashionable among two-stroke sportbikes of the period, but irritating if you're trying to shoe one today.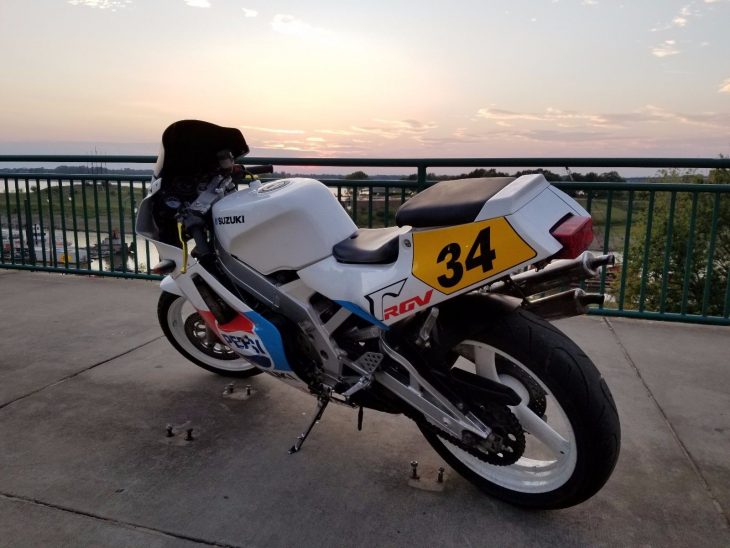 From the original eBay listing: 1989 Suzuki RGV250 VJ21 for Sale
Up for sale is this clean 1989 VJ21 with a fresh top end and paint job. The bike handles well, and pulls strongly. It has benefited from an upgraded VJ22 arched swing-arm and cool dual single sided exhaust. It also has a new battery installed. It was recently imported from the UK.

The bike will come with copies of all the US customs paperwork, European registration documents, and a Bill of Sale. This is a classic and can be registered in all 50 States. I ask that the winning bidder pay a $300 deposit within 24 hours. I offer shipping with a right of refusal guarantee. If you've paid the deposit and delivery fee you can opt out of the sale whatever your misgivings may be. My delivery rates are competitive among motorcycle shipping companies.  Thanks for looking at my auction. Please check out my other listings. I currently have a variety of Grey Market Japanese Imports from Europe/UK available. I welcome all inquires and bids. However, please, please, please only bid if you willing, and able, to dispense with this transaction in a reasonable about of time. Happy Bidding!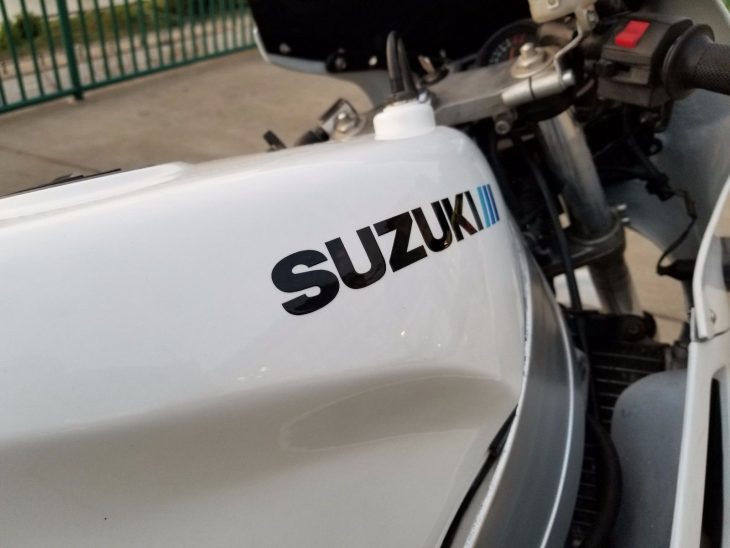 This one is a runner for sure, not a collector: the paint looks sharp, but isn't original, and the bike has been updated with that stylish banana swingarm of the later VJ22, along with the matching "shotgun" exhaust set up. I like the swingarm, but I'd ditch those weird green-gold levers for a set of black ones immediately if it were my bike. The big draw here? The $5,750 Buy It Now price, making it one of the most affordable RGV250s we've seen in a while. The seller claims it "can be registered in all 50 states" but that's simplifying things a bit, from what I understand. Especially in California. As always, caveat emptor. 
-tad