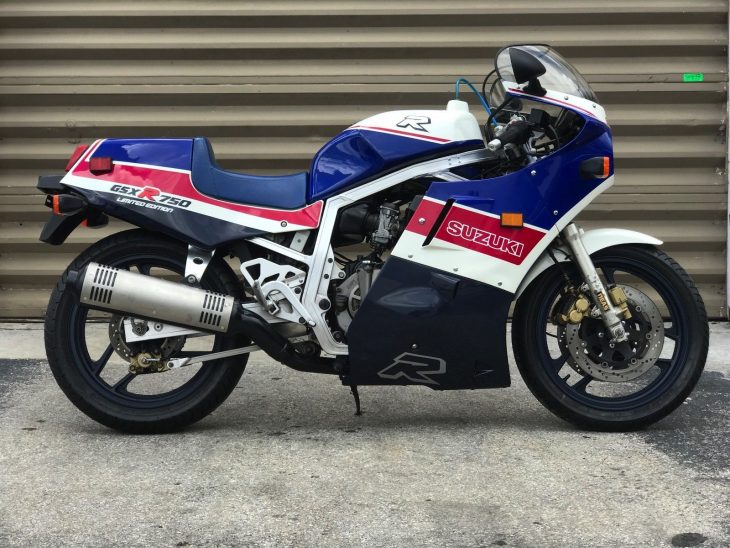 It's hard to imagine that, just a couple years before the introduction of the GSX-R750, Suzuki's top-performing repli-racer was the stylish, but very last-generation GS1000S, a bike with twin shocks, handlebars, a center-stand, and a bar-mounted bikini fairing. The original "Slabbie" GSX-R750 that came along in 1985 brought modern endurance-racing style to the masses and codified the formula laid out by much rarer and more exotic machines like the Bimota SB2. This particular GSX-R750 Limited Edition claws back some exotic cachet from the Italian brand, and is one of just 299 imported to the USA to meet AMA homologation requirements.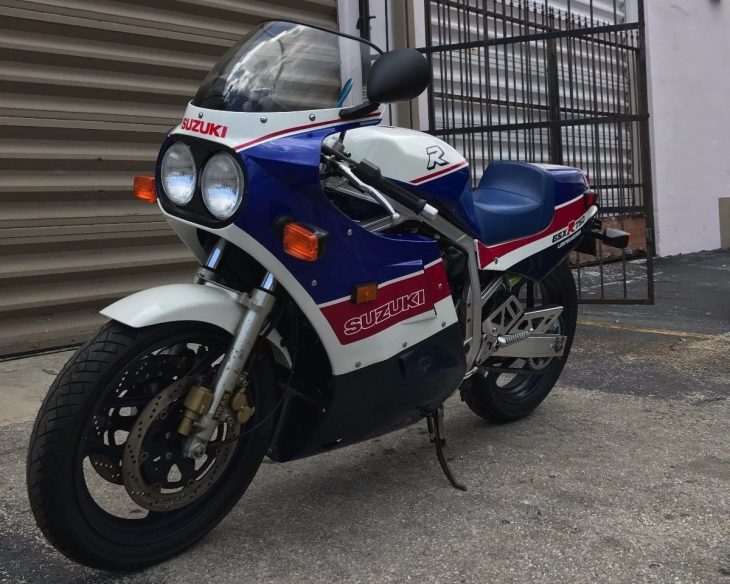 The heart of the GSX-R was an oil and air-cooled inline four with dual overhead cams and four valves per cylinder. It lacked liquid-cooling in a bid to save weight, reduce complexity, and improve reliability, but still had a few high-tech tricks up its sleeve: Suzuki's Advanced Cooling System or "SACS" featured a double-chambered oil pump was designed to more efficiently circulate and cool the bike's lubricant, along with oil jets that sprayed the bottom of the pistons. The aluminum frame used a mono-shock rear and four-piston brake calipers clamped triple discs. The Limited version added a very trick dry clutch, lightweight solo seat tail section, and the GSX-R1100's electronic anti-dive forks.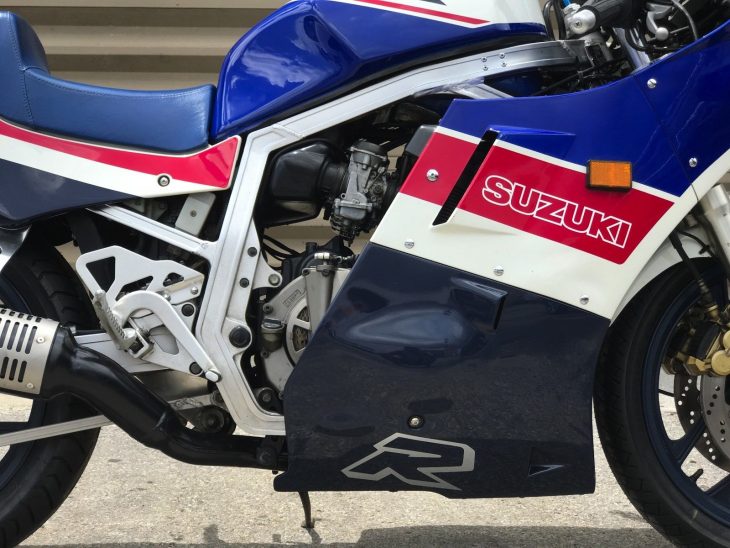 The Limited was differentiated by the striking red, white, and blue paint seen here on the distinctive, slab-sided bodywork, compared to the standard white-and-blue or red-and-black available on the regular GSX-R. When new, the bike was the most expensive Japanese sportbike, and was priced at $6,500, a shocking $2,000 more than the standard model. Performance advantages were very minimal but that wasn't really the point and this is, to my mind, the best-looking version of the early GSX-R.
From the original eBay listing: 1986 Suzuki GSX-R750 Limited Edition for Sale
Race homologation special. It has 4545 miles. This bike is in as near perfect collectors condition for a 31 year old bike. Motorcycle was just fully serviced (ie carbs were serviced; all fluids changed; new tires added, as originals showed signs of cracking.)

These bikes have surged in price, exceeding $20K in most cases.

If you are looking at this bike, you know what it is, so NO LOW BALL OFFERS!!!!
The seller is correct that prices have surged, and his bike appears to be in excellent, very original condition that includes a stock exhaust that could be either "cool and retro" or "shockingly ugly" depending on your predilection for slotted heat shields. Certainly it's of value to collectors. Unfortunately, while his $20,000 asking price is fair, it actually seems just a bit on the high-side, at least looking at Limited Editions we've featured here on RSBFS in the past. I'm not sure just how far off his asking price an offer would have to be before it qualifies as "a low ball offer," but I have a feeling he may be disappointed. Will at least one buyer meet his asking price? It's very possible: those same recent bikes I mentioned didn't quite get to $20,000 but were very close.
-tad