As Ducati prepared the testastretta and over-under fairing design, the 748's days were also numbered. Though well-used with 20,000 miles, this matte-finished 748S has also been well loved, with great-looking fairings, fresh tires, and many carbon accents.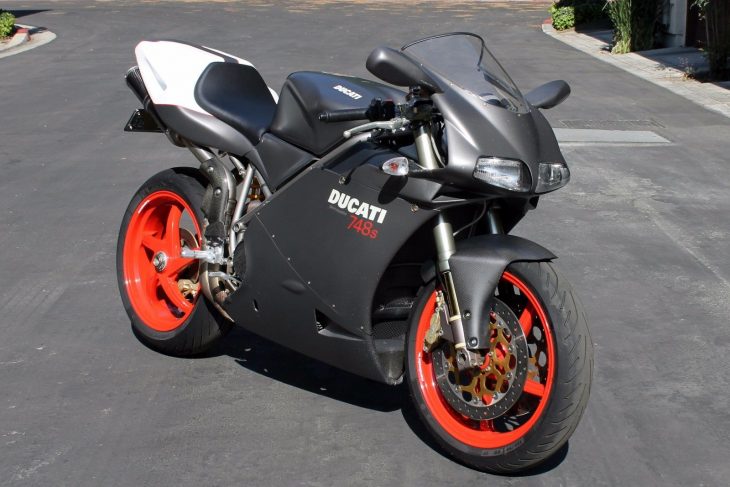 Though it gives away a quarter liter to the 996, the 748S makes 7/8 of the power at 98 hp, though at a substantially higher 11,000 rpm.  The free-er revving engine makes for more fun on the road, but also led to occasional plating failure on the rocker arms, most of which were covered by the factory when the bikes were young.  In most other respects parts are sized like the 996, in the S's case adjustable Showa monoshock and forks with titanium nitriding on the legs, and gold-line Brembo brakes.  With the help of quarter-turn fasteners, access to the works just takes a minute, and the now-classic 916 fairing lines exact their toll on the rider in stop-and-go traffic.
Coming out of silicon valley, this 749S is in the Senna commemorative livery, which save fly yellow is known to be the fastest Ducati color.  The matte gray fairings look great for their miles, as do the carbon Termis, fender, and numerous covers.  A couple of nice concessions to full-size adulthood are the HeliBar risers and the updated Öhlins shock and spring.  From the eBay auction:
The bike has lot of carbon parts. The front fender and the tank protector are made of matte carbon to match the matte color of the bike.

 Termignoni carbon full system, BCM race filter kit, Ducati Performance chip in the ECU.

 The fairings are all intact, no cracks, with brand new Ducati DZUS fasteners. Motodynamic LED integrated tail light with sequential blinker (really cool 😉

 HeliBars clip-on handlebars, the most solid and the most comfortable handlebars for Ducati superbikes.

 The bike also has a new chain and sprockets and the tires have about 1000 miles on them.

 The TiN front fork and the rear Öhlins shock have been serviced recently. The spring in the rear shock has been replaced with a stronger one and the bike's suspension has been adjusted for a 180-200 lbs driver.

 Have all receipts from previous owners, the complete service history. Had rockers checked and replaced accordingly and valve adjustment was done at the 12,000 miles service.

 Has some minor nicks and scratches here and there, typical for a 15 years old driver but the bike runs and drives perfect. 20,350 well maintained miles, most of them highway. I have all stock parts and the original Ducati Workshop Manual. I also have an extra coolant tank made of aluminum and a complete oil cooler set that's used on the 916 model.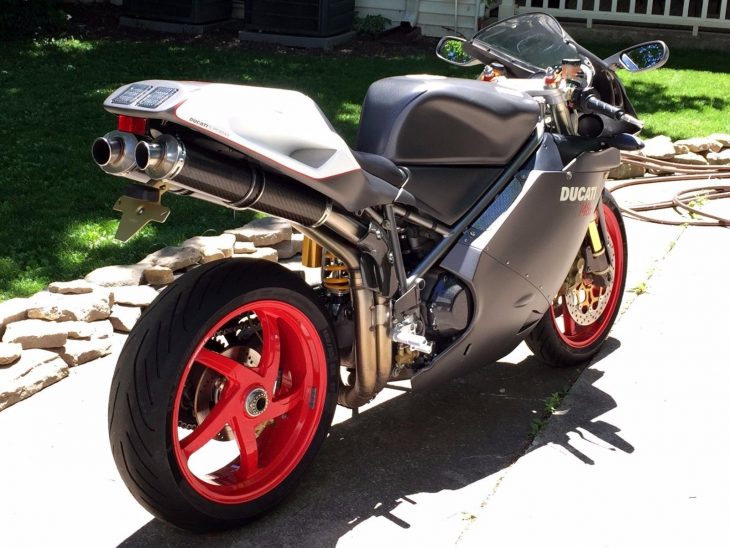 The last year for the supersport-sized superbike, this 748S would be a nice catch, though a fresh valve adjustment would make the buy-it-now a lot more justifiable.  It might be the best choice for someone who intends to ride it, set up for comfort with fresh tires.  The smooth matte paint scheme could be considered trendy but seems to set off the silver frame, carbon trim, and red wheels nicely.  Nearing the end of the riding season at least north of the Mason – Dixon line, the Make An Offer button is enabled…
-donn