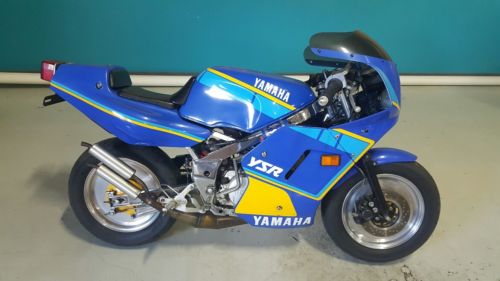 With a wheelbase just over three feet, Tonka truck sized wheels and a wet weight that sneaks in four pounds lighter than I am, the 1988 Yamaha YSR 50 set out to make the very most out of the smallest package possible. They were, for better or worse, glorified mopeds, albeit with proper clutches and five-speed gear boxes.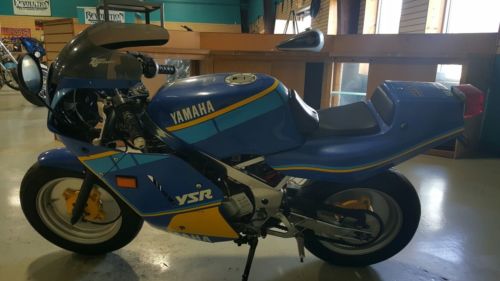 With working lights and turn signals, they were road legal from the factory, sort of like a 1980s Honda Grom; a nimble city bike that dared you to drag a knee at 30 mph.
This example is not the cleanest we have ever featured, but it packs a custom exhaust, 63-cc big bore kit and a hot carburetor. Those little hop ups should put the 50 mph top end listed on the white-faced speedo within the realm of possibility. Or at least imagination.
From the eBay listing:
Selling my 1988 YSR 50. Its the rare blue and yellow (some say rarer than the black and white one). i have had this bike for a loooong time. Super clean and runs like new. here is a list of mods:

50cc engine bumped to 63cc with mikuni carb and cylinder ported. Boyseen reed cage
Team Calamari Racing exhaust
Chrome frame and swingarm
Fox rear shock with remote reservoir
Team Calamari Racing second fork spring
1/4 turn throttle
Douglas aluminum wheels with Dunlop tires

I do have a bunch of original parts (like wheels, carb, airbox, etc.) that will go with the bike. Bike has clean title and is street legal. Bodywork is near perfect with the exception of the front upper fairing – one of my workers dropped it and cracked the fairing. I do have another original blue one that will go with the bike. You will not find another in this color in better shape. Send message with contact info for more pics and such. paypal is mike@revolutionspeed.com

I will help with shipping but retaining the carrier will be the buyers responsibility. i can get it on a palate and strapped down for shipping. If needs to be crated will be $200 extra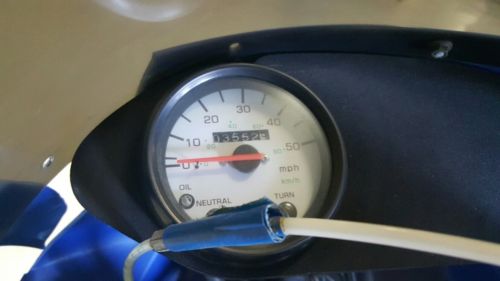 For a true collector, the upper fairing could use some work, but the seller says a good matching one is included. Added to that, the solid aluminum wheels aren't doing a whole lot for unsprung weight, such as it is, but they sure complete the look.
The auction only has a couple days left, so move fast if you want in. Ever ride one of these? Let us know the ins and outs in the comments below!