As a motorcycle executive, Claudio Castiglioni had the ability to put together a fitting tribute to his friend ( and MV collector ) Ayrton Senna.  Proceeds from the limited edition supported the Brazilian youth services foundation bearing the late driver's name.  The second F4 numbered edition commemorating Senna, the F4 1000R features 173 hp and state of the art construction and components.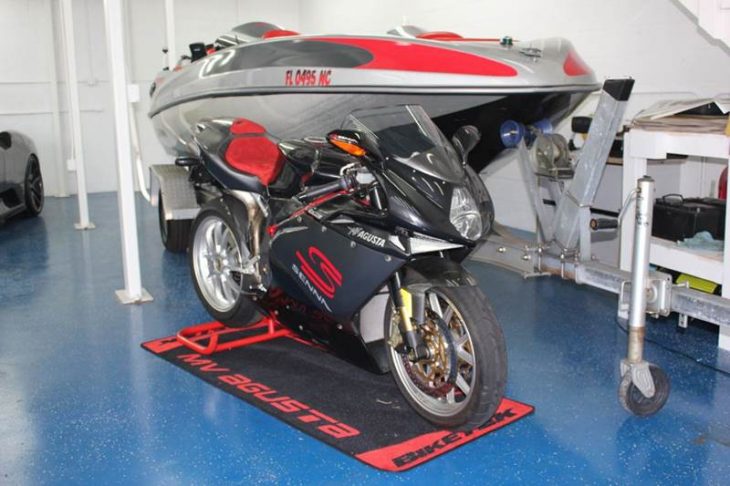 Agusta uses the familiar inline four cylinder engine with 16 valves, but hemispherical combustion chambers and radial valve layout deliver extraordinary power for 998cc's.  The latest Weber / Marelli electronic fuel injection insures tractability at sub-sonic speeds.  The MV trademark four-two-four calliope peeks out from under the seat.  Suspension and brake components are race-derived, from the 50mm Marzocchi forks to the lightweight adjustable Sachs monoshock, to the Brembo monoblock Serie Oro brakes.  Forged Marchesini alloys are directly from the GP department.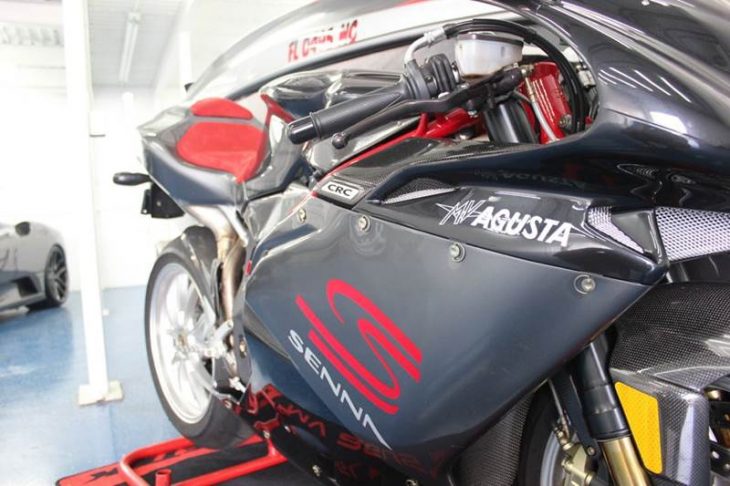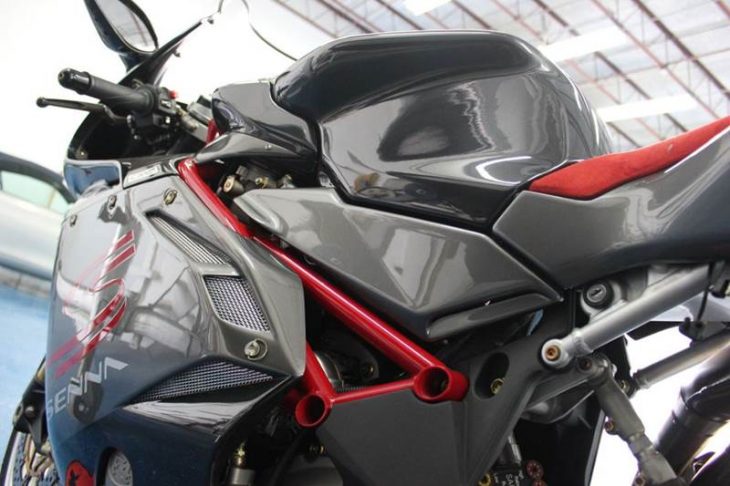 Presented by a Florida luxury vehicle dealer, this Senna has just 1,544 miles and is pictured on the factory carpet and rear stand, though a shot of the number plate would be helpful.  For all intents a new machine, closer than usual to 2017 new considering how advanced the 1000R was to begin with.  The dealer says this in the eBay auction:
This bike is one of just 65 SENNAs imported into the U.S. from Italy.  300 models were made and distributed worldwide, this bike has ONLY 1,544 ORIGINAL miles, has always been well maintained, adult-owned, never dropped.  It is in excellent condition.  I have the original Senna bike cover and wheel stand as show in the pictures.  The F4 1000 Senna is a special edition of the F4 1000 R released in 2006. It is similar to the 2002 F4 750 Senna in spirit, but has some changes to the paint scheme and an alcantara seat. This model comes with the 174 horsepower (128 kW) engine and has also the upgraded Brembo Goldline radial brakes, forged silver Marchesini wheels, a 50 mm titanium-nitride coated Marzocchi upside down fork and a lightweight Sachs racing rear suspension (in high & low speed range adjustable rebound and compression damping). Only 300 were produced.
Looking reserved in black, silver, and gray with red accents and alcantara seat, the Senna is an elegant statement.  Performance, materials, and techniques are in a three-way competition.  A gorgeous engineering exercise, and a fitting special edition recalling the unparalleled driver.  Little doubt it will remain with few miles, serviced and detailed more than ridden, but nice to know that if called upon, the Senna could respond…
-donn