6.26.2017: The seller has notified us that this bike has sold to one of our readers. Congratulations to buyer and seller! -dc
Subject of – this – RSBFS feature back in January, the new owner of this very mint CR has misgivings about putting miles on such a showpiece, and would like to make it available to a collector. A very special 900SS, this Cafe Racer has only 730 miles, and was a display item for most of its youth.  A powerful argument for back to basics motoring, the 900SS/CR has the brilliant desmodue engine, fully accessible under the half-fairing.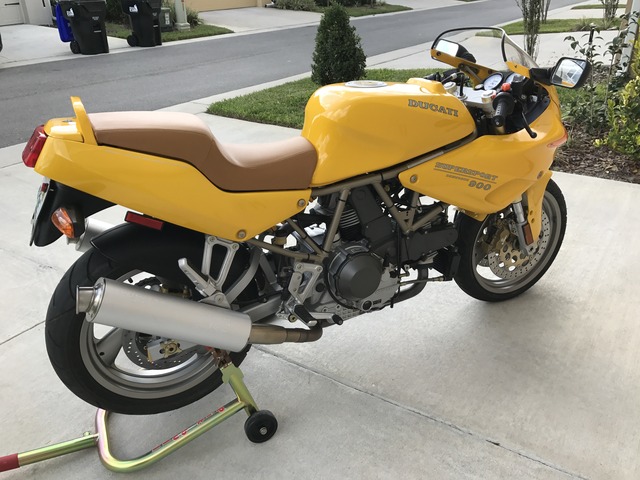 Engineered to be at the bargain end of the 900cc spectrum, the CR came to the showroom without carbon fiber bits or adjustable suspension, but had the chassis and lightness of the 900 desmodue, and nothing you didn't need.  Ducati hallmarks like trellis frame, dry clutch, and big Brembo brakes are on board, and the riding position is purposeful.  Most often seen in red, this CR scooped the yellow used on next year's SuperLight.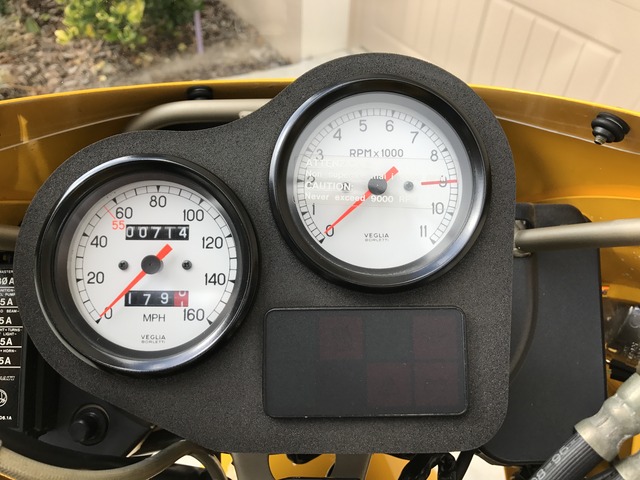 This 900 is in pretty special condition, the dusty gold frame matching the tempered stainless exhaust nicely.  Painted parts are unmarked, and I'm not seeing any aftermarket parts, most owners would have found a need to change something. The owner notes that even the original seat is included.  Even the stickers and decals haven't aged a bit.  The Florida owner had this to say in his discussions with RSBFS –
"I bought it because I fell in love with it at first sight. But it is so rare and unique, because of the ultra low mileage, that I hesitated to put any miles on it. I have had it for nearly 4 months and I have put 5.6 miles on it. I will give the opportunity for a serious Ducati collector to own it…

Price: $9900. Jacksonville, Florida"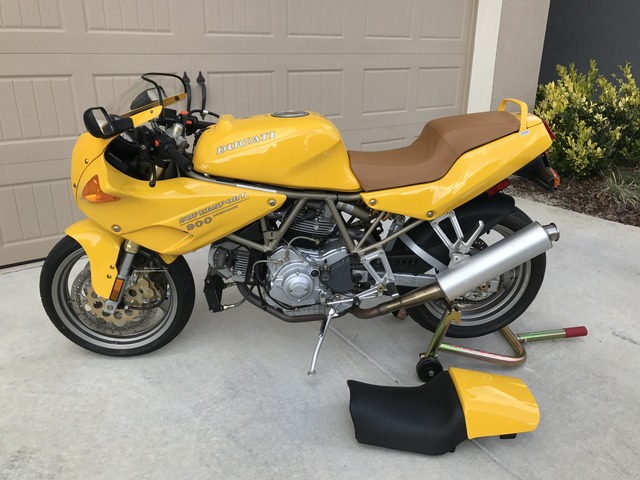 One of the final years of the Tamburini style, the SuperSports would be rounded by Pierre Terblanche for 1999.  The angular and aggressive stance of the 90's SS matched the booming exhaust note and no-nonsense presentation.  Often said to be a future classic, at twenty years of age, the 900SS/CR might be about to arrive. 
-donn