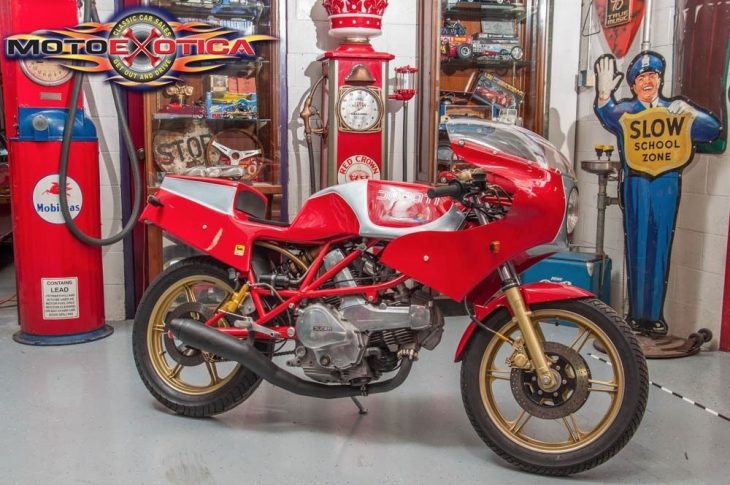 Ducati's first motorcycle was the Cucciolo [or "puppy" in Italian], which was basically a simple engine strapped to a bicycle, an affordable tool to get the Italian population mobile and back to work after the end of World War II. Certainly a far cry from the frameless, race-inspired exotica they're famous for today. This NCR 600TT hails from the middle period of Ducati's history, and is powered by the grandfather of all their modern v-twin engines, the single overhead cam, two-valve Pantah.
They're famous for the format today, but Ducati didn't start out making v-twin sportbikes. Instead, once they graduated from producing simple, efficient people-movers, they built and raced single-cylinder motorcycles of various displacements, before eventually building their first v-twin. The hottest versions of those earliest v-twins featured Ducati's trademark Desmodromic valve-actuation that has become their engineering trademark. But they also used a complex and expensive-to-manufacture system of tower shafts and bevel gears to operate the overhead cams, and Ducati needed to increase profitability to stay afloat, so introduced a parallel twin that was much more compact and affordable to produce and assemble, much to the horror of famous engineer Fabio Taglioni.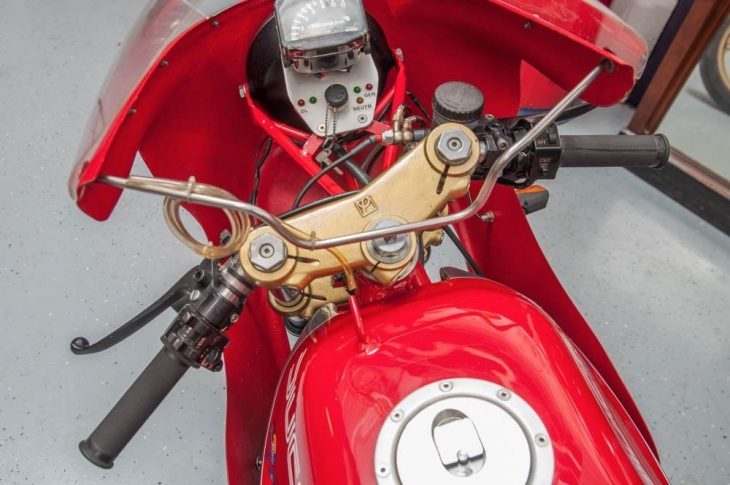 That parallel-twin engine proved to be a massive flop, but Taglioni continued to develop the v-twin on his own, and the Pantah was the result. The revised v-twin swapped the tower-shaft and bevel-drive cam-drive of the earlier engine for a much simpler rubber belt arrangement. This meant the engine was less expensive to manufacture, but also meant owners needed to religiously maintain their bikes, as failure of the toothed rubber belt led to catastrophic engine damage. Today's Ducati engines are direct descendants of that original two-valve v-twin.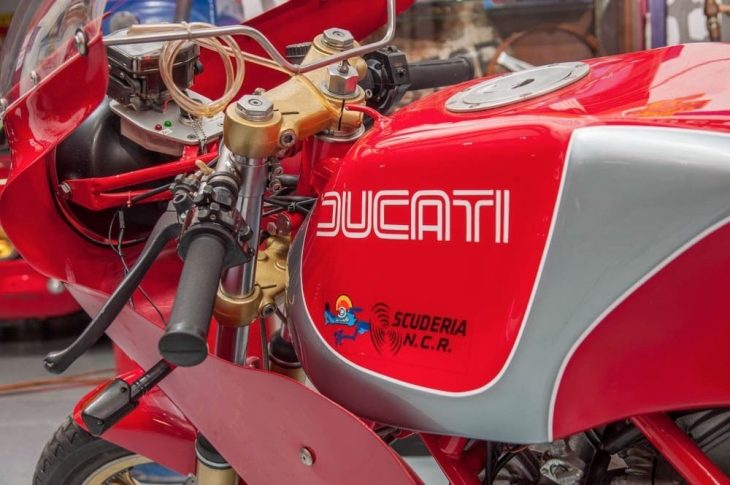 This particular Pantah-powered machine is literally a racebike with lights, and includes frame, bodywork, and preparation by NCR. If you're not familiar, NCR are best known today for their high-performance and obsessively lightweight Ducati parts, as well as for converting already expensive exotica into completely un-affordable, even more exotic exotica. But before that, they were originally a race team. The race team, in fact, responsible for Ducati's many racing successes until the creation of their in-house racing division, including Mike Hailwood's famous TT-winning bike, so they've been around the track a few times. Although the bike does include a headlight, a tail light, and turn signals, it appears that wasn't enough to get past rigorous TÜV certification and the bike couldn't be registered for road use in Germany where it was stored for many years. Maybe a new American owner will have more luck?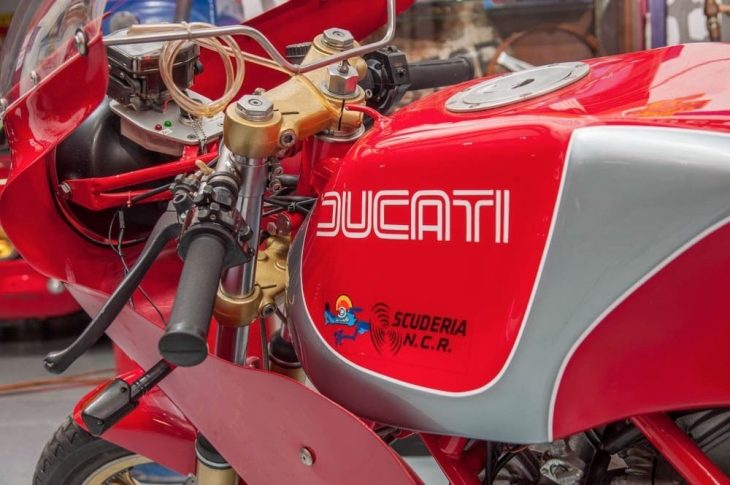 From the original eBay listing: 1981 NCR Ducati 600TT for Sale
The 1981 Ducati Scuderia N.C.R was one of the preeminent motorcycle racing teams of all time. They were the de-facto Ducati factory race team from the early 1970s until Ducati took it in-house with Ducati Corsa in 2000. They continued as privateers and had success with rider Ben Bostrom. The company was then sold and continues as a specialist builder of very high end motorcycles.

NCRs wins on the world stage are almost too numerous to mention. But Imola 200 winners Paul Smart, Isle of Man TT winners Mike Hailwood were all on the bevel drive NCRs. The string of wins by Tony Rutter on the belt drive TT2 were all Nepoti and Caracchi machines that made NCR a household name with their distinctive logo of a speeding helmet clad dog.

Nepoti and Caracchi Racing designed their own frame for the belt drive Pantah based series. This was the 600TT. It differs from the more common TT2, which was more of a Ducati design. A total of nine frames were made by Verlicchi and a further two by DM. All but two were racing frames. Of these two street bikes produced, this is the only one built with an alloy gas tank. Imagine a genuine NCR with a steering lock.

This bike has spent most of its life unused in Germany. The owner tried to convert his Pantah to a NCR framed machine, but the TUV would not allow it, due to their ultra-strict type certification. Throughout 1980s, 90s and 2000s it was in hiding. It re-surfaced in 2006 and was recommissioned. However the German owner was still not able to use it.

It came to America several years ago and has been in a private collection museum ever since. It has a US tile as the original donor Ducati Pantah.

Gas has been drained and battery removed for storage and display. We are selling this incredible machine for a client of ours and all technical questions will be answered as quickly as possible but may take time to get as he has limited access. Sold on a clean, mileage exempt US title.

VIN#DM500SL661261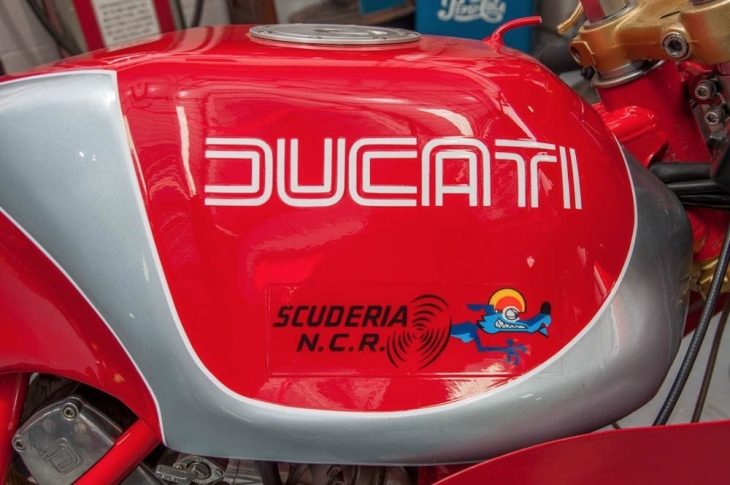 Bidding is up to just north of $9,100 with plenty of interest and plenty of time left on the auction. In general, the earlier bevel-drive bikes are considered the most desirable and collectible Ducatis, but this is an exceptionally rare and cool motorcycle, considering the direct links to NCR and the fact that it's theoretically a roadgoing racebike. Obviously you should be careful to consult with your local DMV if you plan to register this machine for road use, but this one might be best used as the crown jewel in a collection anyway, considering it's status as just one of two ever built.
-tad