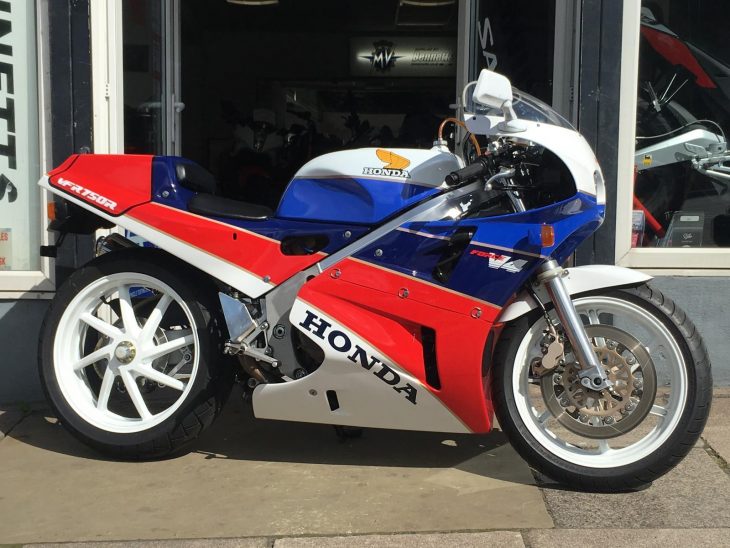 Any RSBFS readers not familiar with the Honda RC30/VFR750R can read our previous RC30/VFR750R posts to learn about this legendary bike but to quickly summarize, Honda decided to show the world what it was capable of when all the limits (financial, manpower, etc) were ignored.  The result was the Honda RC30, a machine built to win and boy did it.  In just the 1st year after its introduction the result was pure domination with 15 of the 25 finishers in the top F1 class being on the new Honda.  As this was the homologation era, street versions also had to be available, an a total of 1,500 were produced each year over a 2 year production run.
A large block of the RC30's that were produced were dedicated to the Japanese market and this particular RC30 is apparently one of these Japanese editions but interestingly, is currently located in the UK.  Despite its travels, it is probably the most pristine/intact one we have had on RSBFS, with mileage at only 1,550 miles.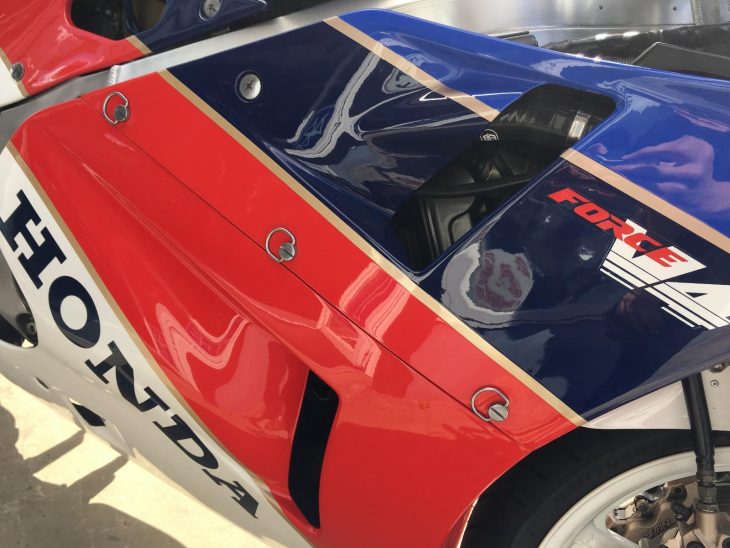 The pics* seems to match the mileage with the bike looking like it just came out of the factory.  The seller does mention some slight staining around the frame plate but this is not apparent in the pics and everything looks completely OEM/stock.   Given the low miles and the statement that this is a formerly japan market bike I would assume the Japan market CDI/top speed limiter is still installed but info on how to remove/replace it is available on the web so it would be fairly straightforward to enjoy the full RC30 experience.
*NOTE:  The listing includes both standard pics and additional classified ad pics which are located at the bottom of the ebay.co.uk listing.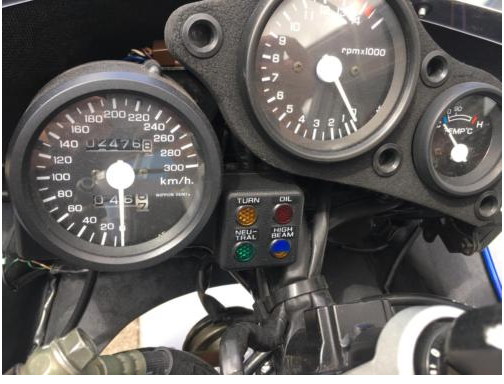 The Honda RC30/VFR750R is one of those bikes that every serious collector wants to have in their collection.  It is probably the homologation bike that had the most top level track success, although the Ducati Desmosedici and Kawasaki ZX7-RR are both close runners up.  But even given its legendary success on the track and the pristine condition of this example the question remains; is this example worth the asking price of 28,000 GBP/$35,000 USD?  That price seemed a bit high at first but then again it is very unlikely you will see one for sale in this condition anytime soon and prices do seem to be steadily increasing.
I guess the question is what is this bikes destiny?  Is it already fated to exist only as a halo bike in a collection?  Or will its next owner give it some fresh fluids/rubber and do a bit of riding to see what all the fuss was about?  All I know is that if I was able to acquire this one, I would be in that second camp for at least a bit.
-Marty/Dallaslavowner