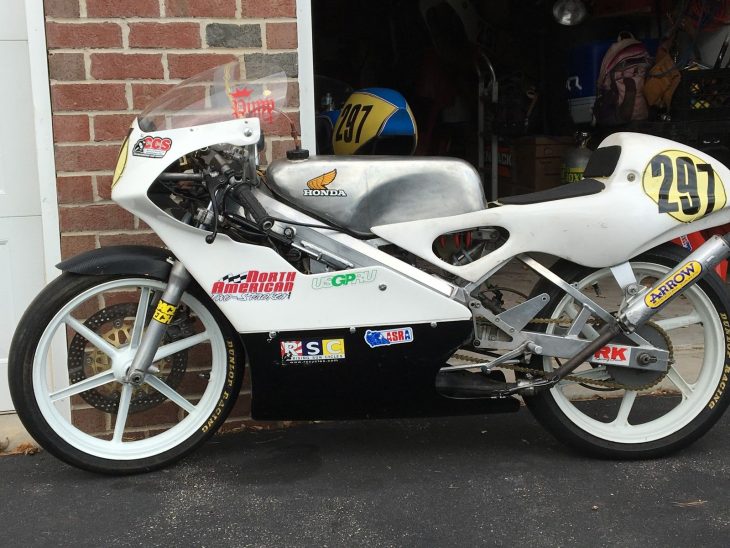 The very last post of 2016 is this slightly scruffy, but ready-to-race Honda RS125. It's not a display bike, it's a full-on racing machine, ideal for a new racer who's learning the trade, or a veteran who just likes bikes that weigh less than they do… At just 160lbs partly-fueled, these offer up more performance than you might expect, given the minuscule displacement: the 54mm x 54.4mm bore and stroke give 124.4cc, and the little two-stroke produced somewhere just north of 40hp.
Small-displacement two-stroke race bikes sound like a tinkerer's dream, requiring constant attention and tuning to keep them in top shape and competitive, although the RS125 is relatively simple and designed to be torn down regularly, so that's not as much of a chore as it would be on a production-based motorcycle. A pure racing Grand Prix motorcycle, an RS125 was the first step on the road to the firey 500cc monsters that were the top dogs of the two-stroke era: Loris Capirossi and Dani Pedrosa both won 125 championships on RS125s.
From the original eBay listing: 1993 Honda NF4 RS125 for Sale
This is a GP race bike, no title, no reg, no bill of sale. Not an NSR road bike. New top end 0 miles/0 min. on plating/ piston/ring/reed/ new 95 reed cage. Will have to go thru a few "heat cycles" before 1st race. Some top end spares (2-new Wossner, 1-coated HRC pistons).
Starting bid is just $3,500 with no takers yet and several days left on the auction. Details in the listing are spare but, if you're really in the market for an RS125, it probably tells you enough to pique your interest and I'm sure the seller can answer any questions you might have about this little machine.
Happy New Year everyone!
-tad