The re-launch of Top Gear UK earlier this week has made me a bit nostalgic for the old version of the show, so I thought I would do this post in the style of the old TG UK game of "Classic or Crock?" – Marty
Following a bankruptcy in 1994, the Laverda marque was bought by Francisco Tognon who re-started produced using existing designs.  Early models of the re-launched Laverda included an air cooled 650 trellis framed bike known as the Ghost that was very similar to the Ducati Monster and a 650 sportbike known simply enough as the 650 (Note: A limited edition 650 sport with Kevlar bodywork was also produced).
In the following years Laverda tried to follow the model established by John Bloor's reborn Triumph motorcycles with modular models and incremental designs.  This philosophy resulted in bikes like the 668 Ghost, the 668 sport and when a new water cooled engine was developed in 1997, a 750 Ghost which was a standard style bike, a street oriented sportbike known as the 750S and finally a "top shelf" 750cc Sportbike known as the "Formula" or 750SF.
Even with the re-launch and influx of new capital, Laverda struggled to compete against the Japanese and within a few years ownership started to squabble.  Tognon left in 2000 taking the plans for a new triple engine with him (which became the new powerplant of the reborn Benelli Tornedo Tre 900).  The entire Laverda concern was acquired by Aprilia in 2001 and hopes were high for a bit but Aprilia itself was also struggling and when Aprilia was acquired by Piaggio a few years later the Laverda marque was mothballed.  
About 5000 bikes in total were produced across the entire lineup during 1994-2000 zane era, with maybe 1/4 of those coming into the USA starting in 1997 and a very small portion of those being the top shelf 750SF formula in 1998 and 1999.
RESULT:  Classic. The bike being sold is the top shelf bike in the entire lineup, production numbers were very limited and location all factor in.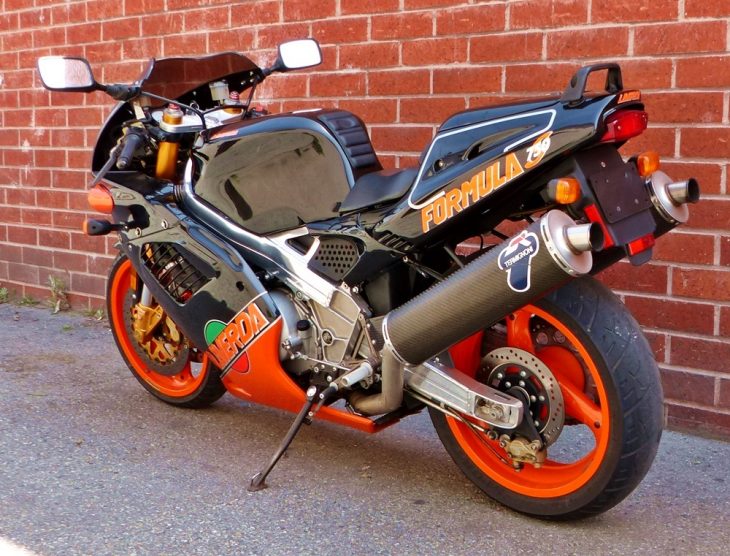 Often referred to as "Zanes" or "Zane-era bikes" due to the factory moving about 5 miles from the town of Breganze to the town of Zane, the last generation Laverda bikes had a lot of top shelf components incorporated into their design, including a letterbox gas tank, a Nico Bakker designed frame, Marchesini wheels, Brembo brakes, and Paoli forks and shocks.  Overall they were well designed and were strong performance competitors to the 750 Ducati of the same era.   The 750 formula also received upgraded camshafts, race spec ECU's and optional race oriented exhausts.
However the final edition Laverda models were not without fault.   Typical Italian electrics of the period including narrow gauge wire and tuning for us emissions meant heavy loads on the generator system, resulting in failing voltage regulators and rough starting.  Also oiling issues were reported to occur causing crank/big end failure after around 25,000 miles, although this problem was a bit hit-or-miss depending on how the bikes were maintained and ridden.  Perhaps most significantly, the engine was still a parallel twin that could trace it roots back to the Breganze-era Alpino model of the 1970's and produced less that 100bhp.   Faced with competition like the ZX7 and GSX-750R, the Laverda 750SF was beautiful and handled incredibly well but couldn't really compete on a straight line or the track.
RESULT:  Crock. I want to say classic given all the goodies it has but given the possibility of crank issues and the fact that the brand is out of business the result has to be Crock.
The condition of this particular 1999 Laverda Formula 750SF looks to be in pristine.  Turn signals, bar ends, mirrors and the rear license plate assembly all look to be original/OEM and the condition of the decals, forks and mirrors show no indication of the bike having been down.   The only non-original pieces I am seeing is an airbox cover scratch pad, what looks like a replacement chain and possibly the 3 screws on the dash although those might simply be rusty (a common occurrence on these particular parts).
The seller doesn't list any maintenance history but the condition of the main key lock and windscreen convinces me that the bike has been stored inside.  However the color of the brake and clutch fluid also makes me think the bike has not been gone through recently, so new owners should expect to spend monies on fluids, brake pads and possibly rubber.
RESULT:  Classic.  Condition on this one looks to be nearly perfect and required maintenance looks to be a standard used bike freshening
Given the fact the Laverda marque is shut down, I don't think these bikes are a good fit for casual riders/anyone not prepared to do their own maintenance. Also right now these final edition Laverdas are not as valued as the bikes from the preceding Breganze-era, with all the Zane-era bikes seem to be in the same price band of around $2800-$6200 USD.  It will probably take another 5-10 years before the Zane-era bikes crack the 10k value mark.
RESULT:  Crock (for someone looking for an easy maintain daily rider or a short term collector).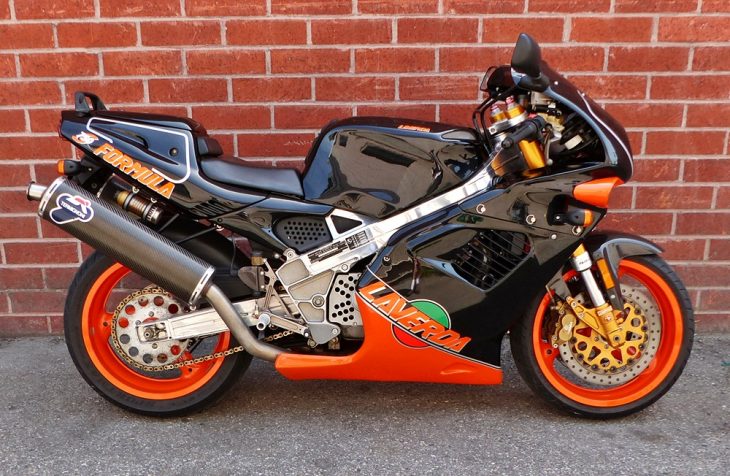 OVERALL VERDICT:  Short Term Crock, Long Term Classic.
I know, I know…the classic/crock score is a toss-up.  Also since I own several of these bikes I have to recognize/admit that my personal feelings may be skewing my evaluation of this bike .  But this 1999 Laverda Formula 750SF meets all the raresportbike criteria (numbers produced, technology, condition and location).  Also it is the top line formula/750SF model,  condition looks to pristine with almost 100% OEM parts and it is from a discontinued but still fondly remembered marque…so I still am leaning towards classic.
I think in order for this one to move the buyer will either be a collector with a longer term outlook or someone who already has a few bikes and wants to own something a bit different…it would certainly look cool if you rode up to it at your next bike night.
-Marty/Dallaslavowner