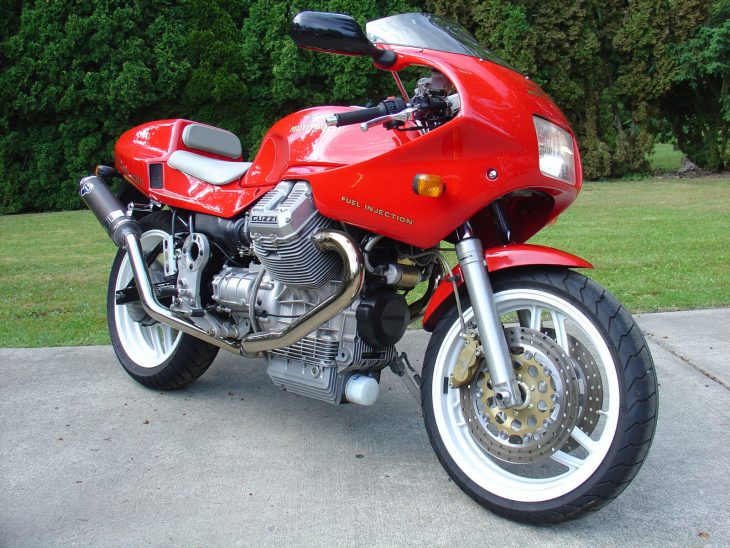 If pure speed, cutting-edge technology, or drive chains are your thing, then today's Moto Guzzi Daytona 1000 probably isn't the bike for you. But if race heritage, character, and v-twin torque are things you enjoy, you can't go wrong with this big Guzzi. The Daytona is certainly not light weight, but it does handle: with quality suspension front and rear, and based around a frame developed by dentist and privateer-racer Jr. John Wittner that would be used for decades following its introduction, it was the first modern sportbike from Moto Guzzi.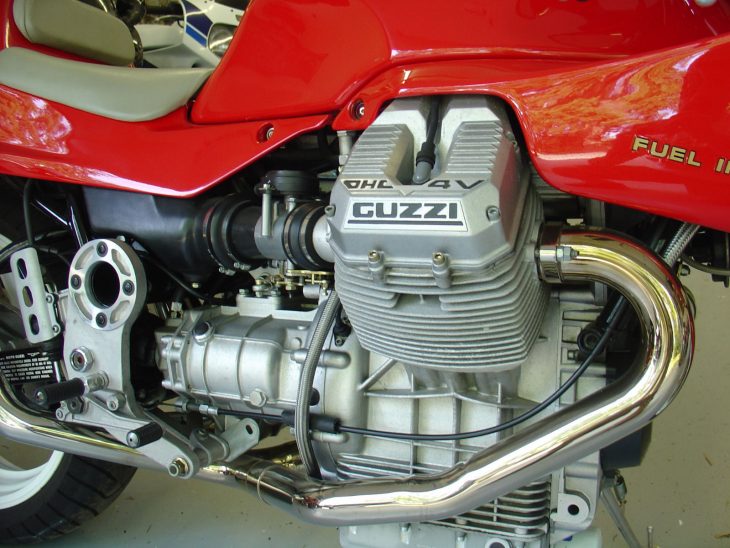 The Daytona featured Guzzi's traditional longitudinally-oriented v-twin, backed by a five-speed gearbox and shaft drive, but was updated with fuel injection and four-valve cylinder heads. Interestingly, the engine isn't exactly "overhead cam." It's more "high cam," as the belt-driven cams actuate short pushrods, which in turn operate a pair of rocker shafts that open and close the valves. The engine had a 992cc displacement to squeak in under the limit for racing, as unlikely as that might sound. Half-faired looks show off that huge lump of a powertrain and that bulbous tail section houses the bike's electronics. A dual-seat version was available but, with the pillion pad basically stuck on top, it looks pretty ridiculous and is best avoided.
Think of the Daytona as Moto Guzzi's 851, a bike that attempted to thrust the marque back onto the podium by applying modern technology to a familiar formula. Not a bike for everyone, but if you're a Guzzisti, this bike looks very tasty, and those Termignoni exhaust pipes should make this bike sound even better than it looks. Seriously: if you like the sound of a big v-twin sportbike, it doesn't get much better than a big Moto Guzzi with a set of Termis…
From the original eBay listing: 1993 Moto Guzzi Daytona 1000 for Sale
These were imported that year to homologate them for battle of the twins racing. Only 50 bikes came to the US and sources state that only 250 bikes were made worldwide, and this one is #21. This bike runs as perfect as it looks and the sound is even better through the dual Termignoni's. I bought this bike fifteen years ago for $10k and it has been worth every penny.

The original owner whom I purchased it from said it had the factory "A" kitted motor. I have no proof myself as I have never had the motor apart. I can say that it is fast, but it is no Gixxer thou.

The bike came with WP shock, Marzocchi forks and Brembo brakes witch were top shelf items in its day. I believe the Daytona and MGS-01 were the only models to ever come with the performance 4-valve heads.

Of all of the bikes I have owned, this one is the most fun to ride and has more charisma than a Ducati. I think the pictures speak for themselves as it is almost perfect and you would be hard pressed to find a nicer example. About the only flaw is the paint is bubbled around the gas cap. I tried to capture this on the picture but the paint still looks perfect but is slightly bubbled. In the fifteen years I have owned the bike it has not gotten any worse.

This does come with the factory center stand lift.
This example appears to have a spin-on filter conversion clearly visible on the front of the engine: most of the time, you need to drop the sump on a Guzzi to change the filter element, so this is a very desirable update for anyone who plans to use their Daytona regularly. The "A kitted motor" the seller mention refers to the bike's state of tune. The A kit was an updated chip and intake/exhaust, with an available C Kit that included different cams as well.
There are several days left on the auction, but no takers yet at the $10,000 starting bid. That's probably a pretty fair price, considering the condition, updates, and low miles. Guzzis of the era are definitely on the rise, and this looks like a nice bike to ride or collect.
-tad