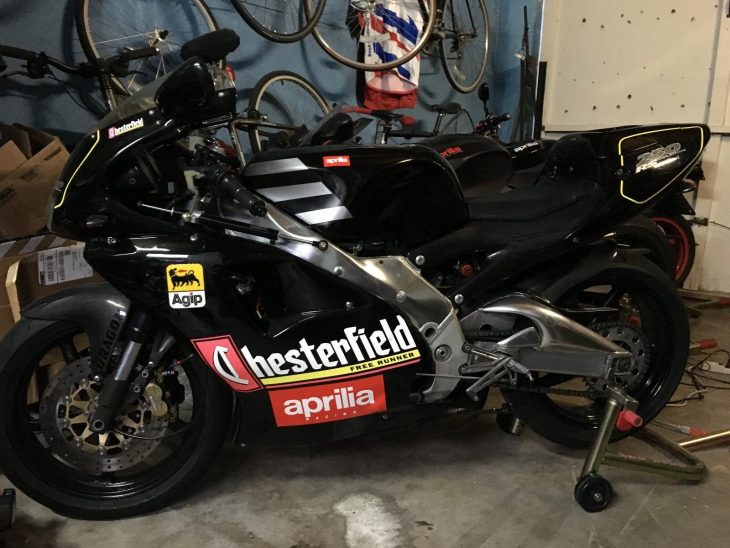 Although for many, the second-generation Aprilia RS250 captures the essence of lightweight, two-stroke performance, I prefer the earlier versions, like this Chesterfield replica: the later bikes are just a little bit bulbous in the tail, and that techno-futuristic dash just look a little bit too "1980s Dodge Daytona" for me. Not that I'd pass up the opportunity to own one of course! But for me, the earlier bikes are just a bit more graceful, and while the dash looks a bit odd, that's just because you're supposed to yank that speedo and the associated idiot lights off for trackday shenanigans!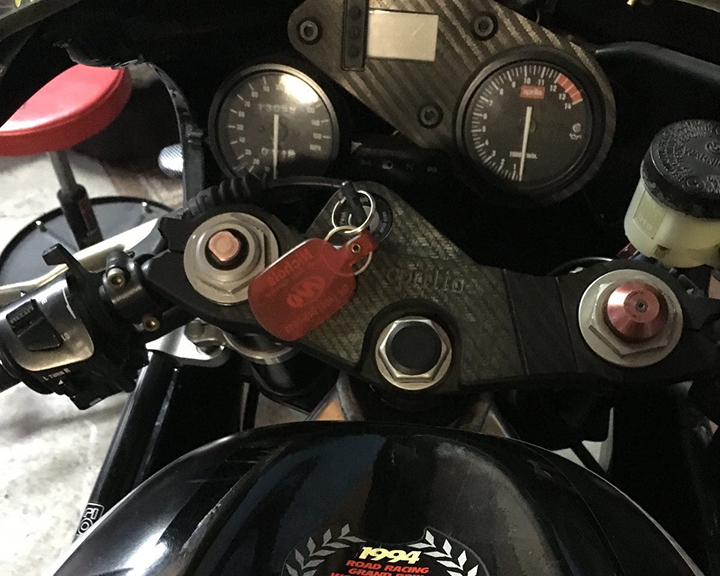 The 249cc, liquid-cooled two-stroke and six-speed gearbox combo was basically a heavily-modified Suzuki RGV unit, with the same Brembo Goldline brakes used to stop bikes weighing over 100lbs more, but the rest of the package was all Aprilia. The bodywork is very sleek and distinct from the Japanese competition, with a gorgeous aluminum frame and that classic "banana" swingarm designed to allow the expansion chambers to tuck in close to the bike for maximum lean angle.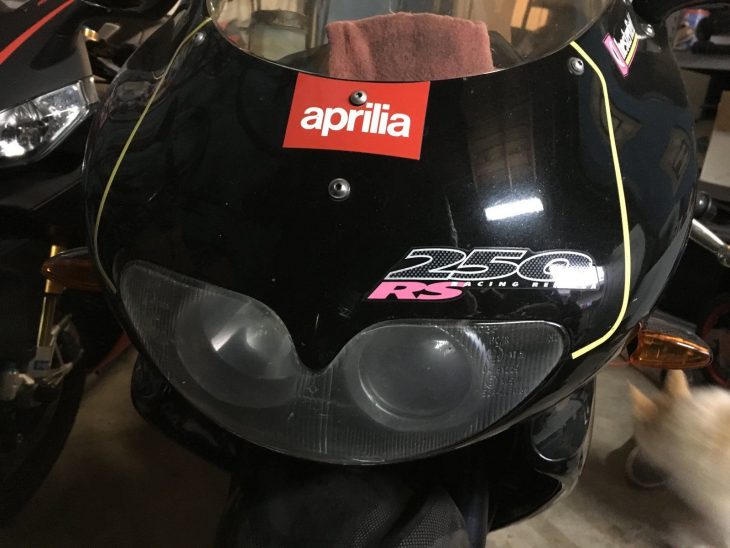 Aprilia claimed 60hp and, with just 300lbs to push around, the bike is a rocket. Straight line and top speed will suffer, even compared to a 600cc supersport machine, but the Aprilia's light weight pays dividends in corners, so what you lose on the straights you'll gain back in the corners and under braking.
From the original eBay listing: 1995 Aprilia RS250 for Sale

Max Biaggi two-stroke race replica in Chesterfield Livery
California plated, insured and registered: clean title in hand.

I'm the fourth owner of this original Max Biaggi Chesterfield (not a sticker kit replica). I bought her from a good friend that needed a car for his growing family. This was THE bike I originally wanted when I first got into motorcycles. 18 years or so and a lot of bikes later, I was lucky enough to get my hands on this wonderful machine.

She has 13,060 on her currently, and runs flawlessly.
Top end rebuilt at 10,000 with Wiseco pistons and Boysen reeds. I just had her serviced and run through by Nichols Sportbikes in Milpitas. They went through the whole machine and have her running tip top! including; coolant and brake fluids flushed, new battery, gear oil change and had the forks re-sealed. The tires were replaced around 12,000 miles or so along with fresh brake pads. Plenty of life on all.

This bike is a beautiful Italian specimen that loves to flaunt her stuff. The decals are not in perfect shape, but are in great condition for the age. The bike decals came original on top of the clear coat, so after 21 years they have some sun fade, minor wrinkling and an occasional worn edge. The bike has never been put down, and the original fairings are in perfect shape. She is a street machine and I take it out regularly for the Italian tune-ups to keep her purring like the hot cougar she is.

She is original with the following exceptions;
Arrow full exhaust. You're welcome, future owner!
Toby steering damper. Again… you're welcome.
Aftermarket turn signals. They were on the bike when I got it, never changed them but I have 2 of 4 of the original signals which can still be found on AF1.

I have the owners manual, service record receipts, workshop manual and other parts: gaskets, screws, brackets, passenger pegs and passenger seat. I also have an OEM tank decal replacement kit if you're not a fan of the awesome, road pounding patina of the current tank decals.

Buyer is responsible for local pick up. Bike located in Bay Area, California.
As you can see from the images, the bike is in good condition overall, and the aftermarket signals and slightly faded stickers can be easily fixed with parts the seller is including with the sale. The headlight lens looks slightly cloudy in the pics, or maybe it's just dirty, and the recent mechanical overhaul means miles of smiles for the next owner! This bike looks like the perfect machine for someone concerned more with riding than displaying, although the price will likely be out of reach for many enthusiasts…
Bidding is up to $7,100 with the Reserve Not Met and several days left on the auction. That's likely due to the fact that this bike has a clear California title, a bit of a Holy Grail for two-stroke enthusiasts. I'm not generally a huge fan of race-replica graphics, but this is my favorite version of the little thrilla from Aprilia, and that CA title means you can thrash the little quarter-liter machine on some of the amazing canyon roads we have here.
-tad