The sight of any Derbi will bring a twinkle to the eye of the Spanish nationals among you, but this very racy Malossi replica, with title, gets these folks thinking rather impractical thoughts.  An historic Spanish company, Derbi was founded in 1922 near Barcelona, and made bicycles until 1950, then moved into motorcycles.  Concentrating on the smaller bikes, they also raced, winning Grand Prix championships in the 50, 80 and 125cc categories.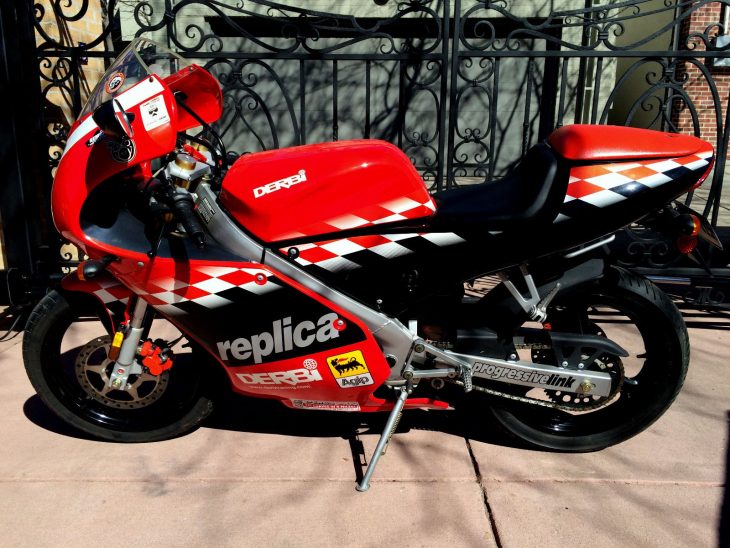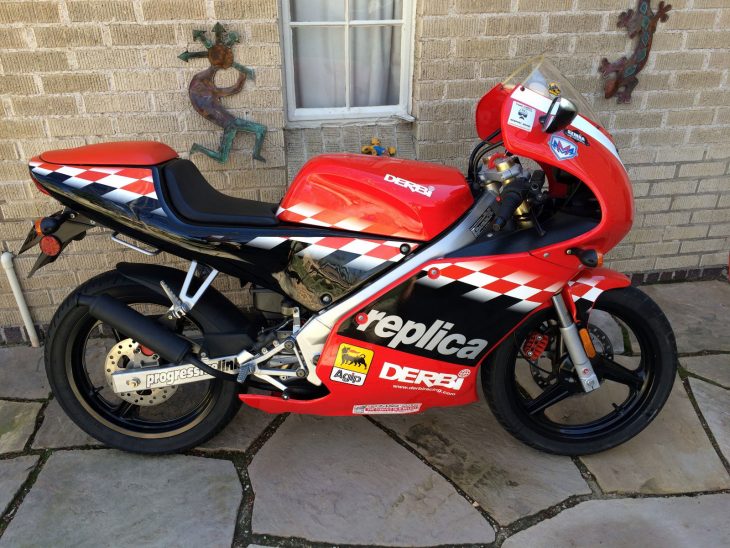 Doing a very passable impression of a larger machine, the GPR50 does it with a single cylinder and just 9 hp.  The 50 cc's are fed by a 14mm Dell'Orto carburetor, and power is transferred by a 6-speed transmission.  Suspension is modern with 35mm upside-down forks and rear monoshock.  Brakes are single disks, 260mm front and 220mm rear.  Unlike most 50's the Malossi is rideable by a 170 lb. adult, helped by the 17 inch wheels.  The full bodywork has a biposto seat and great graphics package.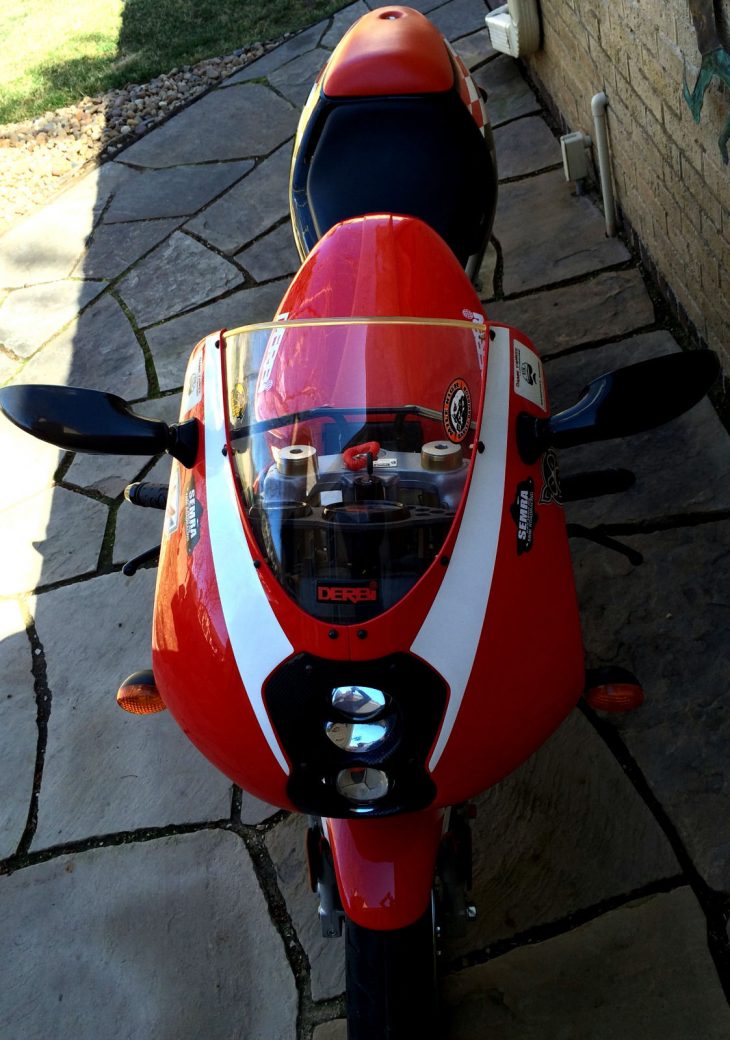 This GPR50 looks super in red with checkerboard and shows just about 600 miles.  The owner is a collector and seems very knowledgeable – from the eBay auction:
You are bidding on a rare Derbi GPR 50 Malossi Replica with only 592 miles on the odometer. The Derbi 50 GPR 50 was a joint effort between Cagiva and Derbi with Cagiva designing the frame and Derbi providing the high revving two stroke engine.

Below is a list of key aspects of the Derbi GPR 50:

1) It has a clear Colorado title with all the original paperwork. The Derbi is located in Denver, CO.

2) I purchased the motorcycle from the original owner to add to my collection. Unfortunately, I have unexpectedly bought two additional motorcycles and I am now out of room and one motorcycle has to go and the Derbi drew the short straw.

2) The Derbi literally looks like it just came from the dealer's show room floor. It has always been properly stored in a heated garage its entire existence and maintenance has been performed based on time and not mileage. The battery is always on a trickle charger and is in perfect working condition.

3) The Derbi runs perfectly and absolutely everything works.

4) The original owner put two very small scratches on the bottom of the lower fairing as he was unloading the motorcycle from his truck. The scratches are covered up by a decal.

5) Despite its small 50cc two stroke engine, the 6 speed transmission will easily propel the Derbi to well over 60 MPH.
Named for Malossi S.P.A., which makes racing and tuning parts for small bikes and scooters, the GPR  could be fitted out with engine and suspension to keep up with traffic on the freeway rather than just around town, with the known risk of shortening the life span.  Derbi survives today, having been purchased by Piaggio in 2001, and their line of smaller bikes now includes enduro and hypermotard bikes.  Since none are available here, the Derbi will continue to be a specialty, in this case an almost perfect and street legal rarity…
-donn