Update 5.2.2016: Seller has received a deposit. Congratulations to buyer and seller! -dc
The 400cc Honda NC30 has long lived in the shadow of its bigger brother. Not particularly fast, but definitely expensive then and now, there's certainly a lot to like about the VFR400, but outright speed isn't really on the list. Instead, you're looking at Honda's famously sophisticated engineering: straight-cut gears when a common chain would do, a tiny V4 when any sane manufacturer would simply build an inline four and be done with it. An ELF-designed "Pro-Arm" single-sided swingarm that was cool enough to be aped by Ducati's iconic 916 and aided fast rear wheel changes during endurance racing.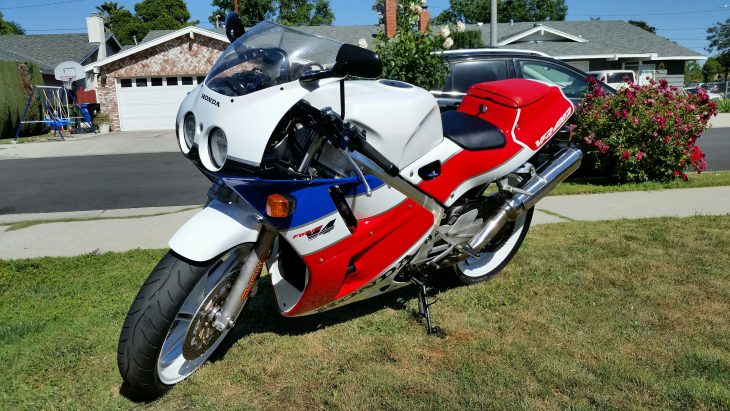 It's very light for a four-stroke at 350lbs dry, with adequate power from the 399cc V4: 59hp and 30ft-lbs of torque in a wide, forgiving powerband that extended all the way to a screaming 14,000rpm. Early V4s used an even-firing 180° crank, whereas later versions like the one here used a 360° "big bang" crank and firing order for improved traction and tire life, the theory being that the combustion events happening close together allowed the tire to "recover" during the gap in each revolution.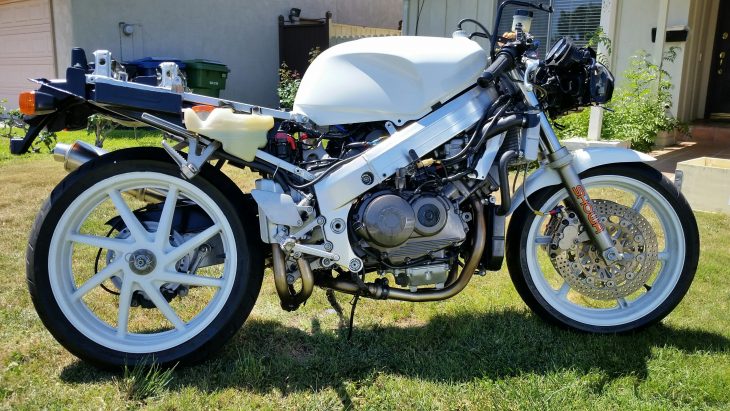 Ridden in isolation, the NC30 a joy, a sweet-handling machine that rewards a skilled rider. Ridden against bikes that cost less new but offered more than twice the displacement, and the little V4 gets murdered in nearly any measurable test. That and the lack of real racing pedigree means that the NC30 may be slower, but it's also much less expensive than the bigger RC30, making it a realistic prospect for folks who want the Honda V4 experience but are on a limited budget.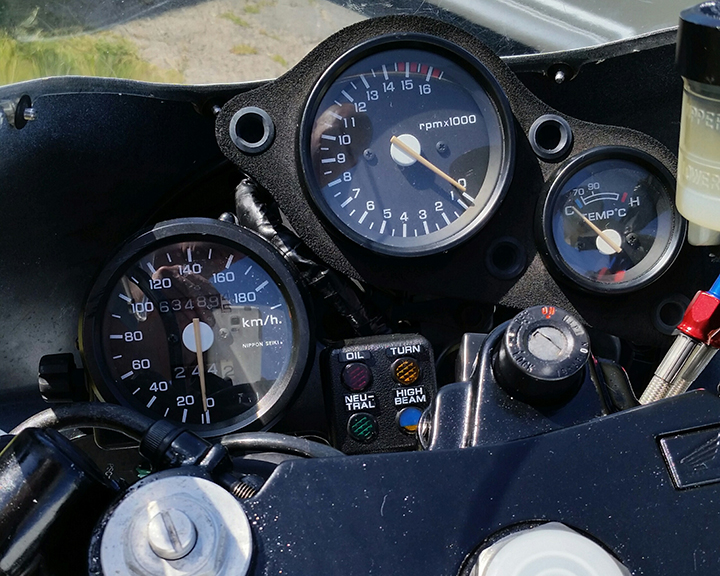 Today's featured listing isn't perfect but, then again, the seller isn't advertising it as such. It is titled in California currently and should be easily transferable.
From the seller: 1990 Honda NC30 VFR400R for Sale
Rare 1990 Honda NC-30, VFR 400 with a clean, clear NO BS California title and registration… It's for the correct VIN, the correct year, no funny business like you will find on a lot of grey market bikes.


This bike was imported from Japan a little over a year ago, I've had it 6 or 7 months. I've put a 1000 or so miles it her, rode her to work for a month and we've visited the canyons a couple of times. I bought her because I'm a V4 junkie, I own 4 right now.


It shows 63,489 kilometers (39,450 miles). I can say it doesn't look or feel like it has that many miles, maybe it had the gauges replaced… who knows. The bike is mostly stock, the only aftermarket parts I see are brake lines, horn and current bodywork. Judging by the original bodywork and muffler I'd say she has been down at slow is speeds a time or two, but nothing major. She rides straight, true, smooth and fast. Only bike I've ever gone faster than the speedo will go (180KPH only 11k RPM). This bike has no limiter or funny Japanese market speed controllers.


A bunch of time, effort and money have gone into cleaning this girl up.


All the fluids have been replaced, a few stock parts have been replace with OEM Honda (like levers, hardware, bar ends and such) the buyer gets all of the take off parts (original bodywork, hardware, levers and such), fresh brake pads, a bunch of stainless hardware, fresh looking chain and sprockets, fresh paint on the tank. I got her with low mileage Dunlops. I installed a Chinese bodywork kit from Ebay, it looks pretty good, I took my time installing it.


Is she perfect, NO (If she was the price would be over $10k), she is very good, needs nothing to be a daily rider. Are there things that could be done to make her better, sure… but that is up to you.

Asking price is $8000 obo, might trade up or down for something equally cool. You aren't Richard Rawlings, this isn't a Television show… Don't make a crazy low offer or tell me the bike isn't worth that much…
The NC30 are very rare here in the US where they were never officially sold, although these are much less valuable than the bigger RC30 with which it shares style and specification, if not displacement.  One look at the dinged exhaust and the mileage will tell you this is no trailer queen! But the bike looks very clean and well-maintained, with none of the bolt-on frippery sometimes found on bikes of this vintage. It's a rider, for Honda fans who might otherwise not be able to afford one of the more perfectly-preserved examples of Honda's V4 homologation specials.
-tad