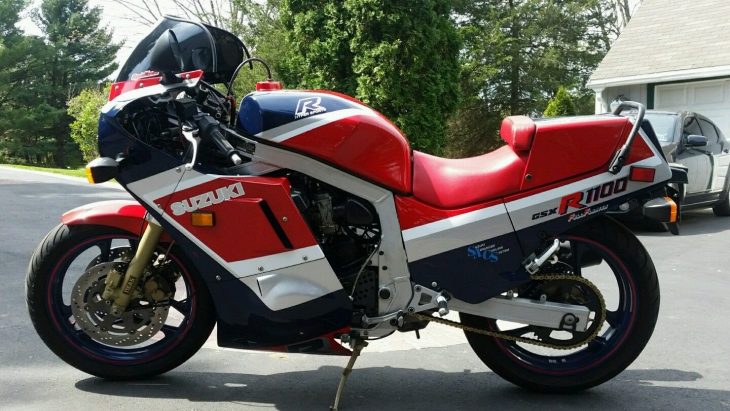 A mix of big-bike power and light weight, Suzuki's GSX-R set the tone for the modern superbike. At the time it was introduced, more and more bikes were being cooled by a strange new substance known as "water," but the GSX-R remained uncluttered by hoses and unburdened by awkward heat-radiating devices: in an effort to slash unnecessary weight wherever possible, Suzuki kept the bike air/oil-cooled. When it debuted in 1986, one year after its littler brother, the 1052cc "1100" weighed a modest 434lbs and produced a stout 137hp. While obviously that's a bit of a yawn for riders used to reading about 200bhp road missiles, those 137 ponies offer up midrange-rich pull that can still entertain, especially once you throw a set of curves at it…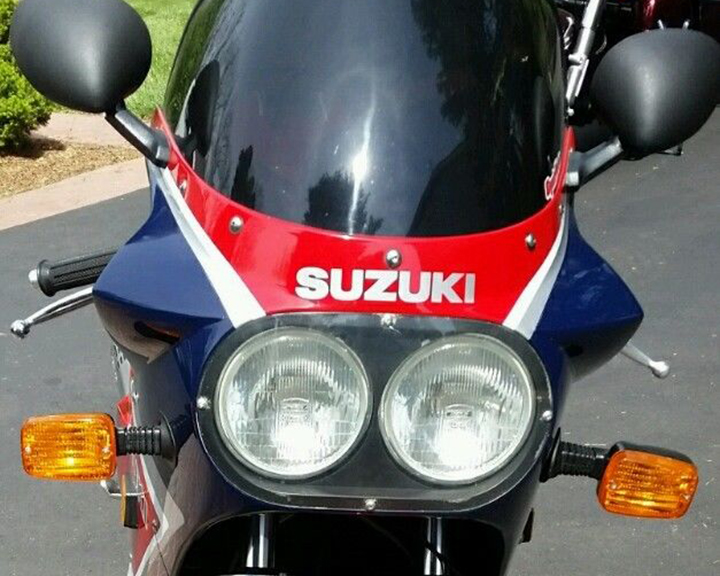 Stopping wasn't a problem: braking was handled by Suzuki's "Deca-Piston" setup with a pair of four-piston calipers up front and a twin piston in the rear. And the bike's suspension was certainly state-of-the-art, at least on paper, and featured Suzuki's "Full-Floater" rear suspension that used a set of linkages both top and bottom for a much more progressive action than what you'd typically find on a stiffly-sprung sportbike. But while the bike was definitely more nimble than the big-bore superbikes it replaced, the 1100 was really much better in a straight line than in the corners.
These days, the big slab-sided Gixxer is probably less a canyon-carver and more a very fast nostalgia machine. Suzuki fiddled with the suspension from year-to-year but the GSX-R1100 was never really known for its handling, at least in the positive sense, and those 18" wheels just make things more of a challenge, since good rubber is hard to find in that size…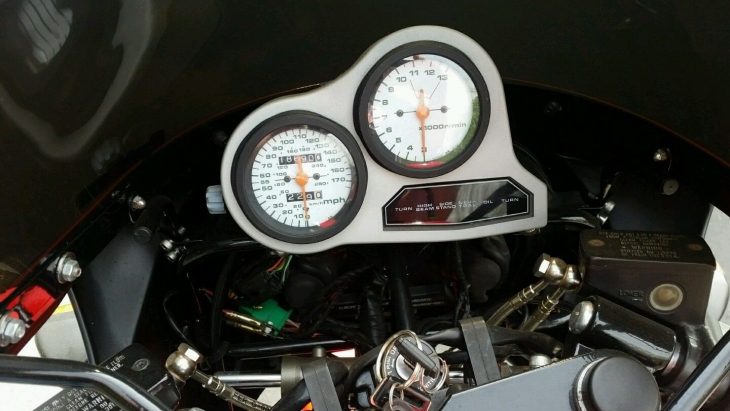 Today's example is surprisingly clean, and those braided brake and clutch lines look new. GSX-Rs of all stripes sold well, so they certainly wouldn't have been very rare at the time. But thirty years of use and abuse have seen most of these blown up, ridden into hedges, or left sadly to rot.
From the original eBay listing: 1986 Suzuki GSX-R1100G for Sale
The bike is 100% stock. It has new spark plugs, fresh Motul RBF600 brake fluid, fresh golden Spectro 10W40 oil. It has new brake pads and tires. It has a new drive chain and a new clutch, along with a new Shorai battery. It has fresh powder-coated calipers and Galfer stainless steel brake lines. It has a new stock air filter. It has a Suzuki brand new wiring harness. The front fork brace is a custom made piece made from 7075 aircraft aluminum, the fork seals are new and there is fresh fork oil.

The bike is all Suzuki parts with the exception of the ignition switch and the brake lines. The windscreen is also aftermarket. The stock exhaust is ceramic coated inside and out. It comes with a Suzuki-branded sportbike cover and, if the buyer wants, an extra complete stock motor and a set of virgin, untouched carburetors for an added fee.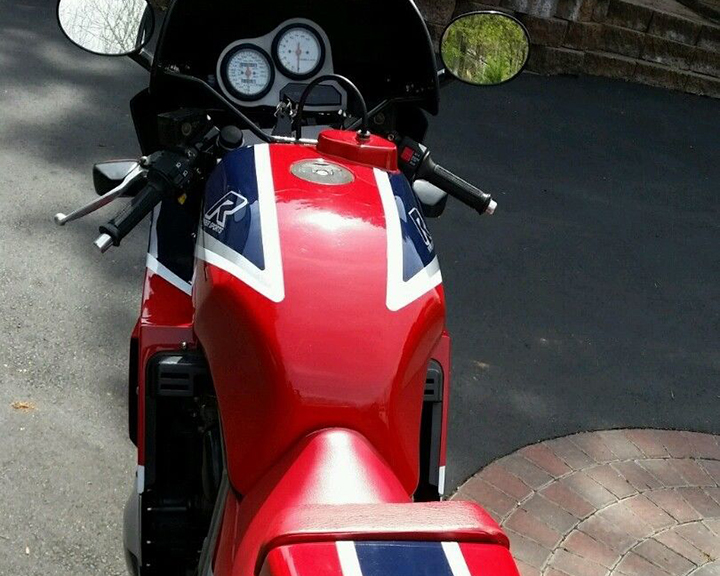 Mileage isn't all that low at 18,000 but, considering the obvious care that's gone into the bike, shouldn't be too much cause for concern. Examples like this are few and far between, and starting to attract serious attention from collectors, but it looks like the seller is aiming a bit too high, with no takers yet at a $7,750.00 starting bid. And there's that sinister dark side not often mentioned when discussing the GSX-R: although its combination of accessible, reliable, affordable performance may have helped to usher in the modern sports motorcycle, the "Gixxer" may also have helped to spawn the very first primitive examples of the notorious Squidus Americanus that frustratingly clog both highway and YouTube…
-tad