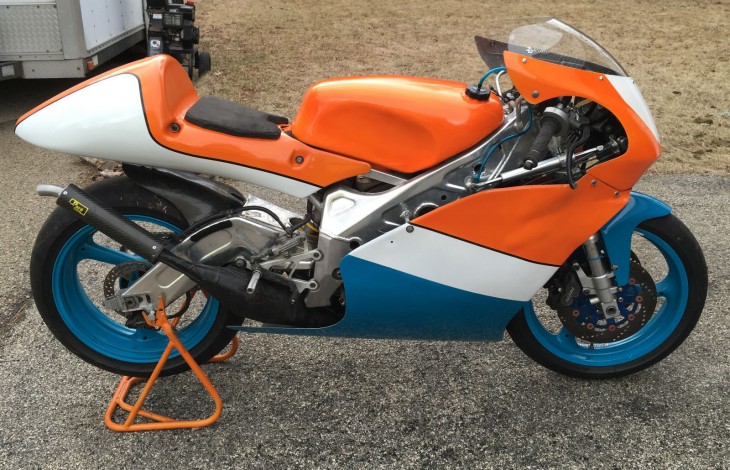 This Yamaha TZ250 is not a bike for collectors, so "those aren't the correct fastener" pedants should probably just move along to the next bike… Everyone looking for a bargain should look elsewhere as well, because the seller is definitely thinking of this as a "race team in a box, just add rider" package. Which is a fair way to think of it: the TZ250 is a production-based race bike and is not simply a TZR250 with the lights and mirrors removed. It was intended for entry-level racers and is relatively durable, but two-stroke racebikes still need regular rebuilds and sourcing parts, while possible, will require time and effort.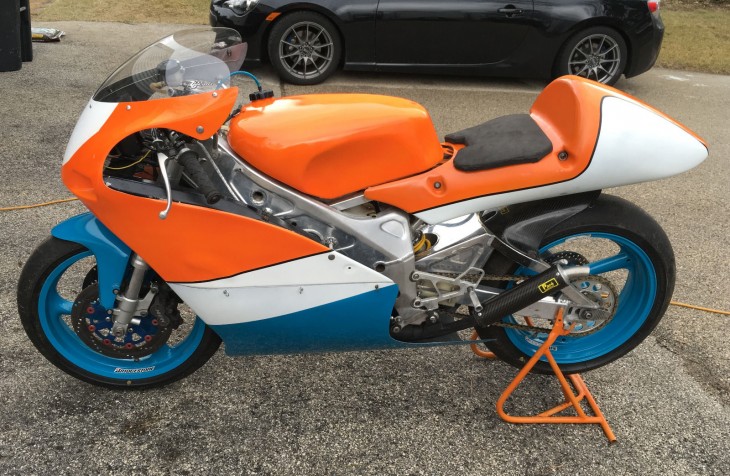 But for riders who prefer the lightness and simplicity offered by a little 250, there is nothing else that will satisfy. The TZ250 was powered by a liquid-cooled two-stroke v-twin. With a host of internal changes to porting, improved cooling, and a counter-balancer, the new powerplant was narrower and smoother-running than the pre-1991 bikes' parallel-twin engine. Upside-down forks and a classic asymmetrical "banana" swingarm helped the bike keep pace with rivals from Honda, Suzuki, and Aprilia.
From the original eBay listing: 1993 Yamaha TZ250 for Sale
The bike is a '93 4DP. 4TW cases and a mix of parts of both models.
(Video of the bike at an STT trackday Advanced group https://youtu.be/INQwEqEP_yE)
Bike was not ridden/raced in 2015, I personally owned and raced it from 2009 to 2014.
Top end has about 100 miles on it. Crank was checked to be in tolerance at that point.

No shipping, local pick-up only

Spares are (see photos);
Extra wheels,
2 sets of front rotors
Misc sprockets
New set of Bridgestone slicks
Tire warmers Chickhawks
New Radiator,
Used Crank,
2 cylinder heads
2 cylinders plating on the bores are in good shape
10 base gaskets
1 ECU and 2 ignition rotors (one rotor needs to be rewound),
Exhaust servo
Exhaust
2 sets of coils
2nd set of Bodywork,
and jets, other gaskets, pins, o-rings and misc bits.
With a Buy It Now price of $10,950, the seller obviously knows that the bike and its package of important spares would take time and real effort to accumulate. But bidding is barely half that amount, suggesting that while the seller is expecting premium money, buyers are more realistic about this little racetrack refugee.
Any TZ250 is a very desirable and relatively rare motorcycle. But this example is a tool, and nothing more, a turn-key racebike, ready to rock.  It has no real collector value or racing history and it's far from original, a very pragmatic mix of bits from different bikes. That makes it a very effective bike for an amateur racer or serious trackday enthusiast, but will likely leave everyone else out in the cold. $11,000 will buy a lot of motorcycle these days, and I think the seller might be aiming too high…
-tad