Update 3.8.2016: This bike sold within 24 hours of posting on RSBFS! Thanks to Chris for supporting the site and congratulations to the new owner. -dc
Price is $9500. SOLD
Manufactured for just a year and truly a wonder, the Suzuki XN85 might've been the first turbocharged sportbike.  While Honda and Yamaha had earlier turbos, they were mid-size GT's while the Suzuki won kudos for handling.  Though its 85 hp are no longer monstrous, the well-tuned chassis and Kayaba suspension belies the XN85's weight and lets the wide torque band carry the day.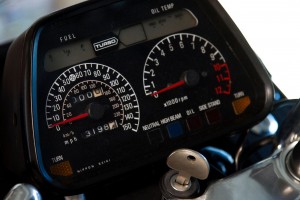 seller's description:
Fully restored 1983 Suzuki XN85. Nut and bolt restoration. This XN85 Turbo is in near mint, museum quality. Near perfect. Restored approximately 2 years ago, the bike was shown at local bike and car shows by the two gentleman that restore antique bikes for a living. When I bought this XN85, there were two Enfields in the garage being restored, one was a sidecar The bike then sat in storage for a few years and is now ready for a new owner. This bike is exceptionally clean. 13,000 miles, but probably 50 miles or less since restoration. This bike is too nice for me to ride, needs to be in a collection or a museum. Runs, rides and stops. Just needs a new owner.
Anyone who knows about the XN85 is aware of how rare these are. Only 300 imported to the United States in 1983, the only year of production.
According to my research, the last one offered for sale was in 2014, on raresportbikesforsale.com. A few have surfaced in Europe, but none recently. Here is your opportunity to own a piece of motorcycling history.

Pictures

https://www.dropbox.com/sh/1snkpjc4zqdwl2j/AADMh7MQB5CuxQWP1k5OrWRKa?oref=e&n=221148714
PRICE
$9500 USD

Shipping can be handled via uship.com
Phone Contact
Chris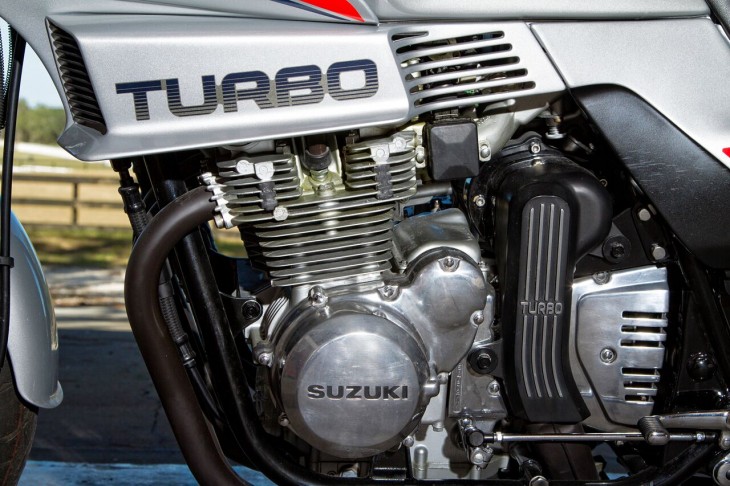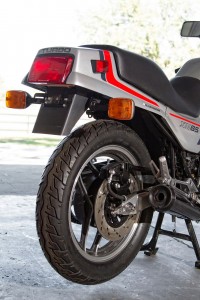 An air/oil-cooled four with just 673 cc's, the XN85's chassis was the neutral-handling basis for the succeeding GS750ES.  The engine used piston squirters to help the oil cool things, later developed into Suzuki's two-stage oil pump.  Ergonomics are sporty with factory clip-ons and rearset controls.  The angular fairing recalled the Muth-designed 1981 Katana, and used a 16-inch front wheel to help turn-in.  The XN85 has one of Suzuki's first Full-Floater rear suspensions as well as anti-dive forks.  Brakes are ready for higher speeds with 290mm front discs, 265mm rear.
Not unused with 13,000 miles, this XN85 was recently restored, looks mint and has turned only a few hundred miles since.  It's been mostly going to shows, and might remain there, though it looks like it would be a great rider.  The turbo system's forced induction allows a much simpler 2-valve head and the engine should be very robust.  Quite rare with only 1,100 in existence and under 300 stateside, it's likely to be the only one in the neighborhood.
-donn