Back in the pre-interstate days of family car-trips, New England was peppered with small museums devoted to cars, trains, airplanes, trolleys, and occasionally motorcycles.  One such museum just east of Hartford, Conn. has an almost pre-historic Ninja up for sale, and while it's not running, it looks substantially original and might be a good choice for restoration.
Updated in 1985 from the GPz-550, the Ninja 600R ( known as the GPz-600R in some markets ) employed a 16-valve head and had 75 ponies on tap.  Engineers at Kawasaki also re-oriented the alternator to slim the engine, and employed their first perimeter frame, though in steel tubing.  Suspension was air-assisted both ends, 37mm front forks with anti-dive and monoshock rear.  Triple disc brakes were good for the day, and 16-inch wheels helped handling.  The full fairing was primarily plastic which helped keep the weight under 400 lbs.
Listed by a long-time repair and restoration shop also housing a museum, the bike looks complete but ready for some TLC.  Thankfully no major surgery has been done, just low-profile front turn signals, SuperTrapp mufflers, and tinted windscreen.  From the eBay auction:
·        Turn Signals Work

·         Starter Works engine turns over and has compression

·         Needs New Coil Pack

·         Rated for 12.7 Second Quarter Mile Time at 125mph

·         Slip-On SuperTrapp Exhausts installed

·         Tinted Wind Shield installed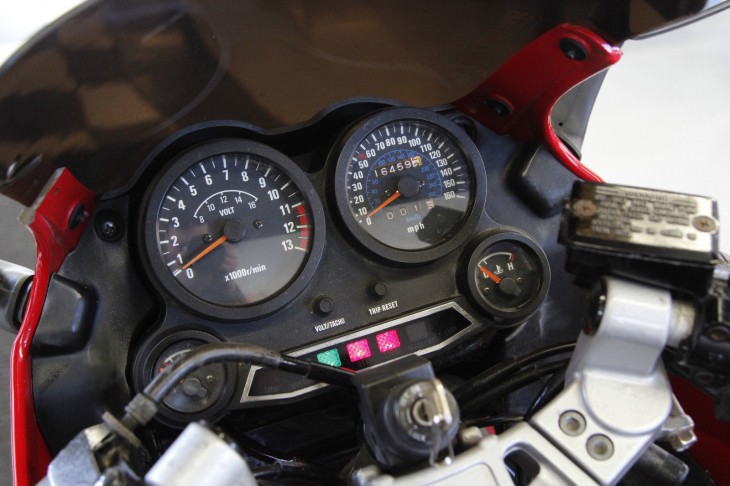 Evidently needing ignition help ( which might lead to a carburetor cleaning ) this Ninja might be a nice bargain.  With some fresh fluids, seals and brake pads, this Ninja could return to the road and display the performance and handling which launched a dynasty.  Or if those classic good looks strike you, a full restoration and back to the gallery or bike show...
-donn