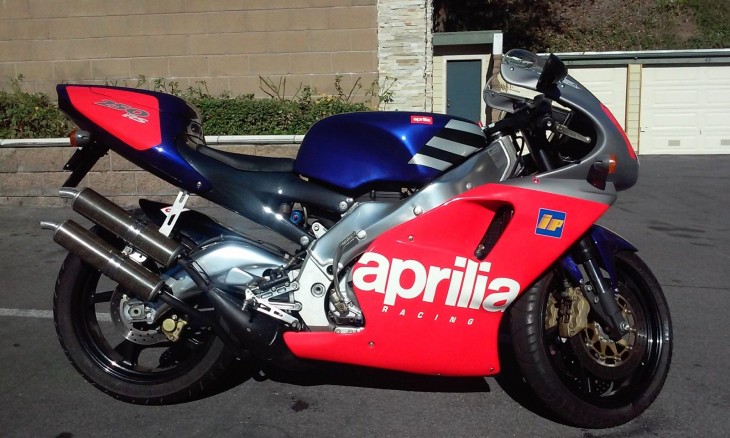 The last Aprilia I saw in these colors for sale was listed as a "Rossi Replica," but this particular paintjob in fact marked the Loris Reggiani replica RS250. Reggiani raced for Aprilia from 1985 through 1995 in the 250 and 500cc classes, the latter on a bored-out 380cc v-twin intended to compete based on its exceptionally light weight. It wasn't completely successful, but Loris was still able to place 10th the year he retired, not a bad result against 500cc machines.
The roadgoing RS250 was, of course, powered by a 249cc liquid-cooled two-stroke v-twin that was originally found in Suzuki's RGV250. With just 300lbs dry for it's 60hp to push around, the bike was very quick for its displacement, with plenty of racing-inspired touches: a beautiful beam frame and assymetrical swingarm that allowed for serious lean, the same gold-line Brembo brakes used on Ducatis of the period, bikes that weighed 100lbs more, meaning these bikes have some serious stopping power to go with their superlative handling.
As Lotus founder Colin Chapman knew, to go faster, "Simplify, then add lightness. Adding power makes you faster on the straights, subtracting weight makes you faster everywhere." Light weight means you can go faster, turn harder, stop quicker using less power when your machine has less mass to lug around.
From the original eBay listing: 1995 Aprilia RS250 for Sale
1995 Loris Reggiani Replica #499 out of only 500 made in the world, bike is in excellent condition starts first kick, all fluids changed and topped off, bike is in original unmolested condition, everything on the bike works the way it should, bike is oil injected and it currently runs Motul 710. Clear California title in my name with current registration, comes with extra rear passenger pegs, grab handle, and British Pipercross air filter. If you live nearby you are more than welcome to come check it out in person. I can assist with out of state shipping , I accept PayPal but will not release motorcycle until funds clear my bank account. Prefer cash upon pickup.
With a valid CA title just making the deal sweeter, I expect that those of you looking for a budget RS250 to thrash on track are going to be out of luck on this one: bidding is up over $3,500 with five days to go. This is actually my favorite version of this bike: earlier bodywork and dash with the classic race-rep paintwork that is very 90s, but still manages to look classy.
-tad