Unfortunately, today's tasty little two-stroke Suzuki RGV250Γ SP is short on photographs. It's another of the raft of recent imports from Japan, and details are scarce, but the price may have you reaching for your mouse anyway.
The RGV250Γ replaced the RG250 in 1988, swapping out that bike's parallel-twin for a more modern v-twin that eventually found its way into the Aprilia RS250, although Aprilia made a number of changes to their version. On paper, the new baby Gamma looked very much like its rivals from Honda and Yamaha, like they were all peeking at each others' essays during final exams…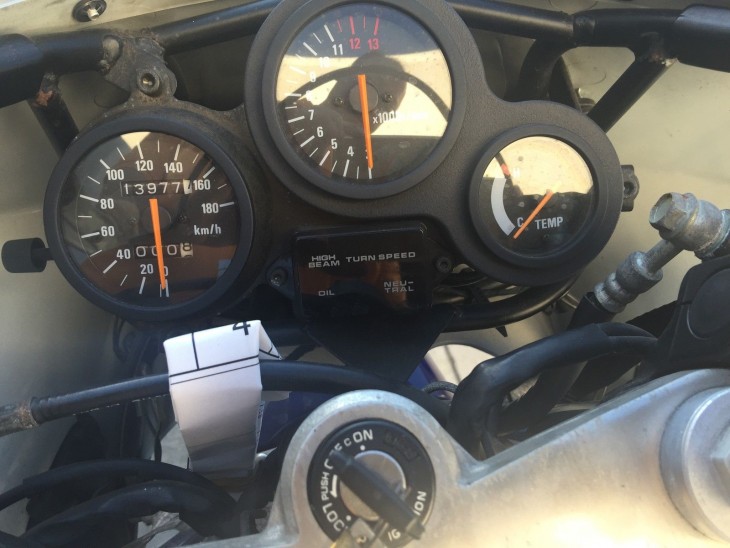 Nestled in between the spars of a lightweight, aluminum beam frame, the little 249cc, 90° v-twin made about 55hp and was mated to a six-speed gearbox. Front wheel was 17″ although the rear was a slightly inconvenient 18″ in size. This bike is claimed to be an SP or "Sport Production" model and should also feature adjustable suspension front and rear.
The headlight on the RGV is mounted flush in the fairing and looks less like an afterthought compared to something like the Honda RS250R and I particularly like the text on the tail section: considering the GSX-R "Slingshot" bikes were named for their carburetors, I'm guessing this is simply a marketing link to those models as opposed to a reference to any mechanical specification. It's also good to know this is a Real Sprinter bike, not just some fake knock-off…
From the original eBay listing: 1988 Suzuki RGV250Γ SP VJ21 for Sale

In 1988 Suzuki released two stroke V twin racer replica.

At that era, Japanese economy was too good, so they released

new model more often than every year.

This is SP model, so it has adjustable front and rear suspension, 

close ratio 6 speed transmission and solo seat cover.

Ran when I transport from Tokyo to Yokohama.

I just received it and not check yet.

I'll take pics and inspect it and add info.

13977 Km = 8714 miles

Was very clean when it left Japan but I found a scratch on right side cowl.

Other than that, this is very clean. Still shining.

Had no leak but found fuel under petcock.

Please see pics.

Real SP model are very rare, I should start with $5000… too late..
It's worth noting that the shot of the left side does show fluids spilled down the frame which have been helpfully cleaned off in the close up. The question is why you'd photograph a bike you plan to sell before cleaning it. Really this listing could use a few more shots, but I think we've got enough to tell that this is a decent, well-used example of a rare, collectible model: the paint is shiny and the plastics are scuffed in places, but not cracked, and all the important bits that make the bike stop and go appear to be in good shape.
Bidding is currently up just north of $4,000 with a little more than 24 hours left on the auction. If you're a collector, this probably needs a good bit of work to get it into shape, but everything's there and a fresh set of fasteners and a touch up of some brackets will do wonders for the appearance. If you're a rider, well the cosmetic wear and tear shouldn't bother you too much. Assuming the bike runs as advertised, this could be a good buy.
-tad