Rare as they are, an 80's Ducati 750 F1 should not be overlooked, but this week, there are three on eBay.  In what could have been Ducati's last gasp, the 748cc aircooled twin F1 was produced in 1985-88 in a numbered edition.  A stripped-down racer with equipment for the road, few have survived intact, of the three here, two are restorations, the other a barn find.  ( below 750 F1's at Daytona in 1986, Marco Lucchinelli leading Jimmy Adamo, from ducati.com )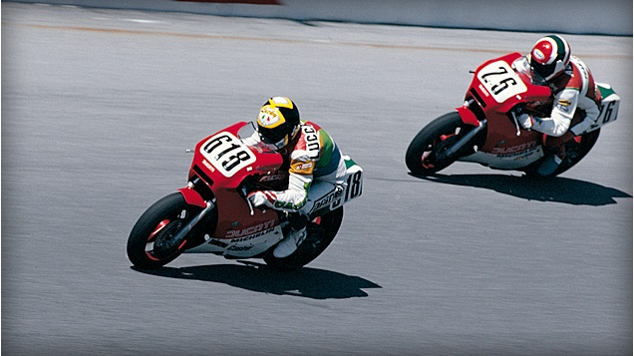 Ducati 750 F1 – Three for sale on eBay
Fed by two 36mm Dell-Orto carburetors, the 76 hp are fed through a dry clutch and 5-speed transmission, and slowed by three 280mm disk brakes.  The endurance racer fairing is decked out in the Italian flag, and the aluminum tank nestles in the red trellis frame.  40mm front forks and mono-shock rear supports a tube-fabricated swingarm.
The 1985 F1A here is the barn find, parked for twenty or so years, and was featured here last November.  Surprisingly intact, it'll need a comprehensive going over or could be a restoration candidate.  Most distinctively, it has 570 miles and has never been titled or registered.  As stated in the auction:
With the motorcycle comes the original Ducati document – the Manufactures Statement of Origin – Photo included – This bike is most likely the only 1985 750F1A in the United States with this document and has never been titled.  I believe #499 to be the most original Ducati 750F1A in the country (maybe the world) and only that has not been titled.
The 1986 is a fresh restoration and has a lot of upgraded and new parts.  Showing 16,000 miles, most of the photos show the restoration in progress.  The owner states:
it has radial masters with single reservoir, first design billet calipers, brembo verlicchi arm clip ons, acront/marvic wheels, verlicchi exhaust, ccr did repairs on the bodywork

allazura sidestand, 39mm fcr Penske rear shock, I have the original dellortos and works performance emulsion shock

this is not a stock f1 it is a period correct highly  modified f1 all the good stuff from the 80s
As with any restoration, one man's upgrade might not suit another, so careful inspection is warranted.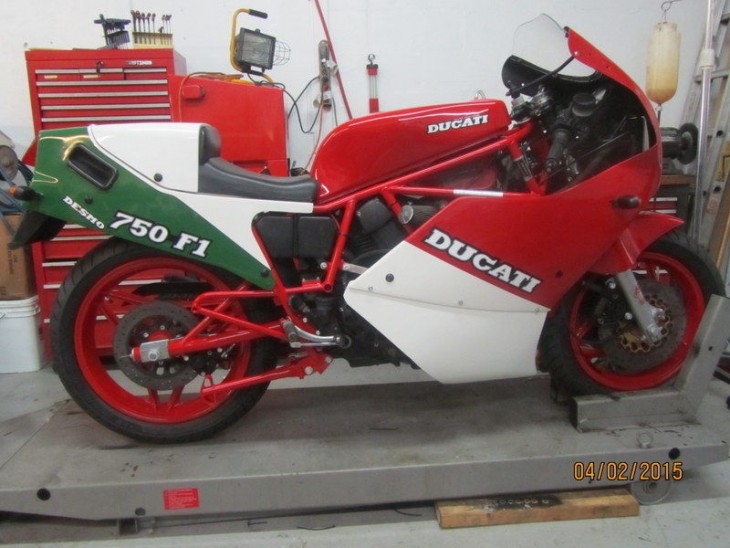 The 1987 F1B is also a new restoration and boasts original equipment, totally rebuilt driveline and 12,500 miles.  From the eBay auction:
1987 Ducati F1 B. Just completed frame up restoration. Almost impossible to find an example of this model with all original equipment still in place. Stock motor new valve job, cylinders and side covers remove looks like new inside. New belts. New tires and battery. Rebuilt kits replaced in brake hydraulics. Parts usually not available are with this bike mirrors, turn signals,Brembo brakes, air box, 36 mm carbs,.dual seat, passenger foot pegs come with it. All systems in working order. Bike to be shown at the Riding Into History Concours d' Elegance event on May 23rd at St Augustine Florida.
Not insignificant money-wise, two of these auctions have buy-it-now's of $18,500, so shop carefully.  These lightweight replicas are simple, no-nonsense, and capable of TT-winning speeds.  Cagiva's investment revived the company and led to bigger and better, but these years are a signature moment for Ducati.