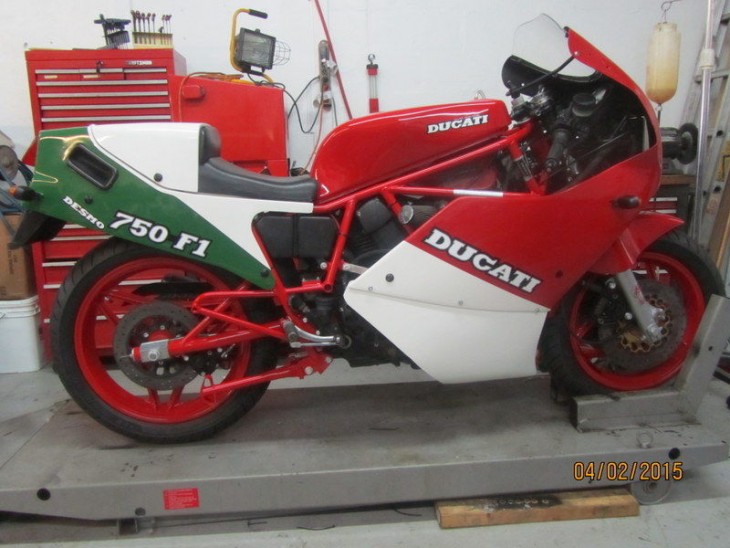 When considering buying an older sportbike, maintenance history is always a bit of a black box.  Sure pictures, videos and ebay seller feedback rating all help mitigate the risk yet you never actually know what could be lurking behind the bodywork.
However there is one way to help reduce the risk; looking for a bike that has been restored by a dedicated owner.   Depending on the owner's level of obsession and willingness to purchase OEM parts, you can end up with a bike that is incredibly close to what it was when it left the factory.
This lovely 1987 Ducati F1B has undergone a major restoration from the frame up with OEM parts which means there shouldnt be any major maintenance related issues.
For anyone not familiar with the Ducati F1B,  the bikes predecessor was the F1A which was released in 1985 and was essentially a street going version of the Ducati four time world champion TT2.   The F1B (this model) followed in 1986 after the purchase of the company by Cagiva and the major difference were cosmetic, with the F1B's red wheels replacing the F1A's gold and different script graphics along with some minor mechanical changes.
This particular Ducati F1B tricolre looks incredibly clean.  The only thing that jumps out is the rear end fairing/bodywork but from what I have been able to learn this bodywork was the standard bodywork for the US-edition F1B  Tricolre.
Here is what the seller has to say.
Just completed frame up restoration. Almost impossible to find an example of this model with all original equipment still in place.
Stock motor new valve job, cylinders and side covers remove looks like new inside.
New belts.
New tires and battery.
Rebuilt kits replaced in brake hydraulics.
Parts usually not available are with this bike mirrors, turn signals,Brembo brakes, air box, 36 mm carbs,.dual seat, passenger foot pegs come with it.
All systems in working order. Available for inspection in Ft Lauderdale, Florida
So whats this freshly restored 750F1B Tricolore worth?  At first the $22,000 USD Buy-It-Now price seems high given that recent versions of the tricolore have sold for around $17,500 USD.  The asking price seems more in line with the limited edition versions that were based on the F1B such as the Montjuich and Laguna Seca verions.
Then again, last year at the annual Las Vegas motorcycle auction a similar F1B tricolore was sold for over $20,000 and that bike had more miles than this one and hadn't been through a full restoration.   Personally I think the price for this one is a bit high but not outrageously so and would be a good addition for any collector interested in the mid-80's Ducati lineup.
-Marty/Dallaslavowner