A dynasty like no other, MV Agusta won 63 world championships from 1948 through 1980, in all classes of Moto GP.  After the death of the founder's son Count Domenico Agusta in 1971, the drifting trademark was revived by Cagiva in 1991, which re-introduced MV Agusta cycles in 1997.  Now-legendary designer Massimo Tamburini had recently completed the Ducati 916 and leg the Cagiva Research Center in their efforts, consulting with Ferrari on the new design, especially the hemispherical combustion chamber.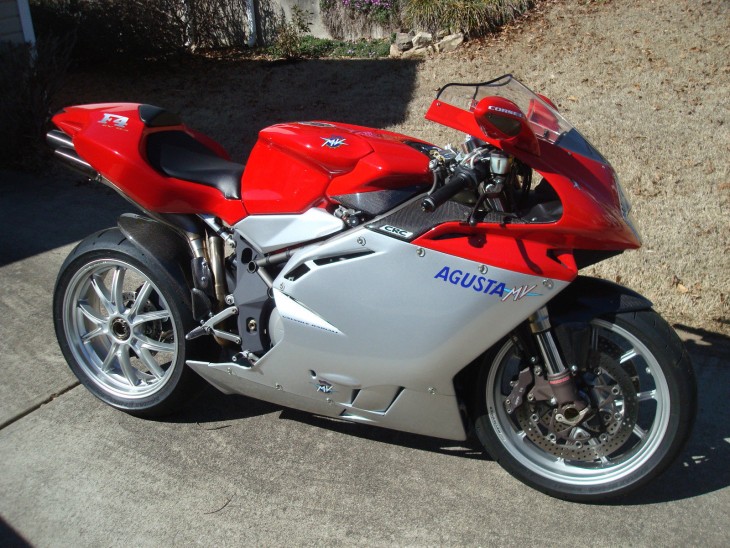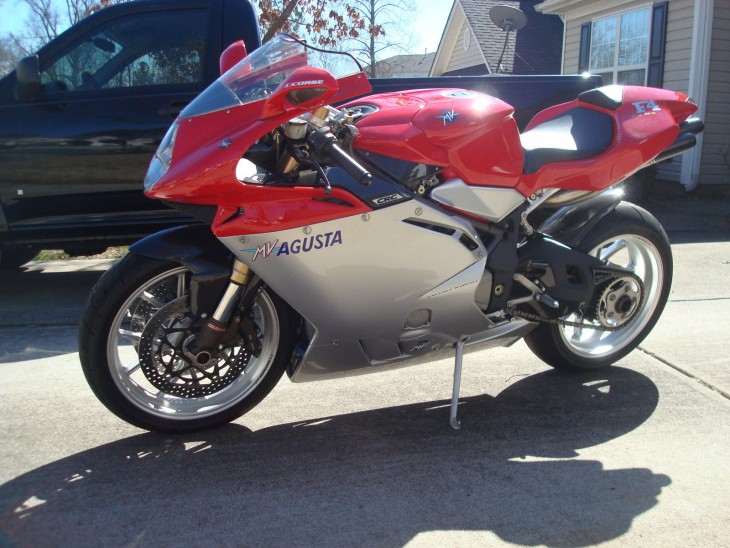 A true exotic, the F4 was built in very low numbers of around 300 per year, and generally cost more than double what more popular machines could ask.  The radial array of 4 valve per cylinder is derived from the Ferrari Formula 1 engine, generating 137hp at 12,500 rpm.  The bodywork, which was carbon on the 1998 show bike, is mostly fiberglass, as the magnesium parts of the original F4 are now generally aluminum.  Brakes can only be considered extreme with 6-piston calipers gripping 310mm front disks.  The often-copied underseat exhaust has 4 small mufflers.  A lovely and light package, capable of 170 mph.
This MV has 9,500 miles and upgrades include carbon bits and wheels, and lower profile rear lighting.  From the eBay auction:
Excellent condition!!!


Carbon fiber fenders, 

exhaust guards, ignition guard, etc.  

Aftermarket rear lights / turn signals

Extra Pirelli Diablo tires ( 2 front, 1 rear)
Factory improvements to the F4 750 were mostly cosmetic in 2003, as MV Agusta prepared the 1000cc model for introduction.  The one has some nice improvements, and is looking to be in excellent shape, with spare tires and matching leathers ( if you're 5'10" and 155 lbs. ).