Update 1.14.2015: First posted in October last year, this LE is back on eBay. Previously a no sale with bids reaching $7,200, this time the bid is at $7,500 at current and reserve is not met. Links updated. -dc
Prior to 1985 and the introduction of the GSX-R 750, Japanese sport and race bikes were all about more. Even Suzuki's own GS1000S was a huge lump of steel and aluminum to hustle around a track in Superbike racing. While watching riders wrestle these beasts around a track made for great entertainment, lighter is always going to be faster and, with few exceptions, lightweight speed at the time was owned by the two-stroke brigade: four-stroke refinement came burdened by additional weight and bulk.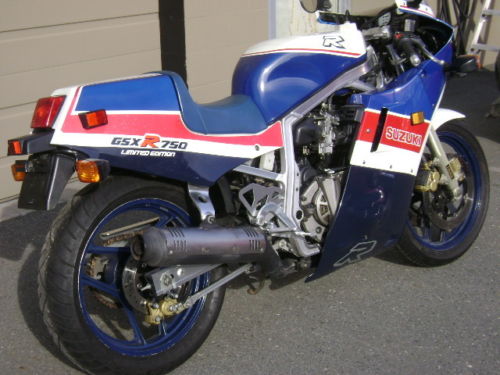 Other bikes like Kawasaki's GPz's stuck their toes into the water in an effort to give riders a complete package of power, agility, and handling, but it wasn't until the Suzuki's GSX-R750 that the rules for streetbikes were really rewritten.
Unleashed in 1985, the original "Slabby" GSX-R came with a 750cc, air and oil-cooled engine to save weight compared to water-cooling. An aluminum-alloy beam frame, four-piston calipers and a monoshock rear completed the package, setting the pattern that sportbikes would follow up until today. Despite being nearly thirty years old, only the 18" wheels really give the bike's age away.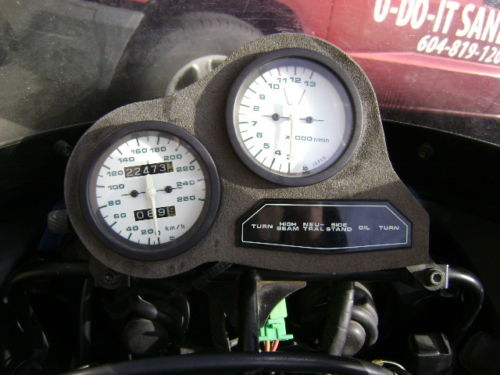 1986 saw a revised swingarm and other minor changes to the regular production model, but the LE featured here was a different beast altogether. An homologation special, it came with a very desirable dry clutch, lightweight aluminum tank, and a solo seat, along with Suzuki's electronic anti-dive forks.
This particular bike that's been hiding up in the great white north of Canada isn't perfect, but could be with just a little bit of work.
From the original eBay listing: 1986 Suzuki GSX-R 750 Limited Edition
Rare limited edition with the dry clutch, magnesium covers, electronic forks, rear shock with remote reservoir, hand laid fiberglass tail sections, no passenger seat on this bike, 1000 made worldwide, this bike is all original with only 22,000 kilometers runs good and sounds awesome, clutch works as it should.

This bike had a storage tipover and there is a dent on the tank, left side on the R note there is no scrapes shoing it wasn't moving the front fender flexed and the paint flaked off in places.

Some scrapes on the bellypan sides.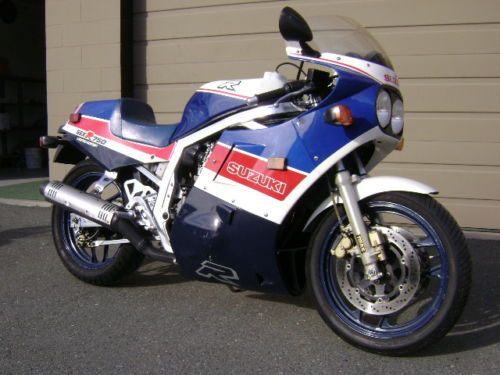 This one currently sits at $5,600 with just a day left and the reserve not met. With just north of 13,000 miles on the clock, and just 200 of these imported to satisfy AMA Superbike requirements, they were rare even when new. Since many led a hard life on race tracks, it's especially hard to find one as nice as this. It's not perfect, but that could just keep costs down. If you're looking for a first-generation GSX-R, this could be your bike.
-tad