The 999 model is a Ducati that folks either love or hate. Being somewhat bi-polar I love it AND hate it. I love it that it is instantly recognizable as a 999. Truthfully, the 748/916/996/998 series can all run together, and the occasionally MV Agusta may even slip in there without notice at times. This is as much a testament to Massimo Tamburini's enduring design eye as it is his re-use of design elements. Pierre Terblanche had big shoes to fill when he took over Ducati design, and he was merciless in stripping out Tamburini from the canvas. To be fair, Terblance was not a design noob in the motorcycle arena. Anyone who has drooled over a Supermono has witnessed his genius. In the end, Terblance was successful in eradicating the ghost of Tamburini, and in doing so has often been vilified for his design.
Design elements aside, the 999 was a huge step forward in terms of performance and – wait for it – comfort! No longer the torture rack of the earlier geometry bike, the 999 pushed the rider more upright while still providing advancements in power, suspension and weight. As with previous models, the "R" spec contains the most potent equipment available from the likes of Brembo and Ohlins. And as expected, carbon fiber body panels, mudguard, front tire hugger, heel guards, heat shields and ancillary bits are all part of the package. This particular model also includes and aftermarket NCR titanium clutch cover.
From the seller:
I am the 2nd owner of this adult owned and excellent condition Ducati. The only blemish is on the carbon heel guard next to the ceramic coated exhaust, which gets a little warm. This bike has minor cosmetic touches such as titanium covers on the brake/clutch reservoirs, an NCR open clutch cover, and carbon bits throughout. The Pirelli Diablos have approx 75% tread life left. I recently installed a new battery and had the front fork seals replaced as it appeared that they were seeping a little bit. I also have both black keys, the red key, code card, and the owners manual. This bike runs excellent, always turns heads, and will not disappoint.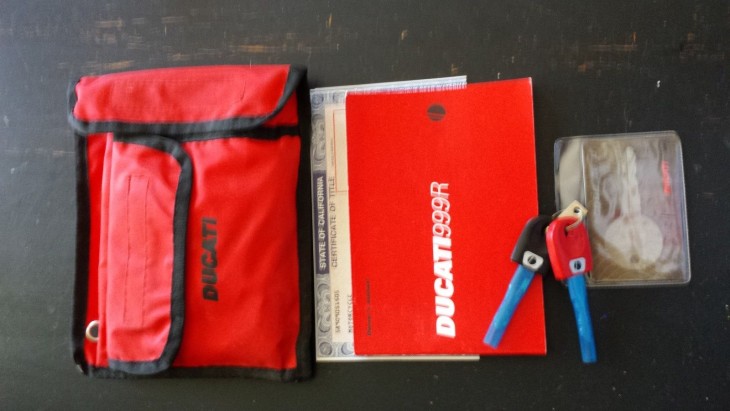 The 999R is a value offering in R spec Ducati models. Perhaps because it is perceived as a bit of an ugly duckling among the Ducati faithful, prices are not as dear as the previous generation machines. Make no mistake; the 999 series is very potent on the street or on the track. And up close, the detail on these models is quite striking when simply parked outside of your favorite hangout. Check it out here and share your thoughts – love it or hate it? Good Luck!!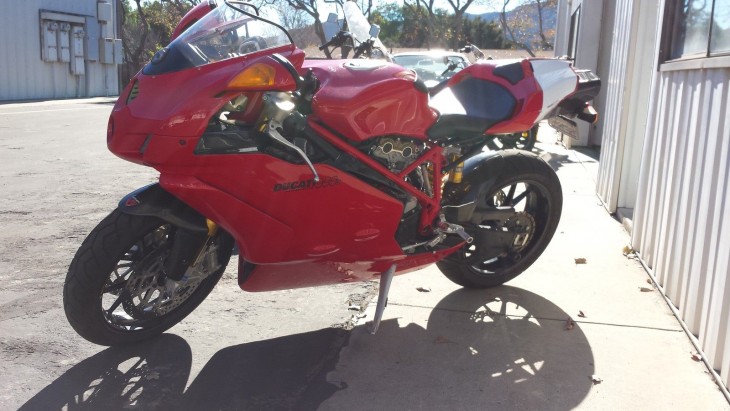 MI