Update 12.31.2014: We first saw this GP replica in July when it failed to get any action with an opening bid of $26k. It's back on eBay now with a buy-it-now of $24,500. Happy New Year everyone! -dc
This Yamaha YZR500 GP Replica is the rarest of the rare, a one-of-a-kind opportunity to buy a one-of-a-kind motorcycle. Meant to recreate Yamaha's iconic year 2000 OWK6 racing machine in the classic Marlboro livery, this bike may not be the original article, but is a hugely impressive machine in terms of the enthusiasm and money invested. Powered by a tuned 500cc V4 two-stroke engine and suspended by Yamaha R6 bits, with an authentic replica frame and bodywork, this might be the closest you'll ever get to riding an actual GP machine.
I am no expert on these bikes, so I'd love to see the peanut gallery weigh in as to the accuracy of this replica. I've been next to full-on WSB and Moto GP motorcycles and it's always interesting to me how they still basically look like motorcycles. Racing cars, especially Formula 1 machines, really look nothing like actual cars, aside from the four round rubber bits. But racing motorcycles? It's the details that really impress, since they have the same basic silhouette as their road-going counterparts, but chock-full of amazing details.
From the original eBay listing: 2000 Yamaha YZR500 GP Replica for Sale
A replica of the legendary Yamaha YZR500 from year 2000. Based on a chassi handbuilt in aluminium by Mick Costin "Costin motorcycle enginering" Sydney Australia. An exact replica but made to accept the Yamaha RD500LC 2 stroke v4 engine. Also rear sets and suspension linkages comes from Mick. This one has a 1985 1GE engine rebuilt with new bearings, oil seals, clutch, pistons, and it is tuned "TSI mods" done by Orluff racing in sweden. 1 mm overbore. Samco silicon hoses for the modified Yamaha R6 radiator, Jim lomas custom made exhausts in stainless steel with carbon silencers. New Mikuni TM28 flatslide carburettors with new K&N Filters. The bike was run in a dyno bench in may 2014 and has 99 hp on the rear wheel. Forks, triple clamps, swingarm, rims and rear brakes comes from a 2006 Yamaha R6. Rear shock and front fender in carbon comes from a Yamaha TZ250, PVM radial front brake master cylinder, goodridge steel brake hoses to tociko 4 pot calipers. Galfer wave brake discs front and rear, new galfer brake pads, Fuel tank is a heavy modified unit from a VFR400 nc30 with a Pingel dual outlet fuel tap. Fairings are copys in glasfiber made by Motoforza from a 2000 YZR500 painted in Marlboro red. Standard RD 500 tacho and temp gauge, New Regina 520 chain and Afam alu sprockets, Only scrubbed in Michelin power supersport tires, The bike has only been ridden twice since it was built. I have many more pictures taken from building this bike that i will send to seriosly intrested buyer.
I'm seriously impressed with the dedication and money that went into creating this motorcycle, but I'm not actually sure what you'd do with this thing after you buy it: it's not the genuine article, so it's a tough call for collectors, and it's very, very pricey for a track day or vintage racing junky. On the plus side: you can actually ride it, without worrying you'll crash a priceless and historic racebike.
Or maybe, if you live in a more permissive state, it can, as the seller mentions, be registered for road use… How hilarious would that be? Suction cup a little projector-beam headlamp and a bicycle taillight, a pair of LED turn signals… I'd read recently that Britain actually has a special "track bike" MOT that allows limited use of track day bikes lacking the usually required road equipment to get to and from the racecourse during daylight hours.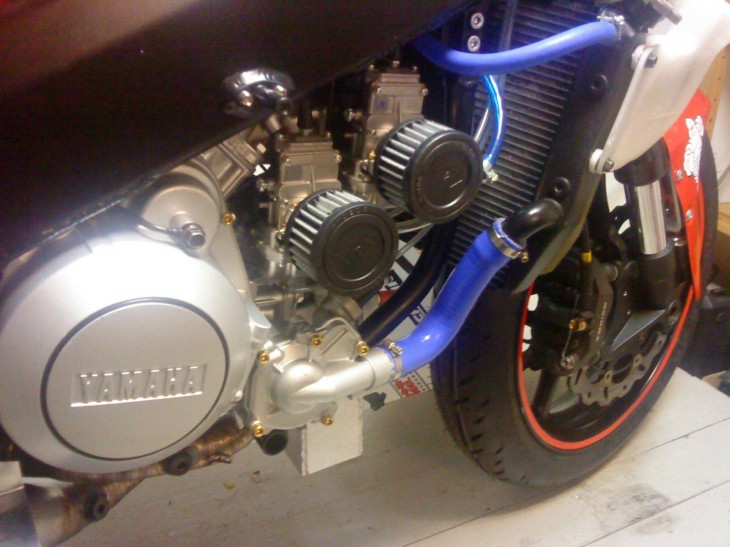 It's certainly a very nice curiosity, and one I hope finds the right buyer. At $27,000 with the Reserve Not Met, that's going to be a tall order. Please also note that the bike is currently in Sweden, if you didn't notice the non-USA license plates on the cars in the background of the photographs. Regardless, there's very little time left on this auction, so move quickly if you want to get your hands on this one-of-a-kind motorcycle!
-tad