While it's a hard pill to swallow for newly-minted track-day heroes with visions of tire-spinning corner exits, the best way to learn to be fast is by building good habits in an environment where every single pony counts. Hitting the track on a GSX-R1000 will allow a newer rider to lap at some mind-bending speeds, but you can be pretty lazy on a bike that powerful and still feel like you're going fast. Then a rider who really knows what they're doing sails past you on a 600…
So it may be a blow to the ego, but riders who want to learn how to go fast should start small. How small? How about Honda RS125 small?
Racing a 125 is about managing momentum and making the most of what very little horsepower is available. Shepherding that power is an endless game of charts and graphs, gearing and air density to maximize power in the garage, and a constant battle with the wind on track, minimizing air-resistance to maximize efficiency and speed.
Then there's the pack of other riders to contend with, all battling for the same space on track, drafting you for that extra bit of speed.
Although a rider's physical size does make a difference, don't think that if you're not built with jockey-like proportions, you can't ride a 125. Bigger guys do need to be very careful with weight placement: with bikes weighing in at 160lbs dry, many bigger racers will outweigh the machines they're riding. But this has a nice side benefit, as 125's tend to do less damage to themselves when they crash, skimming along the ground instead of digging in and tumbling, shedding bits as they go…
The RS125 was introduced in 1988 and went through several iterations during its life. It was a pure racing motorcycle available to professionals, amateurs, and privateers, an over-the-counter race bike. 125's are generally considered a "gateway drug," a stepping-stone to bigger bikes: learn to be fast on these, then move up to 250's and so on. Many World Champion Moto GP riders got their start on one of these little two-strokes, including Loris Capirossi and Dani Pedrosa, who each won the 125 World Championship on a 125 Honda.
Compared to the Yamaha TZ125, the Honda is generally thought of as being more user-friendly, better set up right out of the box. But while Honda's 125 may be great for entry-level racers, don't mistake "user-friendly" for "low-maintenance": these are two-stroke GP bikes, pure racers, and pistons get replaced every 300 miles. Other parts last longer, but these bikes require more care and feeding than a modern four-stroke.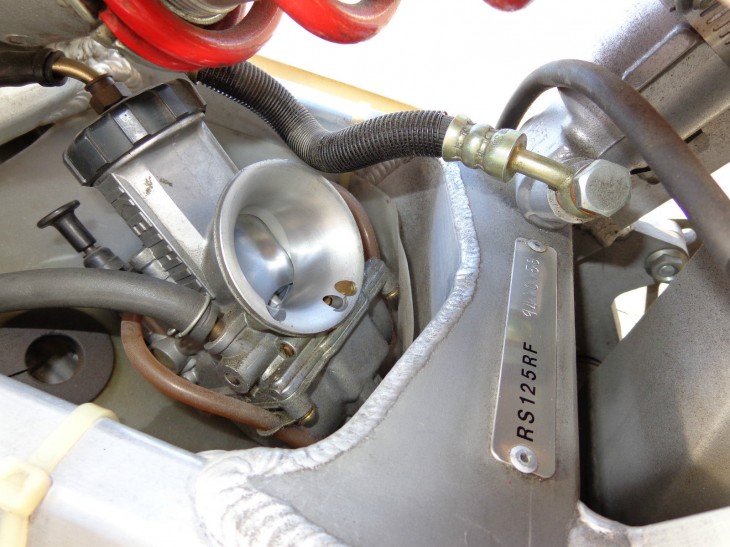 From the original eBay listing: 1994 Honda RS125 for Sale
Very nice, clean and original Honda RS125 factory race bike. I bought this in the late 90's in Japan from the original owner/rider.  It was run at the famous Suzuka circuit track(see tech inspection stickers in photos)  just a few times before being garaged and has not been raced since.  I have fired it up a few times over the years and drove it around my industrial complex to keep it in running order but mostly it has sat on a shelf in my office as a display/conversation piece.  It is very rare to find one of these in clean unmolested condition.  Most race bikes for sale have been abused, crashed or pieced together with a patchwork of different parts and not suitable for a collection or track day event.  The Honda RS125's dominated the competition during this period winning 5 World Championship Titles from 1990-1996.  This bike has very minor scratches, a few track rock chips on the lower fairing and a 3″ crack on the right side of the windscreen (see pictures),but shows incredibly well for a race bike of this age.  Unless you find one of these new in the crate, this may be your best opportunity to pick one of these up in this condition.   Race bikes don't have titles in California but will be sold with a bill of sale.

Buyer to pickup in Torrance, CA or I may be able to deliver to a local freight company (I will not crate or box due to fragility of fairing)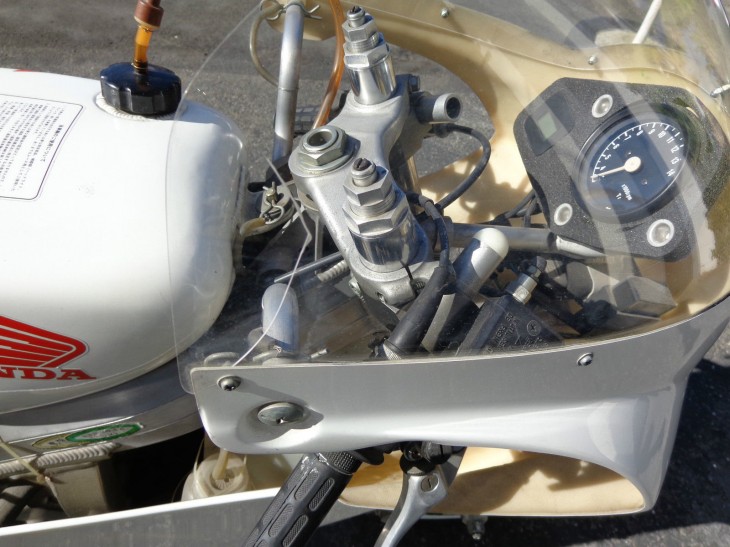 From the description, this is currently more of a display piece and is in very nice physical condition for a bike that was meant to be used hard, and it shouldn't take much work to get it back into fighting shape. Bidding on this is active but is currently only up to $2,500 and the reserve has not been met, but you'd better move quickly if you're interested: there are just a few hours left on this auction!
If you're an acolyte at the Temple of Lean, handy with a wrench, and want to experience the thrill of a genuine race bike that won't kill you if you look at it funny, this would be a great place to start.
-tad