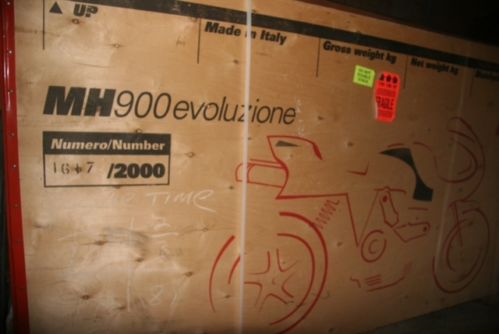 Even though these were practically released as turn key collectibles, most buyers put them on the street for a little while to experience the investment a little bit. If you browse our archives, the examples we have highlighted have only turned 500-2500 miles in most cases. Not this one. It's still a 0 mile example and never removed from the crate. While previously unopened sportbikes we've seen haven't necessarily had a preview of what's inside, this seller has taken the time to x-ray the contents! While part publicity stunt, it will add to this particular example's history and value. 20 years from now if it's still in the crate, can you imagine what it may be worth?
dc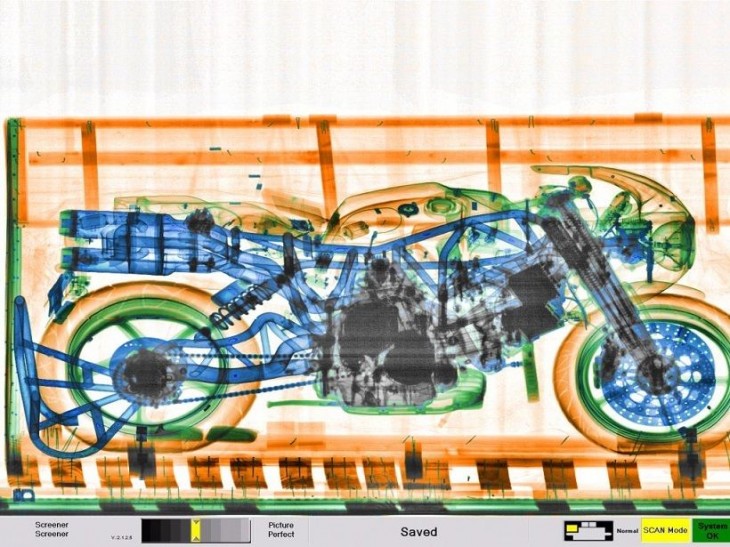 from the seller:
2002 Ducati MH900e still in the original, un-opened, crate!

This is #1617/2000. The crate has literally NEVER been opened. It still has the original nylon straps around it as it came from the factory.

I won't go into details about the Ducati MH900e model itself because I'm sure, if you're looking at this listing, you are well aware of the history of these bikes. If not, Wikipedia has some great information.

This particular bike was purchased locally by an acquaintance who, by the time the bike was actually delivered to him (2 yrs after his online order), had fallen ill and was in no condition to drive it so he had it delivered to his home still in the crate. It sat in his heated garage until last year when I acquired it.

Knowing the rarity of finding an MH900e still in the crate I did not want to open the crate either. But also knowing that a potential buyer would want some form of confirmation as to the contents, I made arrangements through some senior contacts I have at UPS to have the bike taken to the airport for a security scan and x-ray. I've attached pics of the x-ray. If you look closely you can see everything inside, including the stand and box that contains the plaque & shirt (on top of the seat). I also have the original bill of sale (from 2002) from the local dealership.

I make/offer no warranty about the mechanical condition of the bike itself other than it is brand new, complete, and the crate has never been dropped, damaged, or opened. Obviously never having been PDI'd by a dealer, it would be impossible for me to warrant it mechanically.

I apologize that there aren't more pics, but there's only so much detail you can show of the crate itself. If you would like any more shots please contact me. For obvious collectability reasons though, I will NOT "break the seal" and open the crate to take pics. The winning bidder will be entitled to open the crate and my facility prior to shipping if they choose, once payment in full has been made.